Not even the global health crisis could stop CES 2021 from showing the latest advances in technology. Although the biggest consumer tech show took place online instead of Las Vegas, Nevada due to the ongoing coronavirus pandemic, it certainly didn't disappoint.
One thing is for sure, it was a smart gadget galore. We have seen Samsung Galaxy 21, rollable tablets, 42-inch OLED and 85-inch TVs, drones, robot vacuums, and so much more new tech we can't even begin to comprehend. They might not all reach the prototype stage, but nevertheless, we're still excited to see many hit the market soon.

There were a few products that particularly caught our eyes - we're talking about the Augmented Reality and Artificial Intelligence departments. In fact, we're not the only ones whose eyes were caught. Both AR and AI were amongst the most talked about topics at CES 2021.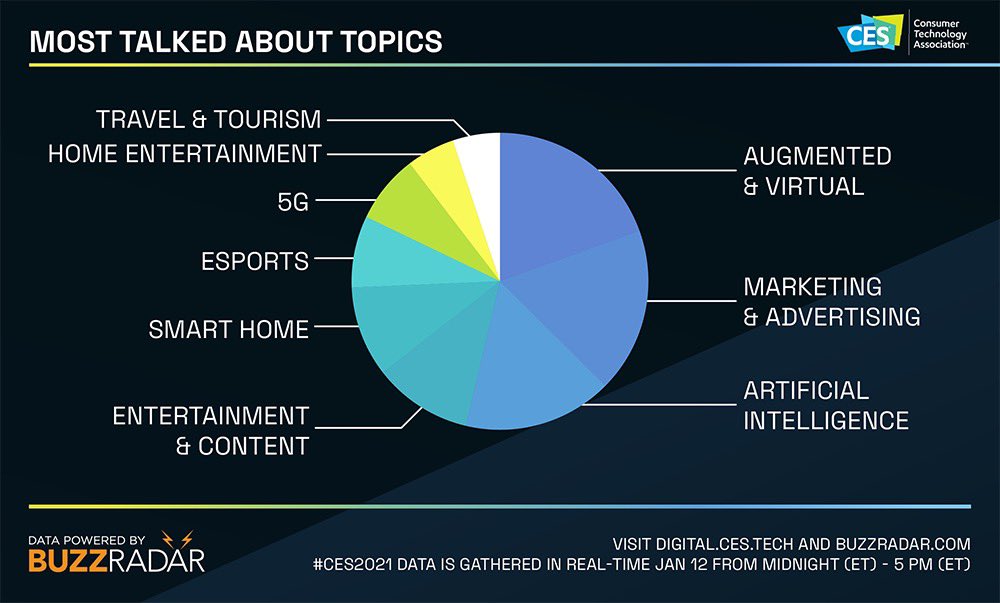 Both AR and AI technologies are extremely promising and much hyped about in most sci-fi movies, so seeing tech giants turning impossible into reality is exhilarating. Let's take a closer look at our top picks.

Panasonic Augmented Reality HUD

Japanese electronics manufacturer Panasonic completely took over the (virtual) stage with its first Augmented Reality, AI-powered head-up display (HUD). The clips might look like screenshots of a video-game but this display was designed to detect and highlight potential dangers while driving, such as road obstructions, cyclists or pedestrians - essentially, anything that keeps drivers aware of what's happening on the road.
Panasonic's comprehensive system utilizes advances in technology (e.i. volume optimization and imaging technology), and the visual feed is updated every 300 milliseconds and features eye-tracking technology to ensure digital information is delivered in real-time and doesn't distract the driver.
Lenovo ThinkReality A3

We first got the glimpse of Lenovo's AR glasses in December after an unofficial leak on Twitter, but it's now official, and ThinkReality A3 could be hitting the market as soon as mid-2021. "The smart glasses are part of a comprehensive integrated digital solution from Lenovo that includes the advanced AR device, ThinkReality software, and Motorola mobile phones," said Jon Pershke, Lenovo Vice President of Strategy and Emerging Business.
Lenovo's ThinkReality AR is said to be "one of the most advanced and versatile" smart glasses for enterprise customers yet. They're lightweight, can be paired with a PC or Motorola smartphone via USB and will enable virtual monitors, viewing 3D objects, and immersive training. The glasses are powered by Qualcomm's XR1 processor and have an 8-megapixel camera, delivering a 1080p video plus dual fish-eye cameras for room-scale tracking. Lenovo plans to release two versions of the glasses - a 'PC Edition' and an 'Industrial Edition', which will feature more durable industrial frame options.
Binah.ai

Imagine that looking at your phone camera for 15 seconds is all you need to check your vital signs. Sounds impossible? It isn't - an Israeli health startup has created an artificial-intelligence phone app that measures heart rate, oxygen saturation, stress levels, heart rate variability, respiration rate and more - 15 other health indicators at medical-grade levels of reliability in total.
Binah.ai app applies a unique mix of signal processing and AI to detect vital signs by analyzing signals from the upper cheek region of the face in under one minute, according to the company. The platform also includes tools for easy user management and enhanced reporting and analysis.
MOFLIN

MOFILN AI Pet is said to be capable of developing and expressing its own emotions to an algorithm that analyzes the change in its environment through sensors. It seems to be the ideal solutions for those suffering from pet allergies or not being able to take on the responsibility of caring for real pets. The creature, which looks like a cross between a hamster and a plush toy, won the Best of Innovation Award in Robotics at CES 2021.
According to Vanguard Industries, Mofilin has the ability to switch between different emotional states such as excitement or calm and apparently can "tell" when different people interact with it (and adjust its reaction accordingly). Moflin's creators estimate the create to appear on the market in summer 2021.


---

Nextech AR Solutions is a leading provider of augmented reality (AR), virtual experience technologies (VXT) and services for 3D AR ads, eCommerce, higher education, conferences.

To learn more about Nextech AR, please visit our website and see how Augmented Reality can help grow your business!


---

Read On!
Augmented Reality Examples - Exciting Real World Applications of Augmented Reality
Augmented Reality Apps - Retail Brands Already Nailing it with Augmented Reality
What is Augmented Reality? - Everything You Need to Know
What is the Difference Between Augmented Reality and Virtual Reality? - AR vs VR