There are no two ways about it - COVID-19 sealed the deal on the growing influence of Augmented Reality in e-commerce. What was once considered a gimmick, tactic that brings joy to the customer but makes no impact on revenue, is fast becoming the next big thing in online shopping.
Although AR shopping has been around for a good few years now, many retailers remained skeptical - until the closure of all non-essential physical stores, that is. In a matter of days, in-store shopping experience ceased to exist, forcing many brands to seek new options to help their customers find a better product fit while shopping online.
Clearly, many decided to give Augmented Reality a go - and a proper one this time. Read on to see the coolest AR shopping experiences currently available but first, let's take a look at some most prominent benefits of Augmented Reality in e-commerce.
AR shopping on the rise: Why?
It all started with the coronavirus pandemic, but we've got a feeling AR shopping frenzy will continue long after life returns to normal. The reason is simple: it helps ecommerce stores increase their revenue through:
Increased conversion rates
The most significant conversion blocker for ALL online retailers is the inability to interact with the product before proceeding to checkout; that's exactly why a vast majority of consumers prefer to shop in-person.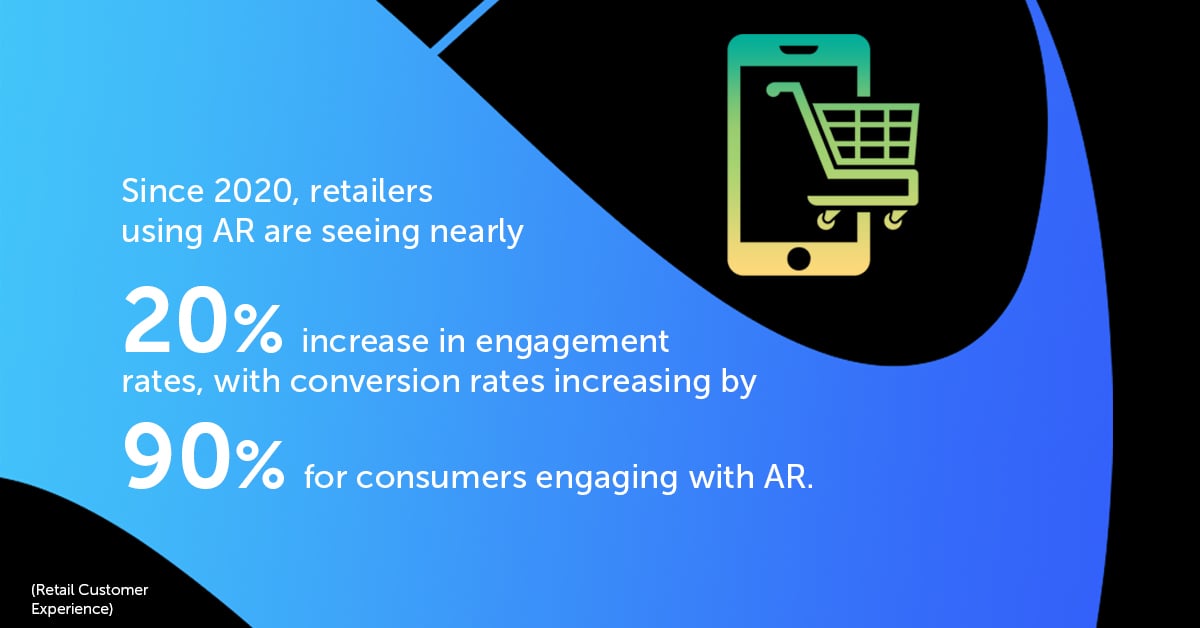 Augmented Reality removes that barrier, giving customers the opportunity to experience goods in real-time via 3D product holograms. These can be easily accessed using smartphone, tablet or a laptop in the comfort of their homes. But product visualization isn't the only factor contributing to better conversion rates - it makes people feel as if they already own the product since they can see it in their living room. Thus, not buying it will trigger a psychological reaction known as FOMO (Fear Of Missing Out) and in many cases, the desire to avoid FOMO will lead to a sale.
Reduced returns
Returns are thorns in the flesh in the e-commerce industry. Every time an item is returned, there are processing costs involved and, of course, there's a big chance the item may never be resold. But those are the risks of shopping online - and consumers want to ensure they're getting exactly what they want: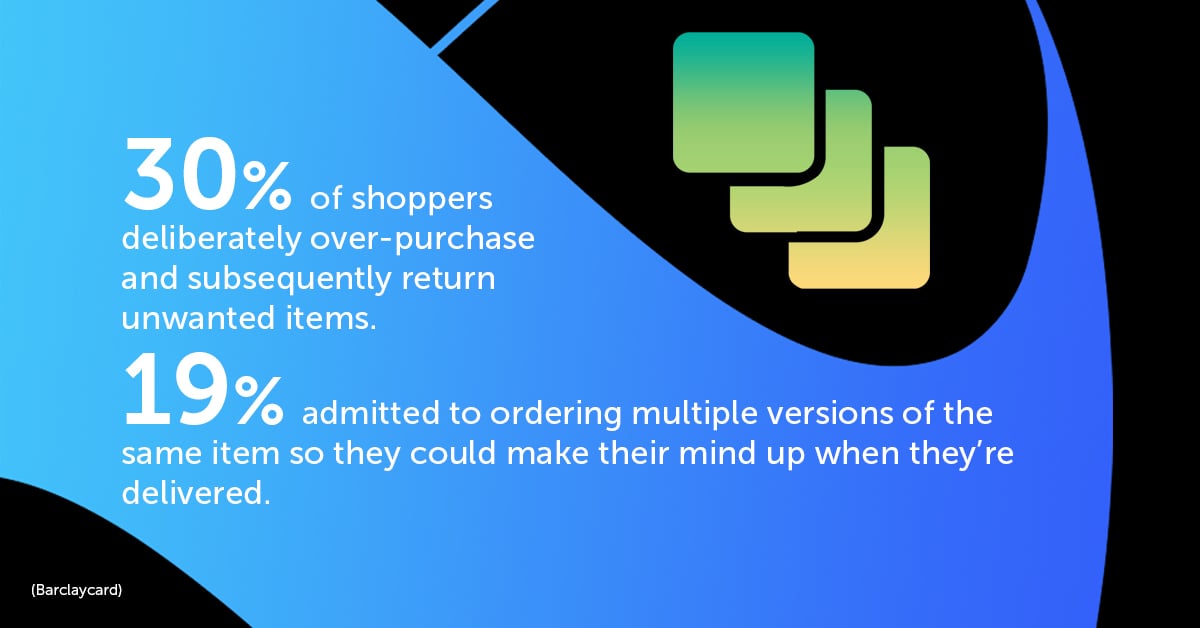 While impossible to eliminate completely, Augmented Reality can help you bring your returns rate down and protect your margins - just by enabling the customer to visualize your products at home, before they even leave your warehouse.
Enhanced customer experience
Consumer behavior has changed - price is no longer a deciding factor in the buying process. Today, consumers crave exceptional brand-to-customer experiences and they're willing to pay more for it. Meaning, a discount here and there isn't enough to convert & keep the customer because what they want is convenience and meaningful interactions.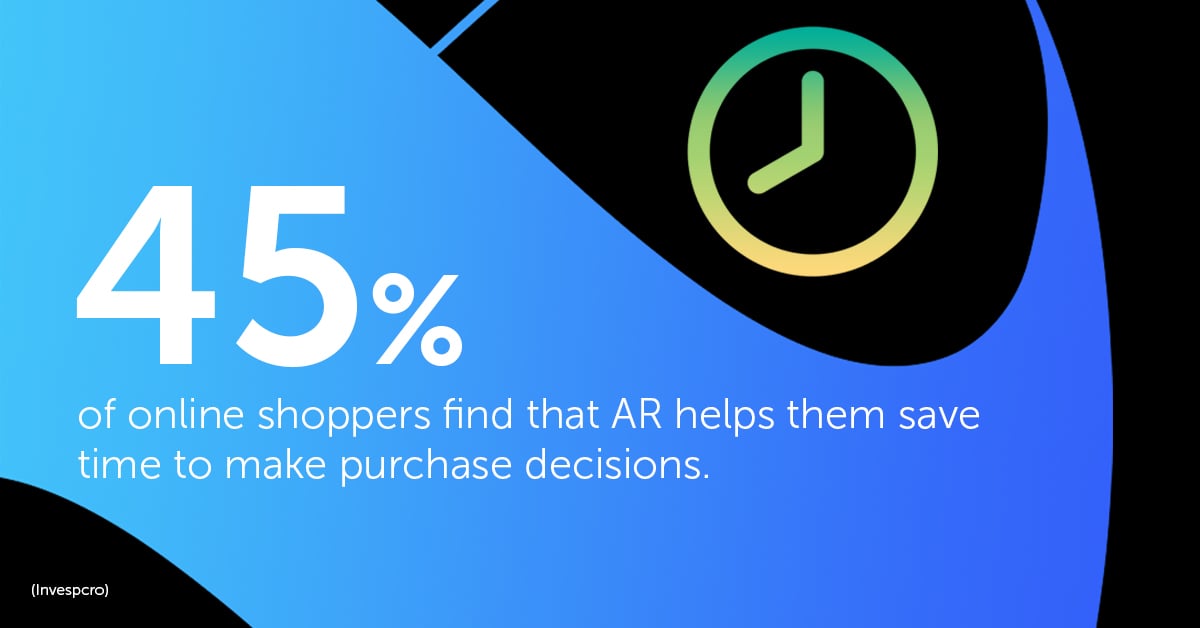 Augmented Reality helps transform shopping from a mere value exchange into engaging experience consumers thoroughly enjoy by gamifying the purchase process. It provides product information employees can't; and adds that "wow" component to the shopping journey, surprising and delighting your customers.
5 Brands Already Nailing It With AR Shopping
1. Converse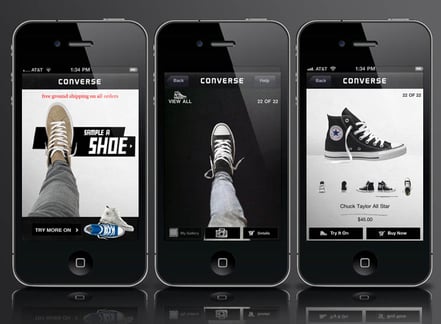 The Sampler by Converse lets you virtually try on different pairs of Converse before you buy any. Users simply choose preferred pair in the digital catalog, point the phone camera at their right foot and et voilà! They can now see how each choice will look like in real life and save it to share with friends.


2. LEGO


Ever dreamed of your most valued LEGO sets coming to life? Well, forget dreaming about it - it's already happening. LEGO Hidden Side app launched in 2019, beginning with eight AR-focused sets giving kids (and let's be honest, some adults too) a whole new dimension of play to engage with.
But that's not all from LEGO - the company recently announced it's launching a new Augmented Reality social video service on March 1st of this year:


3. Wayfair
Very similarly to Converse's Sampler, Wayfair Augmented Reality app allows you to visualize products before buying them. Except, in this case, it's furniture - something you are unable to try on even in-store, only take a look and imagine what it would like in your home office. Wayfair's AR app utilizes a View in Room 3D feature, giving you the ability to test out different layouts and configurations for their furniture and decor without the heavy-lifting it would take in real life.
4. Sephora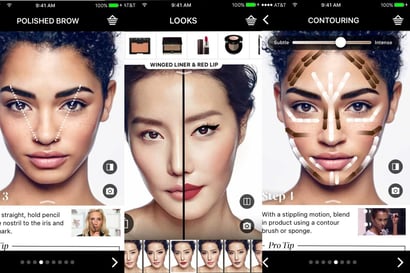 Sephora's Virtual Artists utilizes 3D facial recognition technology to scan a user's face to allow customers to try virtual makeup on at home - but that's not the end of it. Customers also get access to customized virtual step-by-step tutorials, a look into how the latest trend would look on them and outfit & makeup color match feature.

5. Warby Parker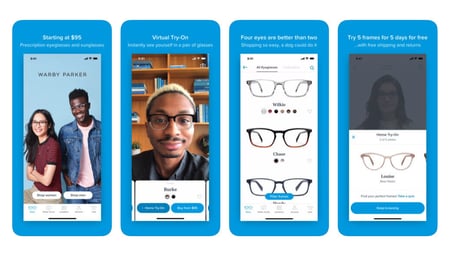 Online glasses retailer, Warby Parker also allows its customers to virtually try on different glasses and sunglasses frames and designs before committing. The app uses Apple's face-mapping technology so that you can visualize how certain frames, textures and colours will look like on your face.

Is your e-commerce ready for AR shopping?
It would seem that 2021 will be the year when AR shopping will finally become a natural occurrence. The closure of most brick and mortar shops forced many retailers to rethink their stance on Augmented Reality and finally see it for what it is: a useful tool that could make a significant impact on their revenue.
It's also worth mentioning that implementing Augmented Reality product holograms into your e-commerce store is much more budget-friendly and easier than it was even two years ago. Not to mention that once more brands embrace AR shopping, those that don't might soon find themselves losing customers in pursuit of a better shopping experience.
---

Interested to hear more about Augmented Reality product models? Reach out and schedule your demo today.