Virtual career fairs are on the rise - and not just because of COVID-19. The thing is, physical hiring events were never able to reach their full potential for one simple reason: geographical restrictions. Organizations, universities and recruitment agencies were only able to reach a fraction of top candidates at high-ticket prices.

It's not just the global outreach that makes hosting a virtual career fair so appealing. Both, candidates and organizers appreciate the convenience and cost-effectiveness of online job fairs too, since travelling and venue costs are no longer a concern. And with more aspects of life moving to a digital environment, it's becoming more of an expectation (especially amongst college students) to enable virtual recruiting.
Luckily, hosting a virtual career fair has never been easier.
What is a virtual career fair?
Virtual career fairs work exactly as live hiring events do: they empower organizations to connect with their ideal candidates. Except, they take place in a virtual environment, of course. They even look the same, with fully-branded exhibitor stands or booths, allowing job seekers to access recruiting collateral and speak to organizations in real-time. See an example of the Jobs Canada Virtual Career Fair below.

Jobs Canada Virtual Career Fair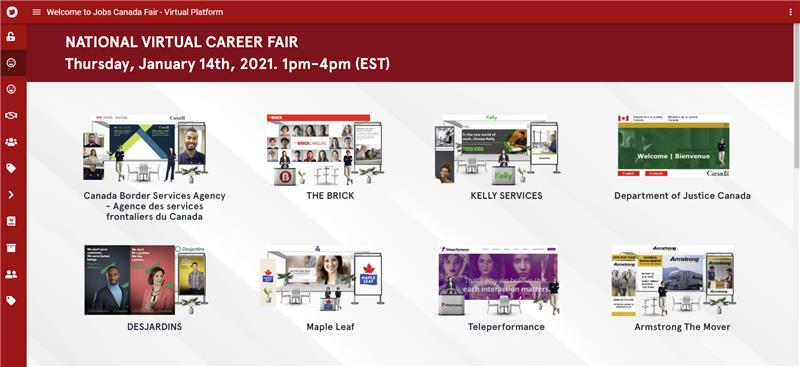 Why Host a Career Fair Online?
Certain events provide a superior experience when participating in-person, but this rule doesn't apply to virtual career fairs. While hiring events are fundamental in the recruitment process, their physical form leaves much to be desired. The first thing that comes to mind is travel and accommodation costs for job seekers; next, there are the event planning and production costs that often don't stretch far enough to meet all recruitment outcomes. And finally, live events in general are incredibly time-consuming for everyone involved - attendees and organizers.
Choosing to host your next hiring event in a digital setting empowers you to overcome those challenges and restrictions - see the benefits of virtual career fairs for yourself:
Broader reach
Physical career fairs are only available to candidates residing locally or those willing to travel to find their dream job. Unfortunately, it's almost like the survival of the fittest - only those comfortable financially can afford to attend. As you can imagine, it isn't always the case amongst those who are currently unemployed. Not only that, inability to participate dramatically limits the number of attendees or should we say, potential future employees, for companies to choose from.
That's where virtual careers fairs come in. In order to participate, applicants must register for the event, create a profile, upload a CV or resume and... that's about it until the day of the fair, where they can explore employment opportunities and speak to recruiters at their convenience. Not surprisingly, this results in much higher attendance rates and of course, more top talent to decide upon.
Cost-effectiveness
With virtual career fairs, geographical distance becomes obsolete, together with travel and event planning costs. Candidates are free to join in from any part of the country (or world) on their preferred devices - desktop, tablet or a smartphone. This opens up a whole new level of employment opportunities to those previously unable to attend as well as a better selection of ideal candidates for organizations.
Another important aspect of not having to travel or spend hundreds of hours planning a physical career fair is that candidates and organizers are well-rested and mentally prepared for the event, which increases the chances of meeting the hiring goals efficiently.
Real-time interviews and fast information exchange
With the right virtual career fair platform, recruiters can browse through the list or even search for relevant candidates and schedule up real-time interviews effortlessly. Equally, job seekers are able to leverage the live chat function to request more information about the company. Networking isn't lost either when hosting or attending a virtual career fair, facilitating the connection between employers and their ideal candidates.
Additionally, companies are free to include any marketing or recruiting collateral they feel will benefit participants. Just like in a traditional career fair, exhibitors are encouraged to customise their virtual stands or booth to emphasize their brand culture and include all types of educational materials to attract job seekers.
How To Set Up a Virtual Career Fair
Create a Strategy
Defining an event strategy should always be the first thing you do when planning an event, regardless whether it's a live or virtual one. Create a set of specific goals and a plan of action that will help you achieve your recruitment outcomes. We would recommend starting with asking some simple questions first:
● What is the ultimate outcome of this event?
● What is the estimated number of attendees?
● Which KPIs will help you track and analyse the event's performance?
Choose the Best platform
We might be biased, but the choice of virtual career fair software can make or break your hiring event. Both, job hunters and recruiters need the interface to be user-friendly and easy to navigate to make the most out of the experience. Furthermore, the platform needs to be able to support your requirements as an organizer - we're talking audio, text and video communication feature, customization, data & analytics and user privacy protection amongst others.

Below you'll find an example of a recent virtual career fair hosted by Jobs Canada using our virtual event platform features - to give you a better understanding of what to expect:
Promote Your Event
There are no two ways about it - if you don't promote your virtual career fair, no one will attend it. For best candidate turnout, make use of your social media channels (organic and paid) to create a buzz around the event. Email marketing campaigns and press releases can also help in attracting top talent. On top of it, partner up with sponsors and exhibitors to leverage their audience.
If you don't know where to start, we recently wrote an article on how to promote a virtual event to help you increase the attendance rates.
Plan for Engagement
Getting job seekers to attend is just a start -the biggest challenge of virtual events is maintaining meaningful engagement throughout sessions and keynotes. Below there a just a few ideas to encourage active participation from your audience:
● eliminate unnecessary form fields to simplify the sign-up process
● incorporate live Q&As and polls to increase interactions
● gamify the experience to keep the attendees alert
● provide interesting and relevant content to help overcome the webinar fatigue
Final Thoughts
With the recent development of virtual event platforms, online job fairs provide the same (if not better) job-seeking experiences than traditional career fairs do, giving your organization a chance to connect and hire the best candidates, no matter where in the world they are.
---

Wondering how hosting a virtual career fair can help your company meet the recruitment outcomes? Reach out today to schedule a demo and see our virtual events platform in action!

Cover Photo
Designed by katemangostar http://www.freepik.com