It's Time To Update Your Marketing Playbook
Is your home worth 2.4 million? Odds are it isn't, which can make it all the more surprising that a digital land plot within Decentraland, a 3D virtual reality platform, recently sold for that amount. The concept of the metaverse is ramping up, resulting in an increase of sales for tokens and digital land.
With Facebook's recent rebranding announcement to Meta and big names like Nike and Adidas following up with their own metaverse partnerships, this is a huge signal that brands must start to consider how they can grow and innovate in the metaverse.
But just because you've been hearing all the buzz around the metaverse, that doesn't necessarily mean you know how to get started. Here are a few ways brands can dive in and begin creating digital experiences for their consumers.
Important M

etaverse T

erminology

You Should Know
For an in-depth review and FAQ of the metaverse, you can check out our blog going over key terms. Below you'll find our definitions for the main concepts we believe brands should know before developing their metaverse marketing strategy:
Metaverse:

Mark Zuckerberg described it as "a virtual reality construct intended to supplant the internet, merge virtual life with real life and create endless new playgrounds for everyone." We like to make it simpler and see it as a virtual world where large numbers of people can gather for

gam

es, meetings, training, shopping, entertainment and shows, learning experiences, and much more.
NFT:

Short for non-fungible token which allows people to own digital items, such as an image or a video.
1. Parallel Marketing
The metaverse isn't a trend that's destined to soon fall out – it's here to stay. And every brand is going need a metaverse marketing strategy. But with the metaverse being so new and open to experimentation, it may be best for brands to start small and with something simple when introducing it to their marketing plans.
Gucci's partnership with Roblox is a great example of how to parallel what your brand does in real life, making it simple and natural for this company to enter into the metaverse. The online gaming platform makes most of its money through their avatar customization available through the currency of Robux; in fact, in the first six months of 2021 alone, over $1.31 billion worth of Robux was purchased. Roblux wants their users to invest in their avatars and be who they want to be, whether it's with a wacky outfit or a new hairstyle. This allowed Gucci to seamlessly become part of the Roblox metaverse by allowing users to enter their virtual lobby and view, try on, and purchase digital Gucci items.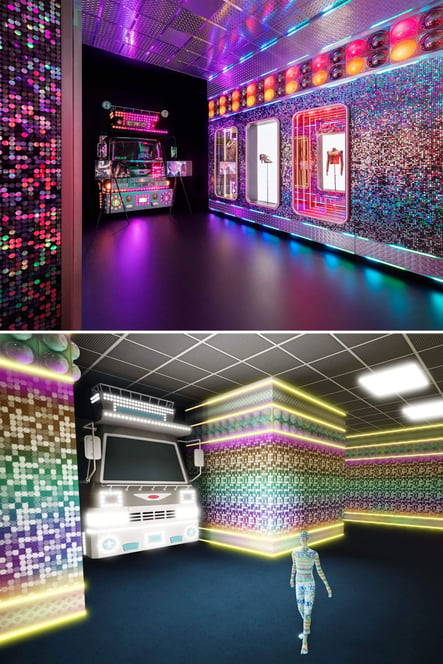 2. Virtual Showrooms
Coach recently installed 4 pop-up shops to showcase the new Disney and Keith Haring collection, yet their single virtual showroom promises the same amount of engagement and immersive qualities, all at a distance.
Their virtual exploration features a large yellow Mickey Mouse to first enter through, allowing consumers to explore 5 interactive rooms in total. They're able to shop the collection, zoom in on products, learn how the campaign was set up, and most importantly, still experience this promising collaboration without physically being there.
3. Offer Unique

Collectibles
Gamification
A great way to incite brand exposure and hype around your brand is through special limited-edition items or collectibles. Consumers love to hunt them down, as it tends to give a "special" status for obtaining them.
While the Marvel universe doesn't necessarily need help with brand exposure, they certainly created a new level of excitement for the upcoming Spiderman movie with their announcement that they will give more than 100 unique NFT's to the first 86,000 online ticket buyers.
Not only is it encouraging ticket sales, but it makes for a new type of ticket purchasing experience with the added gamification of customers potentially getting to own a very rare Marvel digitized item.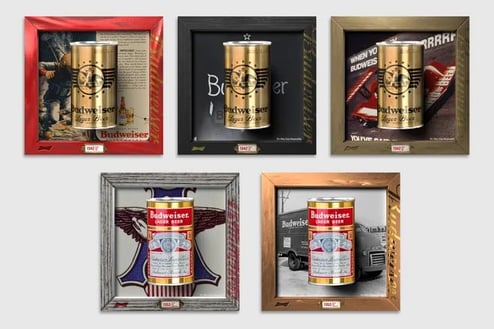 Special Earned Perks
Budweiser's recent NFT announcement perfectly demonstrates how you can drive a connection with your customers and have them feel as if they're part of an elite group that earn the privilege of having a form of ownership of the brand.
The beer company released 1,936 unique NFT's (the number coming from the year the company released beer in a can) out of previous ads, designs, and various photos from the past with two tiers of Gold ($999) and Core ($499).
Both NFT types guarantee premier access to the "Budverse," yet the 36 gold NFT's are equipped with "hyper-exclusive, gold-only levels of access" and marketed as a "VIP ticket."
And while it may seem a bit odd for a beer company to be selling digital art, every NFT sold out within an hour despite Budweiser not yet disclosing what exact perks the owners will receive in the future, demonstrating just how much consumer demand there is for unique collectibles and digital experiences!
How Do Brands Get Started Creating Value in the Metaverse?
3D and Augmented Reality (AR) models:

This is one of the easiest ways to start adding that important immersive element needed for metaverse experiences. Allowing consumers to pinch, rotate, and zoom in on models has been linked to increased conversions and

fewer returns.

With our Artificial Intelligence (AI) platform,

3D ARitize

, brands can roll out 3D and AR assets in as quick as a few days.

2.

Virtual showrooms:

Show off multiple 3D and AR assets in a virtual showroom. Nextech AR takes it one step further and employs AI to scan consumer's 2D photos and

transform it to 3D interactive spaces!

Virtual events:

Nextech AR can help you craft a virtual event as engaging as fun as the Disney exhibit. We offer all the necessities with the addition of AR and 3D stages to create an unforgettable experience.
The brands who don't jump in and craft metaverse marketing strategies for the growing Gen Z population risk becoming obsolete. And while it may be a land uncharted for the time being, the opportunity to be experimental and innovative in crafting new, immersive experiences for our consumers is too good to pass up.
Looking to start brainstorming how your brand can grab a piece of the metaverse? Nextech AR is here to help! Reach out to us here to see how we can turn your ideas into reality.