Augmented reality transforms the customer purchasing journey from start to finish. It's more likely to grab the attention of prospective customers and drive larger amounts of traffic, as the ability to place and play with a product in any environment is bound to grab attention. In 2021, it was used by over 100 million shoppers. Brands and businesses can now use their usual digital display advertising channels with game-changing banners that can display fully interactive, 3D versions of the products advertised. This has proved to increase click-through rates by 32% and conversion rates by 300% in our test remarketing campaign.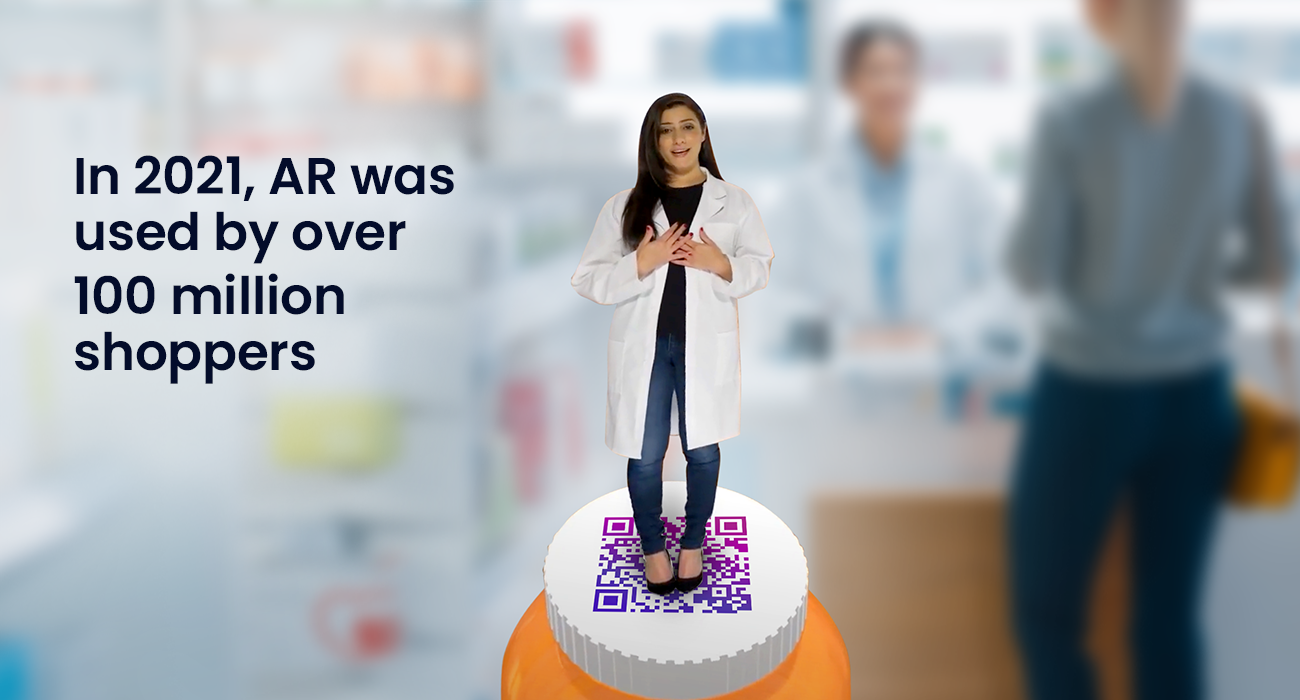 When looking at ads for the TruLyfe Supplements brand, the company saw significant increases in reach and engagement when comparing ads that featured an AR hologram versus other ads with celebrity influencers and experts showcasing products alone.
A customer with more information is a customer with more purchasing power. Viewing a product in their space before buying fills the gap between physical and virtual shopping. The boosted confidence provided by augmented reality of the product they are interested in means they're more likely to add it to their cart and complete the purchasing process, leading to more conversions.
Ads come into play again and are perfect for retargeting cart abandoners who may have felt unsure and hesitant about a product. Not only is augmented reality providing a substantial advantage in reaching and retaining customers, but it's poised to solve one of the biggest issues in e-commerce.
Rising Return Rates in E-commerce Sales
Online shopping has grown in popularity over the past several years. It is hard to beat the unrivaled convenience online shopping offers with unlimited stores and products offered any time and anywhere. Businesses bloom from this shopping transformation where they showcase their style, customization, and personalization offerings more easily. 
How will augmented reality change online retail?


One sector that particularly benefits well is the furniture industry, as space is a limited commodity for furniture retailers and department stores. It's much more logical to display their large catalogs of furniture pieces online for their customers to sift through, since it simply isn't possible to replicate in a brick-and-mortar location. Heightened opportunities from furniture e-commerce sales are promising, but there's a major issue threatening profitability: returns. 
In 2020, customers returned products worth $428 billion, just over 10 percent of total retail sales. The National Retail Federation estimates the cost of returns amounts to $101 billion. Within those returns, 20 percent of products returned were bought online. When asked why, the most frequent response was that preference-based returns such as size, fit, and style drive about 72% of all returns while non-preference-based reasons, for example "defective" and "not as described" account for 10 percent in total.
Returns in the Furniture Industry
One of the biggest reasons behind a return is that information is lacking in a product listing, resulting in an uninformed customer purchase. When looking at furniture sales, an array of issues can arise based on what is and what is not provided with images, the description, and the specifications.
Perhaps an antique end table looks closer to light brown on a customer's computer screen, but ends up appearing much darker in their home and ultimately mismatching the existing décor. A desk or shelving compartment may not seem that long or wide as what is shown on the product listing, prompting the return process to start.
Even if online retailers revamp their product listings with more information, it's simply not the same as seeing a product in person and having the ability to feel and inspect everything down to the smallest details up close.
Using Augmented Reality to Lower Return Rates
Can your customer feel 100 percent confident that those cabinets will match their appliances? Will the television they're interested in end up being too small to mount on their wall? Even though it helps to see the product in-store and has a slight advantage over a computer or phone screen, it's still hard for a customer to truly picture what it will look like in their home.
With the ability to preview a product in real time in their preferred environment, consumers can leave those fears behind and feel reassured in such a big furniture purchase with the assistance of augmented reality. Better than a static image or video displaying the product, augmented reality provides a 3D computer-generated image that can be placed, rotated , and played with in any space that makes it considerably less likely a return is needed since consumers have the ability to fully anticipate what the furniture piece looks like before it even arrives.
Macy's "See Your Space IRL"

for Furniture
After the retail giant Macy's announced the implementation of virtual reality called "See Your Space IRL" into 3 select store locations, they saw astonishing results. Just from these few pilot stores alone, the company saw a 60 percent increase in sales versus non-VR furniture sales. This huge success led to a "Visualize Your Space" augmented reality button within the Macy's app, allowing customers to precisely visualize any furniture piece.
The commitment to augmented and virtual reality ultimately decreased returns to less than 2 percent and increased the number of conversions, all while providing a unique shopping experience that more and more online retailers like Build.com, Houzz, Wayfair, and Overstock are utilizing to effectively streamline the purchasing experience.
AR Assets at Scale for any Business
As great as augmented reality sounds for furniture retailers, there remains the biggest challenge of creating 3D models of a catalog which likely contains thousands of skus. In an interview with Proactive, founder of Threedy.ai Nima Sarshar, likened the creation process to a slow, cumbersome craft that can take up to several hours for a single product.
CEO of Nextech AR Evan Gappelberg noted that the company hears plenty of demand for these 3D models, but this "bottleneck" of time constraints puts a large hindrance on what has proven to transform online furniture sales. To have a company like Wayfair or Overstock take nearly 100 photos for each furniture piece on their website to meet the requirements for a 3D model simply isn't manageable. But with Threedy.ai, the scale of content creation necessary for augmented reality is much easier to meet.

Grow Your E-commerce Business with Nextech AR Augmented Reality


The company's acquisition of Threedy.ai, now called ARitize 3D, is nothing less than a major game changer as Sarshar's innovative artificial intelligence process for 3D models effectively eliminates the large time consumption and costs typically associated with augmented reality.



Rather than a single person requiring multiple hours as well as countless photos to construct the model, all it takes is a single 2D photo. It then goes through what is coined as an "AI-Enabled Assembly Line" and produces a 3D model at a fraction of the time and cost, revolutionizing the realm of augmented reality and the ability to mass produce it. With ARitize 3D, Nextech AR can bridge the gap between the physical and virtual and easily provide e-commerce platforms the experience of augmented reality.
Want to learn more about how Augmented Reality can grow your
e-commerce
business?
Contact us
today or schedule a demo.