3D models are more common than we may think. They appear across a multitude of different industries, from video games, movies, architecture, illustration, engineering, commercial advertising, and more. You may find yourself wondering how exactly is something so visually detailed created. Nextech AR is here to walk you through the process.
What Is A 3D model?
A 3D model is a digital representation of an object typically generated using special software. Within this software, you're able to plot points on X, Y, and Z axes to designate height, weight, and depth. These points, or vertices, make up the 3D mesh of the 3D model that acts as the main structure. You can imagine the beginning of the process as something similar to the below image: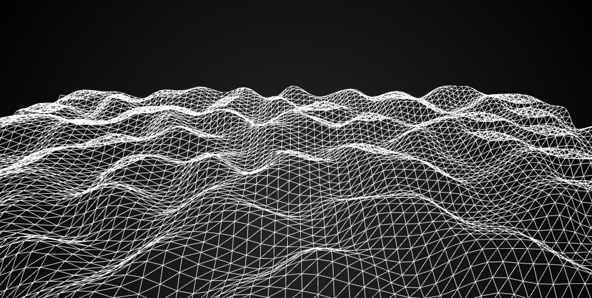 As the mesh is manipulated and made up of more complex quadrangles and triangles, or polygons, these geometric shapes eventually create the 3D model. The more photorealistic a 3D model is meant to be, the more complex its mesh.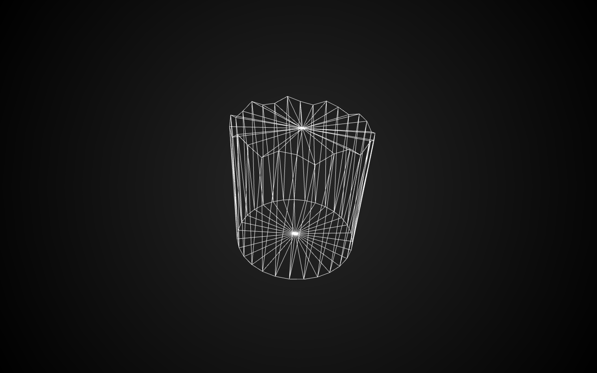 What Is the Difference Between a 3D and AR Model?
3D models are great for inspecting the fine details and individual components, but this experience is limited to your screen. An AR model is also a digital object, but it becomes part of our real-world environment. A good example is when you view and place a product in your space as you're shopping, you're looking at an AR model that becomes part of your phone.
What Are the Typical File Types That Are Used for Web 3D?
If you're unfamiliar with 3D models, the multiple formats they come in can be confusing, as it's not your usual JPG or PNG file. The most popular file formats are .stl, .obj, and .fbx. Filmbox, with FBX having the advantage due to its compatibility with 3D software programs.
Nextech creates gLTF, usdz, and OBJ for our clients, with the ability to make other formats if requested including FBX and DAE. We also create PBR (Physics based rendering) maps with up to 5 standard maps per model. We're seeing gLTF becoming the standard format while Apple uses and supports USDZ.
What's Needed to View 3D Models?
One of the biggest benefits of 3D models is that no special equipment is needed to view them. Unlike AR models, Web 3D won't ever require an outside app or QR code to trigger the experience. Users simply need to be on a web browser on a PC or laptop to engage with 3D models. While WebAR is just as uncomplicated, they require users to have a smartphone to use the back camera in order to "beam" the object over a real space in their home.
3D Models: An Overview
The purpose of having a 3D model is to provide an accurate digital representation of a product. 2D images don't always show off product features in the best way. Here are a few ways they fall short:
Coloring: What may have appeared as light or dark in an image could turn out the exact opposite in-person.

Sizing: Images and measurements are helpful information to have, but nothing beats seeing the product in your space.
Customers aren't likely to keep a product that didn't match their expectations, prompting unwanted returns for businesses. This is where 3D and AR models come into play and demonstrate how there doesn't need to be such a gap between physical and online shopping. Through the click of a button or scan of a QR code, this new way to shop allows customers to twist, zoom in, and place products directly in their home. They get up close and personal, just as if they were in the store. Shopify data revealed a 94% increase in conversions and 40% reduction in returns when providing such dynamic visualizations to transform a customer's shopping experience.
Despite their downfalls, 2D images do have an important role – they're the starting point for 3D models. With our Artificial Intelligence (AI) technology, all Nextech requires is a few 2D images of your product to transform it into a stunning 3D/AR visual – all in a couple of days. Let's take a look at how easy Nextech makes the 3D modeling process:
How Long Does It Take to Make a 3D Model?
Artificial Intelligence
Typically, artists spend multiple hours on a single 3D model or expensive equipment is required to automate the creation process.
That's why our ARitize 3D's AI technology is so disruptive in the 3D model creation industry – we can take a complete product catalog and transform 1000's of SKUs into 3D models in as little as a week.
To turn 2D images into AR products, our AI technology ingests your provided product photos through a product feed or image scrapes from your site to create the 3D models. You then inspect and approve the models on our platform to then provide stunning visuals to customers.

CAD to POLY
A process just as quick or perhaps even quicker is CAD to POLY. Industrial businesses may work off CAD (Computer Aided Design) files containing prototypes or blueprints of items that haven't been manufactured yet.
Our technology is capable of creating photo realistic, fully textured 3D models from those raw CAD model files and reference images, completely cutting the step of 2D photography! With a native or neutral CAD file, our AI AI creates a high-poly 3D model optimized for visualization.
To learn in-depth about this process, check out our blog detailing "Turning 3D CAD Designs Into CGI Ready 3D Models Automatically."

How Much Do 3D Models Cost?



On top of high scalability, Nextech offers low and affordable pricing plans. In fact, it works out to be that one 3D model is no more than a typical cup of coffee! Whether companies are starting off small and slowly introducing 3D/AR into their marketing strategy or need to quickly scale, our pricing is built to support businesses.
How Are 3D Models Used?
Design Process
Manufacturers can implement AR and CAD for designers and artists to model products in 3D spaces for easier changes, touchups, and an overall improved workflow from initial creation to production.
Nextech's exploded view feature is another useful tool for manufacturers, as those 3D models starting as a complex engineering mesh can be broken down into individual components to better support demos, training, and maintenance.
Training/Learning
Companies can create 3D spaces filled with 3D models to do something as simple as onboarding employees or use the environment to allow safe practices of complex medical procedures, for example. Training becomes consistent and employees can easily build confidence.
Ecommerce
Product visualizations: Textures, shapes, and overall size become clear to prospective customers through 3D models.

View in your space: When customers can place models directly in their space and see how it fits, they're more confident about making the purchase.
Product configurator: Put the power of personalization in customers' hands! Our tool allows them to change colors and arrangements of products, promoting engagement.

Custom CTA's: Promote a seamless shopping experience with functional buttons like "add to cart," "checkout," "Apple Pay," "View similar items," all inside the 3D model experience so that you keep them engaged!
Animations: Walk customers through the usability of your product with unique and creative animations. Adding eye-catching and engaging movement to 3D and AR objects not only brings them to life, but effectively demonstrates their function where a written description fails to.

Exploded view: Simplify the complex for your customers. Our exploded view feature breaks a product down into its individual components in 3D and AR to showcase internal structures as well as the smallest details.
Metaverse
Room Decorator: Create a mini and shareable metaverse! Speed up the consideration phase of your customer journey and enable greater purchase confidence by allowing your customers to evaluate a personalized combination of products in a 3D environment.
---
Ready to add 3D models to your marketing strategy? Look no further than Nextech AR, and reach out to us here to see how we can turn your idea into reality.