The past few months have required a certain degree of creativity and a great deal of imagination to cope during the global pandemic; the sudden transition to virtual events is a perfect example of this. But it feels like the main focus was on surviving rather than thriving in the event industry.
We're talking profitability, of course. It goes without saying that the primary objective of hosting trade shows, conferences or summits is to make money, whether it be by selling admissions, products during or after the event or enabling sponsorship opportunities. However, considering that the current circumstances led to thousands of live experiences being cancelled, the majority of organizations prioritized finding a feasible alternative rather than turning a profit - EventMB research found that only 25% of event organizers managed to pivot profitably.
It's important to emphasise that live events can and are a viable revenue source, and so we're taking this opportunity to show you how to make money on virtual events - let's dive in!
Live Events vs Virtual Events Expenses
The event industry suffered tremendously due to COVID-19, and as we head towards 2021, we expect the event budgeting to take a major hit: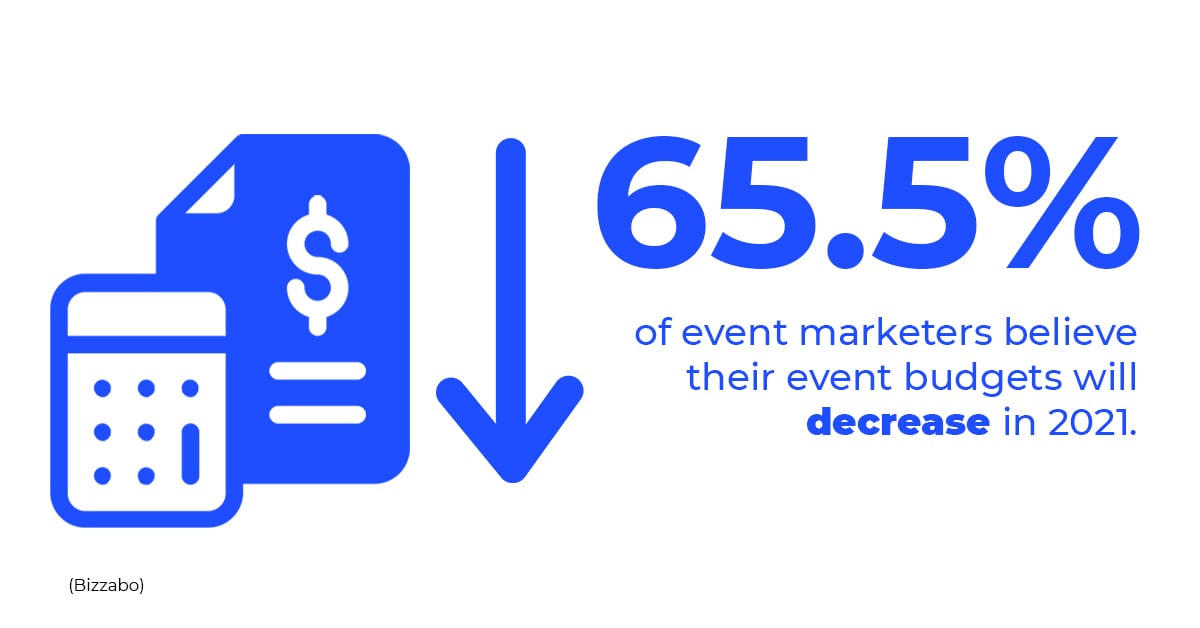 With that in mind, it'll be crucial to become even more creative next year to be able not just to host successful events but to see an ROI on them. In all likelihood, planners will seek ways to reduce production costs drastically and will struggle to do so, considering the budget it takes to organize a live experience:
venue - insurance coverage, parking and room rentals, decor vendors, entertainment, labor & delivery for setup & teardown

food & catering
visuals and audio

administration fees, planning and organization

marketing and registration

speakers

travel & accommodation
... and the list continues. It's important to note as well that those are the main expenses and no doubt you know from your own experience that there are hundreds of small, seemingly insignificant factors to include in your event budget on top of that.
And then, there are virtual events. One of the biggest benefits of hosting an online trade show or a conference is that they're a lot more cost-effective compared to live experiences. Granted, online events aren't the answer for everyone, but if you're looking to boost reach and revenue, then they're definitely worth exploring as these are the only costs to include in your budget:
marketing & registration

speakers

planning & organization
There are no travel and accommodation costs, no food & catering or on-site (venue) expenses involved. This, combined with an increased audience reach, makes virtual events pay for themselves. And, with a powerful event strategy and seamless execution, they can outperform live event profits.
How to make your virtual event more profitable
Charging admission fees is probably the most obvious way to monetize a virtual event. However, many event planners are reluctant to charge attendees admission fees, especially if the event was initially intended to take place in-person. Nonetheless, there are other ways to make virtual events profitable - let's explore the options:
Selling advertising space within the platform for sponsors and exhibitors
The opportunity to reach twice as many attendees doesn't go unnoticed amongst exhibitors and sponsors - they will want to get involved in your virtual trade show or a conference to raise their brand awareness. Offering increased visibility through banners, sponsor logos placement, speaker backdrop or video interstitials gives exhibitors a chance to gain more eyeballs and in turn, highly-qualified leads.
The possibilities are endless, given you choose the right virtual event platform. For example, with our Virtual Events Platform, you can attract exhibitors by selling ad space on:
event registration website

main lobby

naming rights for lounges, breakouts, exhibition halls

customizable home page

mainstage and auditorium

exhibit hall
See it for yourself: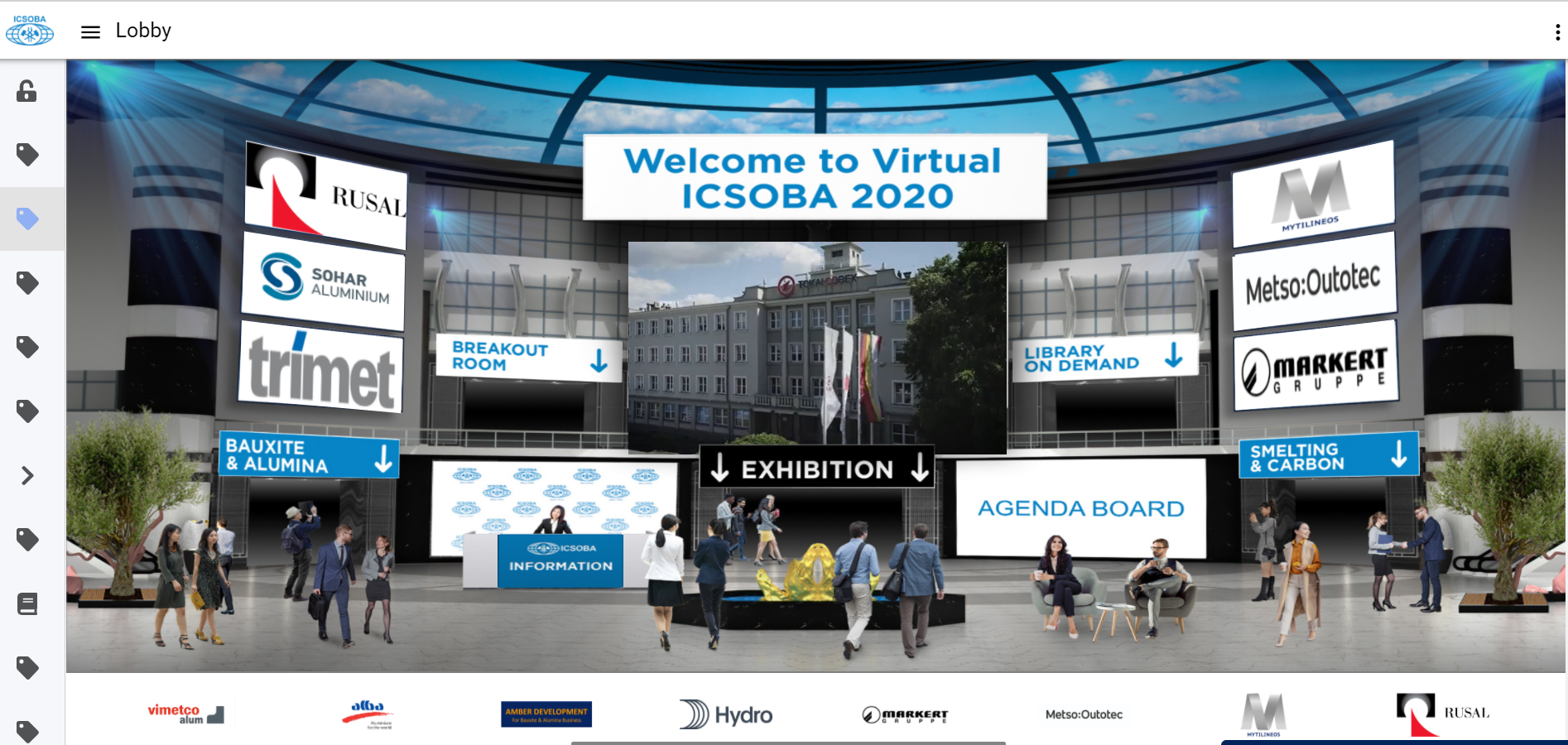 Selling sponsorship packages
Very similarly to offering advertising space, selling customized and fully-branded virtual stands and booths is guaranteed to appeal to sponsors and exhibitors. In fact, selling sponsorship packages, together with charging admission fees, is one of the most popular approaches to making events more profitable.

Examples of Exhibit Halls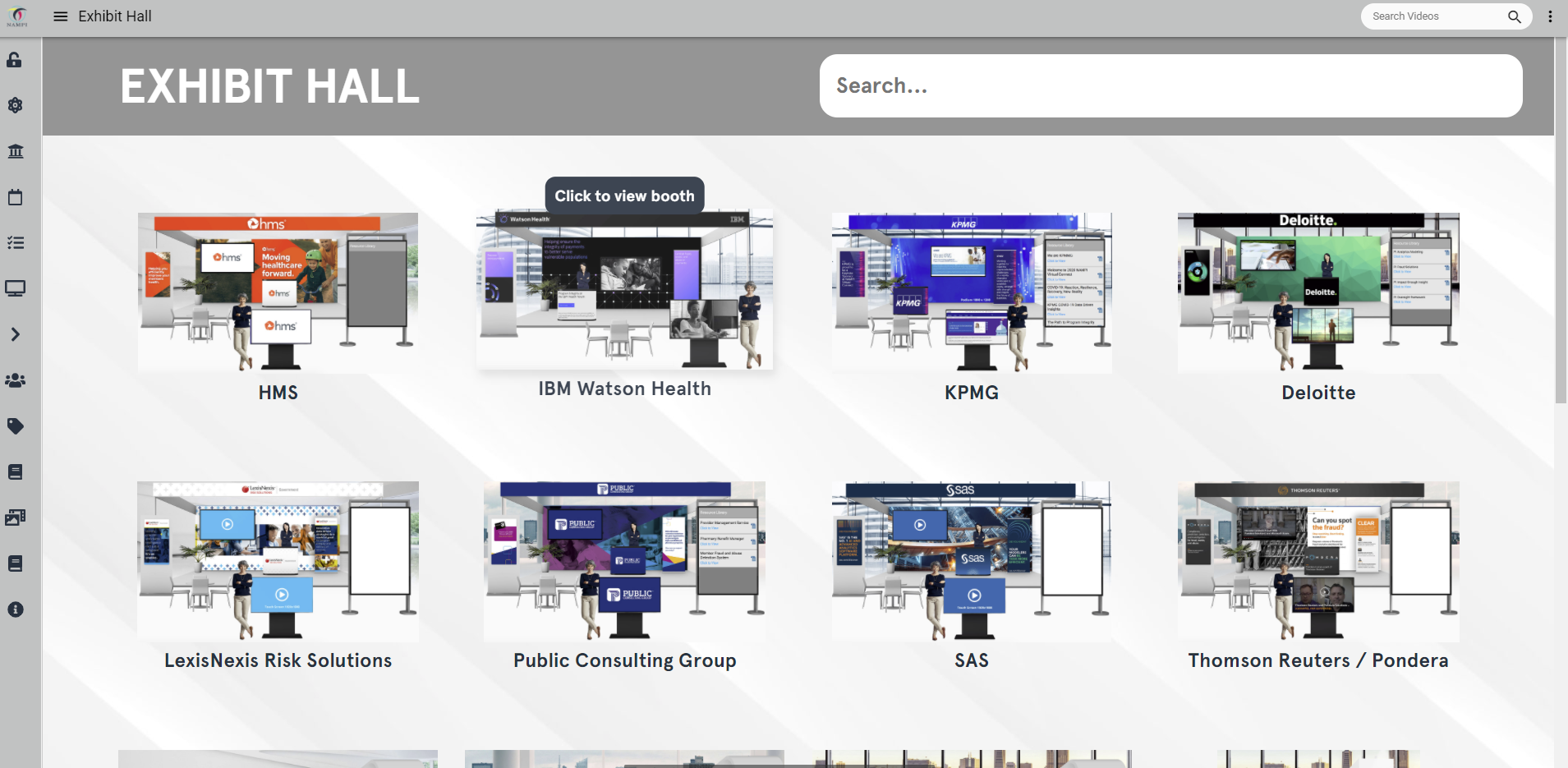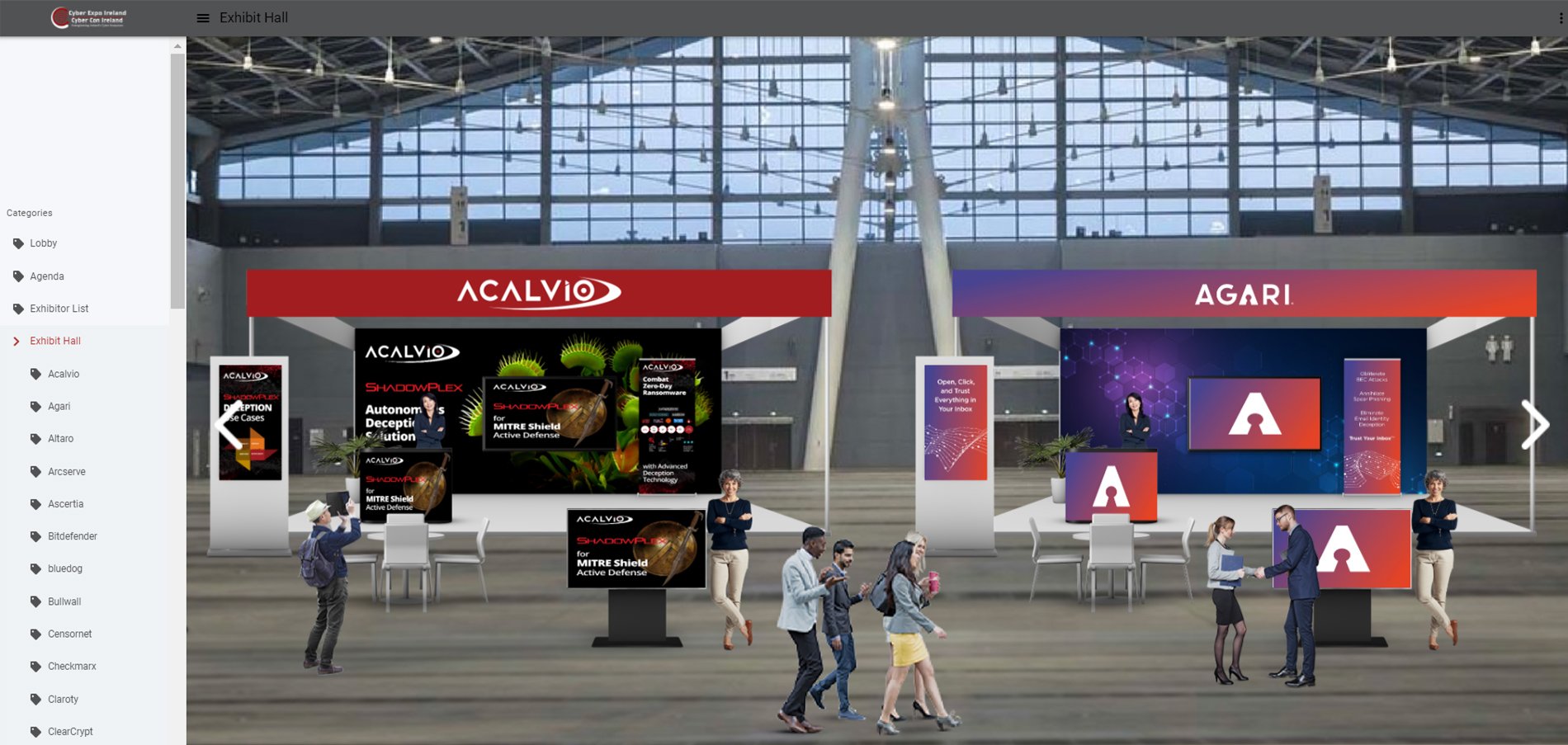 The great thing about hosting an event in a digital environment though is that neither you (the organizer) nor exhibitors or sponsors are limited by physical space restrictions. Meaning, your online trade show can sell an unlimited number of virtual stands and booths; equally, sponsors can display an unlimited amount of PDFs, product brochures or demos and more.
Selling media outside of the event
The event communication shouldn't end as soon as the big day is over - it's crucial it continues post-event. What you have to understand is that many people aren't ready to buy at the first brand touchpoint and require nurturing before converting eventually. The other thing to remember is that virtual events gather an enormous amount of actionable data on attendee behavior during the event, giving you insight into each action they take within the platform.
This data can later be leveraged in a post-event lead nurturing process incorporating invites, sponsored emails, remarketing on Google or Facebook and email follow-ups can really rack up your bottom line.
Selling premium tickets
A multi-level ticket system can also help in monetizing an online event. Offering premium and added value tickets works for two simple reasons: first, you expand the entry level for those wanting to access the basic programmes, resulting in increased attendance rates and second, you're giving the option of an enhanced attendee experience for those who want it, increasing their satisfaction.
Creating evergreen content which can be repurposed in the future
On-demand content is revolutionizing the virtual event industry, so why not create content that never goes out of date and will remain relevant for months, if not years to come? Insider Inc. has generated eight times more revenue than last year since pivoting to online earlier this year and offering evergreen on-demand event content.
Are you ready to boost your revenue with virtual events?
Although approached as the "damage control" due to COVID-19 crisis, online events are a valuable marketing asset and new business driver if done right. No doubt live experience will be back as soon as it's safe to meet in-person again, but as more and more organizations explore the value of virtual, they're not going away either.
---

Here at Nextech AR, it's our priority to help you host successful and profitable virtual and hybrid events - contact us today to schedule your demo or check out the events we made happen.