The automotive industry is one of the oldest and most successful mass-market industries in the world. Part of the success is based on the industry's constant ability to evolve, reimagine, and innovate. From combustion to electrification, and connectivity to artificial intelligence, car manufacturers have adopted new technologies at a rapid pace. Today, augmented reality (AR) is emerging as a powerful new tool for automobile manufacturers and drivers. It allows them to design, sell, and experience cars in ways that were never possible before.
As the automotive industry continues to innovate, there are many opportunities to leverage AR technology to create a more engaging and interactive experience for industry executives, brand managers, sales teams, supporting ecosystems, and drivers. AR apps have the potential to revolutionize the way automobiles are designed, sold, driven, and repaired. From AR in manufacturing, virtual product demonstrations, R&D visualizations, 3D mapping of roads and safety support, augmented reality delivers a wide range of benefits.


Improving Design
One of the most exciting areas of augmented reality is being used in the automotive industry is in the design process. With AR, designers can create virtual models of vehicles and make changes in real-time. This allows them to make adjustments quickly and easily, saving time and money. AR also makes it possible to build virtual prototypes of cars, which helps to reduce costs and improve safety. In 2019, Ford was the first automaker to work with Gravity Sketch – a 3D virtual reality tool that enables designers to create more human-centric vehicle design.

Streamlining Sales
Augmented reality is also being used to streamline the sales process for automobiles. By allowing customers to explore features and interact with cars in a virtual environment, dealers can get them more engaged in the buying process - and reduce the time needed to close the sale. In the online sales environment, Porsche launched virtual influencers on platforms like TikTok and Instagram to describe the benefits and promote the appeal of their sports cars.
AR in marketing and sales also makes it possible for people to view, explore, and customize a variety of cars in a virtual environment (whether that is at home, in a showroom, or at a car show), allowing them to see how their vehicle will look before they make a final decision. This can help to reduce costs associated with physical showrooms and make it easier for customers to compare and purchase the right car or truck. RelayCars is an expansive way to research and explore vehicles using AR on a smartphone or tablet. In a few clicks, the service allows shoppers to see what their next car looks like at home, at work, or on the move. In these virtual showrooms, AR allows customers to explore a variety of cars and features without ever leaving their homes.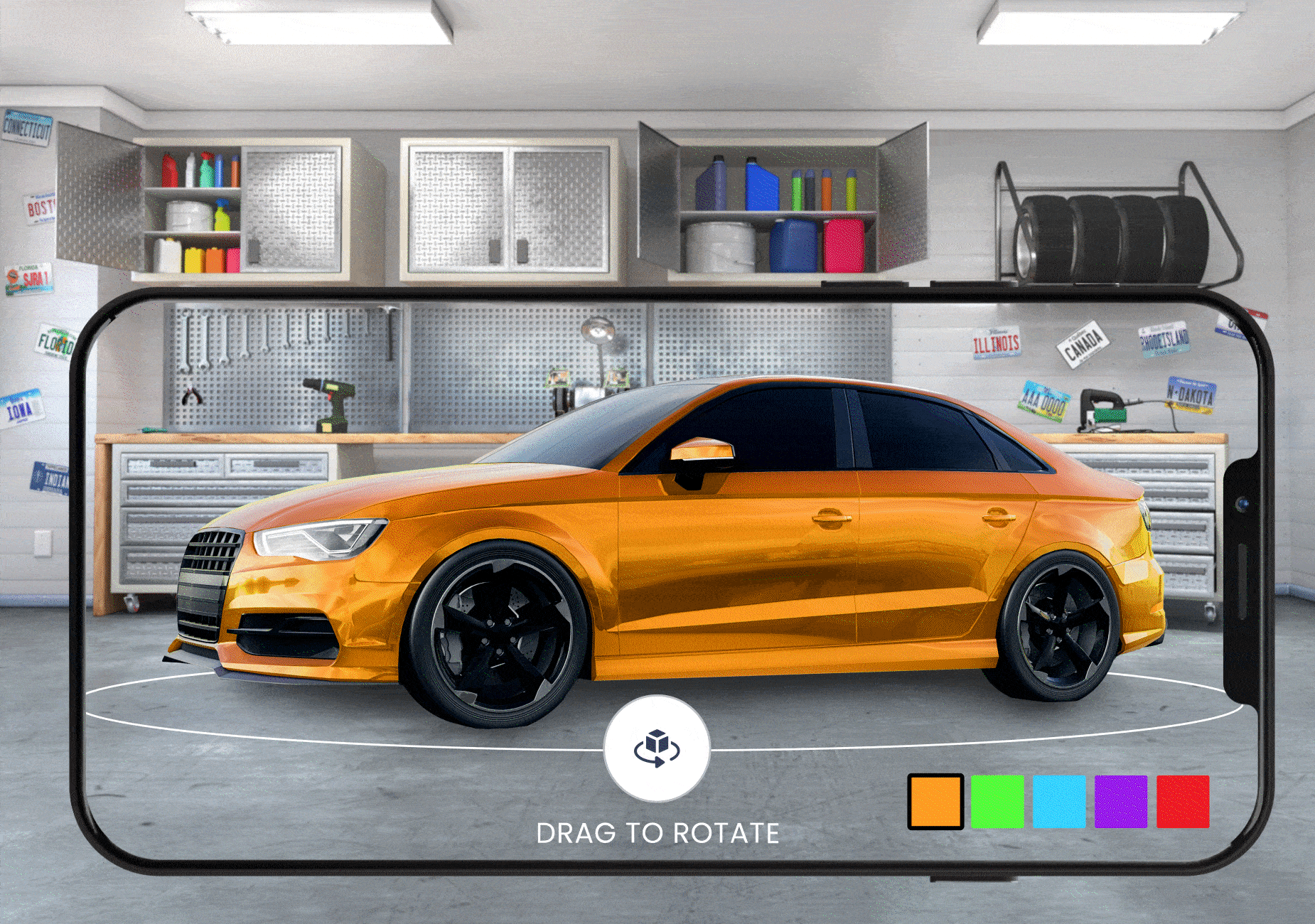 Improving Driving
Augmented reality is a useful tool for providing timely and helpful information on the road, such as navigation and speed limits - or details on points of interest and entertainment along the way. AR plays an important role in enhancing driver safety by providing alerts about traffic conditions and potential hazards.
Mercedes-Benz's Heads-up-display (HUD) technology is an exciting development for the automotive industry. This AR technology gives drivers the ability to access information without taking their eyes off the road, which makes driving a much safer experience for everyone.
Lastly, auto companies can use AR to create virtual simulations of different driving scenarios, allowing drivers to practice and hone their skills in a safe and controlled environment. This can help to reduce the risk of accidents, and make the roads safer for everyone.


Aiding Repairs
Augmented reality is a valuable tool for improving the vehicle repair and maintenance process. By using AR, technicians can easily identify problems, parts, and systems that need attention, as well as potential causes of any issues. Using AR, technicians can also access detailed instructions on how to perform repairs, reducing the need for lengthy training and improving the quality of the work performed. The results are fewer costly mistakes and a better experience for technicians, mechanics, and customers.
Repair companies can also use AR to provide a more immersive experience to customers. By incorporating AR into their processes, repair companies can provide customers with a more engaging and informative experience. AR can take a customer into their virtual vehicle to show them exactly what is happening to their car. This can help to improve customer satisfaction and loyalty, resulting in more repeat business.
NAPA is another example of an automotive company embracing AR and its applications in the metaverse. The company intends to offer motor vehicle repair services online and in virtual reality platforms. In 2022, NAPA submitted an application to the U.S. Patent and Trademark Office to trademark goods and services including "virtual and digital goods for use online and in, metaverse(s), online worlds, or other virtual reality platforms."


Conclusion
Augmented reality is revolutionizing the automobile industry and transforming the way cars are designed, sold, driven, and maintained. By utilizing the power of AR, automotive manufacturers, dealers, drivers, mechanics and technicians can all benefit from improved design, a more engaging sales process, a safer driving experience, and more visibility into the repair and maintenance process. This is just the beginning of what augmented reality technology can do, and we can't wait to see what else automakers roll out next.
Connect with us
today, and let's accelerate innovation together!