Augmented Reality is already revolutionizing the way we learn, spend our free time or even give a presentation at work; there's virtually no aspect of life that won't eventually be impacted by AR and shopping is no exception.
The thing with the retail industry is that it's an extremely competitive and rapidly evolving market where brands are desperate to outdo one another and acquire new customers in the process. Except a beautiful website or stunning store design are no longer enough to attract consumers. Today, people crave an exceptional shopping experience; to not just purchase what they need or want and walk away but also have fun buying it.
Of course, having fun is AR's game, which is why it's becoming a trend amongst retailers looking to enhance the customer experience. However, Augmented Reality is so much more than just a passing trend.
The current problems in retail
Right now, in 2020, COVID-19 is retail's most demanding challenge as all brick-and-mortar shops were forced to shut down for weeks. Brands that expanded from physical-only to e-commerce prior to the global pandemic and online-only stores had a lucky escape as people turned to online shopping to cope during the lockdown. Make no mistake though, whether or not consumers continue with their pandemic shopping habits depends entirely on the experience delivered by brands.
While we're on the customer experience subject, it's worth nothing buyers expect it to be seamless. Ever since the introduction of ecommerce stores, consumers began to notice the drastic CX gap between online and physical stores. By no means is the online shopping experience perfect - it often battles the same issues as brick-and-mortar shops such as under trained staff or poor customer service but even so, it's still heaps and bounds ahead of high-street retailers.
The personalized shopping experience, or lack of it actually, also plays a huge role in the state of the retail industry.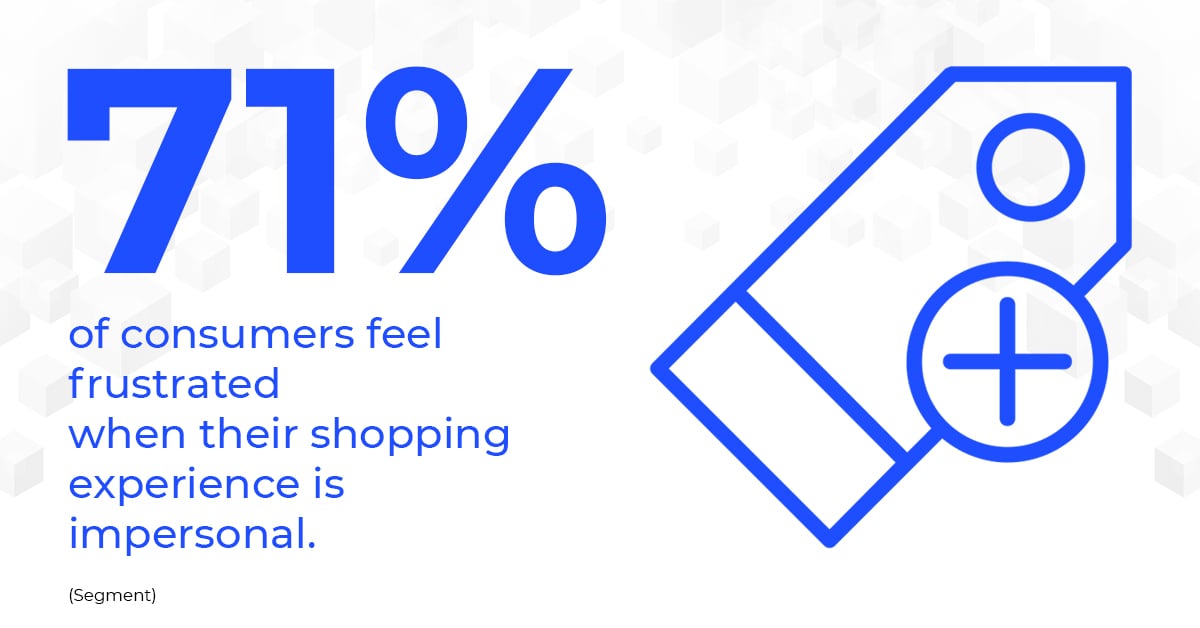 While ecommerce stores have tools to gather on-site user behavior that enables marketers to provide more relevant experience, many brands don't leverage the data enough. Needless to say, physical shops don't have the luxury of website pixels or analytics, and although there are ways to track in-store customer behavior, it doesn't happen often enough.
Finally, stores, whether online or physical, usually only operate within their opening hours which restricts buyers from reaching out to a shop assistant or customer service, should they have any issues or enquiries. It might not seem like a huge issue, but consumers are impatient. Very impatient: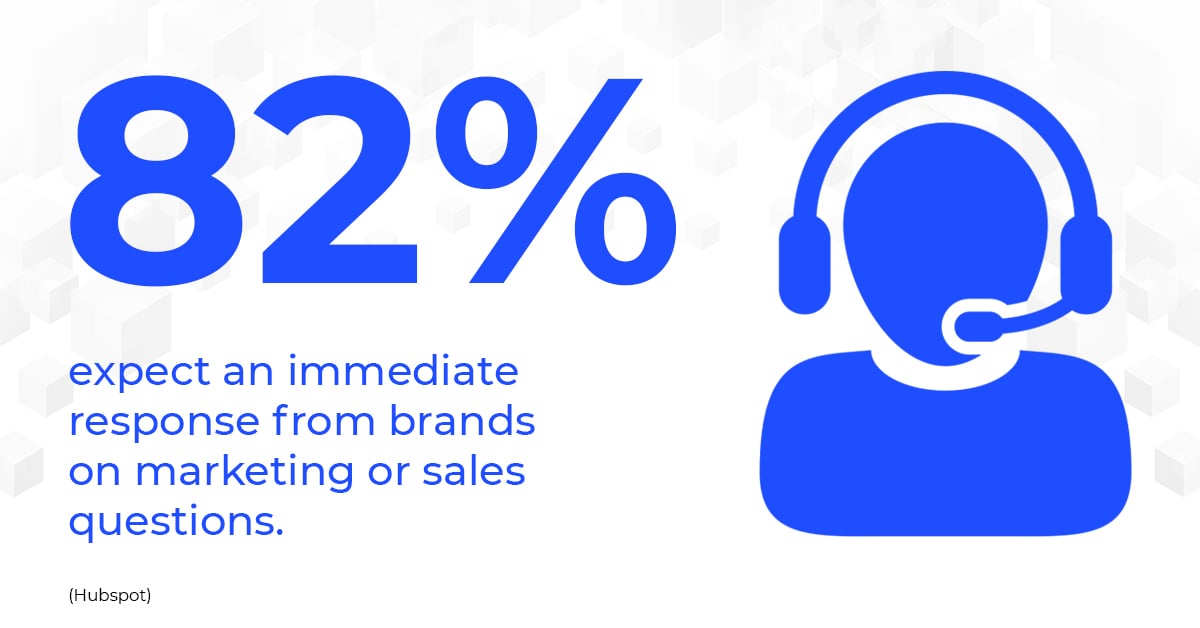 How Augmented Reality shopping can turn things around for retailers
Implementing Augmented Reality shopping feature into your store can make a significant impact on revenue. While COVID supercharged ecommerce sales, consumers remain sceptical about purchasing goods online since they can't interact with the product before buying it. AR product holograms are the solution, giving buyers a chance to visualize the item in real-time using nothing more than their smartphone or a tablet. That way, consumers get the in-store shopping experience while staying safe and at home.
Arguably, the biggest benefit of AR shopping is its effect on the overall shopping experience. The friction and uncertainty about the product being a good fit are immediately removed, making the decision process smooth and enjoyable.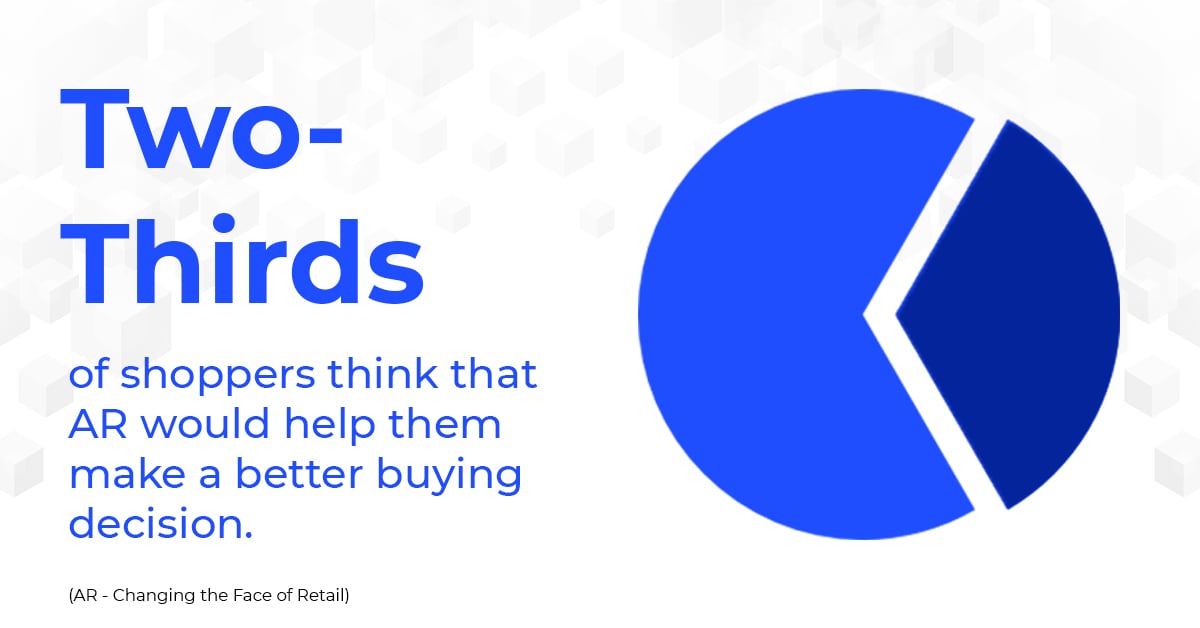 The outcome? Higher conversion rates. Mobile Marketer found that offering 3D product models can increase conversions by up to 27.96% on retailer websites.
Additionally, Augmented Reality empowers retailers to double down on their personalization efforts. Even though consumers can see and interact with the products when shopping in-store, it's not until the product arrives home, buyers get to understand it fully. With AR holograms, however, they can superimpose goods into their home environment, which gives them a better idea of which color or design to choose.
Lastly, it's important to note the impact of convenience offered by shopping with Augmented Reality. Not wanting to shop in a crowded mall during the global pandemic is one thing, but convenience is the backbone of e-commerce and adding 3D product models further adds to the promise of the effortless purchasing process. This, combined with AR fulfilling consumers' need for instant gratification, will result in more buyers switching to shopping online.
Augmented Reality shopping in real life
Nextech AR

NexTech's AR solution for e-commerce is straightforward to implement and comes with an analytics dashboard, allowing you to measure the boost in engagement and conversions in real-time. Users can place items in the real-world environment to ensure compatibility, zoom in on its features and view it from every angle, essentially bringing the in-person shopping experience to the customer.
IKEA


The Swedish giant of low-cost furnishings IKEA was one of the first brands to adopt Augmented Reality in 2014. The idea for the app was born after the company discovered that 14% of its customers returned goods after taking home because it was either the wrong size or color. With IKEA Place, users can browse through over 2,000 products and virtually place them in their homes.
Sephora

Sephora's Virtual Artists utilizes 3D facial recognition technology to scan a user's face to allow customers to try virtual makeup on at home - but that's not the end of it. Customers also get access to customized virtual step-by-step tutorials, a look into how the latest trend would look on them and outfit & makeup color match feature.
Dulux

Thanks to the Dulux Visualizer App, customers no longer have to guess which color would look better on their walls - before actually painting them. Users scan the room to then choose from a range of colors within the app to see each color live in their living space.
Augmented Reality shopping: a chance for retail revival
Many retailers are still hung up on the idea that it's too early for AR to hit the mainstream, that the technology is not quite ready yet. This couldn't be any further from the truth. Although only around 1% of retailers utilize Augmented Reality to enhance the shopping experience today, this number is expected to rise to 5% by 2022 - just a year from now.
And while some brands refrain from experimenting with AR, others are already harnessing the technology and its benefits. Augmented Reality shopping has the potential to revolutionize the retail industry completely. The only question is, will retailers make the most of this opportunity?

---

Interested in investing in Augmented Reality shopping feature for your e-commerce store? Don't hesitate - contact us to book your demo today.