2020 might not be over yet, but it's already pretty clear that it has been the year of ecommerce. In all fairness though, it's been the year of online everything due to the global health crisis. And while the pandemic continues to spread, online shopping is expected to soar this holiday season.
At the same time, many e-commerce owners recognize that although more consumers will choose to purchase goods online out of the fear for their safety, the primary concerns regarding online shopping remain unaddressed. It's the usual suspects of course, such as inability to examine items up close or doubts whether or not the product fulfils the consumer's needs.
Interestingly, AR ecommerce has been on the rise ever since the pandemic started earlier this year. Considered as something cool to have but not necessarily a viable marketing method at first, this immersive technology is quickly becoming a major business driver for online retailers.
The Pandemic Is Accelerating AR Adoption for Retailers and Entertainers - eMarketer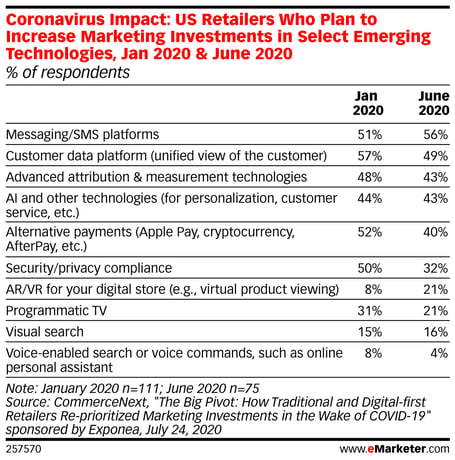 Sure enough, we have also recently noticed an increased demand for the ARitize360™, our Augmented Reality hologram feature for e-commerce as brands explore ways to help customers overcome the biggest challenges of online shopping and improve their conversion rates as a result. And if you're one of them, keep reading to find out why online retailers are choosing AR.
Cost
The first port of call for most brands to attract more sales, especially during the holiday season, is to lower their prices and offer multiple discounts. Prime example? Black Friday/Cyber Monday sales. Retailers are fully aware that most consumers start Christmas shopping long before December and so their strategy to appeal to holiday shoppers is based on price.
However, while this approach helps attain the short-term holiday revenue goal, it does more harm than good in the long run. Regular devaluation of products can raise quality concerns and attract mostly one-time buyers looking for a juicy deal, not a brand they would buy from again in the future.
What's more, heavy discounting does not address the core issue as to why some consumers are reluctant to shop online.
Augmented Reality product models, on the other hands, do. Thanks to 3D/AR visualization, customers can virtually place the item in their home environment to ensure compatibility or examine it carefully just like they would in a brick-and-mortar shop.

More importantly though, with the initial setup cost starting from just $99 per product (SKU), AR e-commerce holograms deliver better ROI than sales discounts long-term. First, conversion rates improve as potential doubts are removed due to much more accurate product information and second, customers pay the full price of each item. In fact, this research found that 40% of consumers would pay more for a product if they could experience it through Augmented Reality.
Reduced return rates
High return rates are the plague of ecommerce, slashing the profit margins for many e-tailers globally. Not only that, each return negatively impacts the shopping experience for the buyer and often discourages them from visiting the store in the future.
Ironically for many years, brands had been choosing the lesser of the evils offering free shipping/free trials, settling for high product return rates in exchange for (possibly) better conversion rates. Given customers were unable to take a closer look at the goods, it was one of the very few CRO (Conversion Rate Optimization) tactics that were worth pursuing.
Since the introduction of Augmented Reality features for ecommerce, however, online stores have now got the opportunity to reduce a great deal of items returned while maintaining a great conversion rate. The ability to inspect products from each angle and zoom in on its features helps users to better understand what it is they're about to purchase and how it will work for them once the item arrives - before it's even shipped. That way, there are no nasty surprises upon delivery and therefore, no need to return the goods.
Increased conversion rates
There's nothing more frustrating than receiving thousands of new visits to your website every day and only a small percentage of them actually converting. While certain tools, such as heatmaps or Google Analytics help detect some of the conversion blockers, neither of those solutions deal directly with product doubts or increase buyer's confidence in their decision.
Here's where Augmented Reality holograms for e-commerce come in. We've known for quite a while now that enabling website users to experience goods through AR considerably boosts conversion rates, but since we've been unable to shop in physical stores in the past few months, numbers have gone through the roof: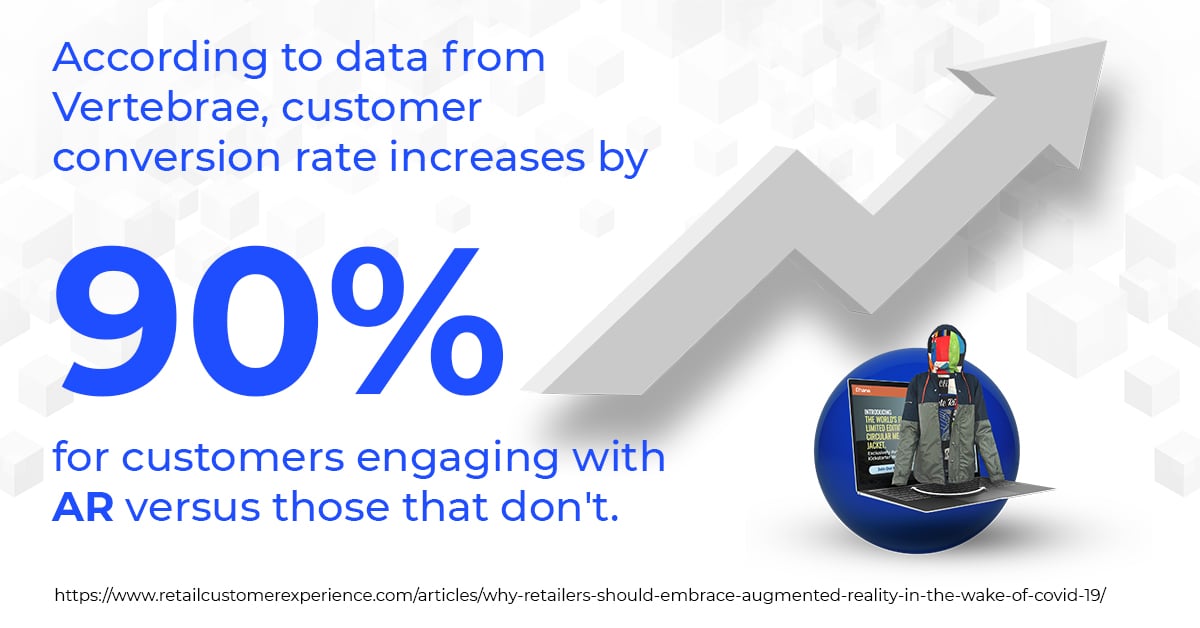 It all comes down to product visualization. Not even the most in-depth descriptions or detailed photos can ever compete against showcasing products in 3D/AR for the same reason many consumers still prefer to shop in brick-and-mortar shops - they want to see and interact with the item in real-life. Though objects projected via AR are computer-generated, they're so realistic they look like any other element in our environment.
For example, if you're looking to purchase a winter coat, but you're not sure which color would suit better the boots you bought last season, you can now pull out your shoes and compare hundreds of different coat patterns in your living room using nothing more than your smartphone or a tablet. No need to return items. No need to pay for either of them (until you pick one, that is).
See what happened there? Just like that, all doubts have been instantly removed through a simple AR experience. Additionally, placing a virtual item in the home environment reinforces product ownership, meaning people feel as if they already own it and become emotionally attached to it. That way, they're far more likely to complete the purchase to avoid feeling sad.
Better customer experience
The absolute deal-breaker in retail - customer experience. Get it wrong, people will never forget about it and won't hesitate to tell all their friends and family or social media followers. Get it right and reap the rewards: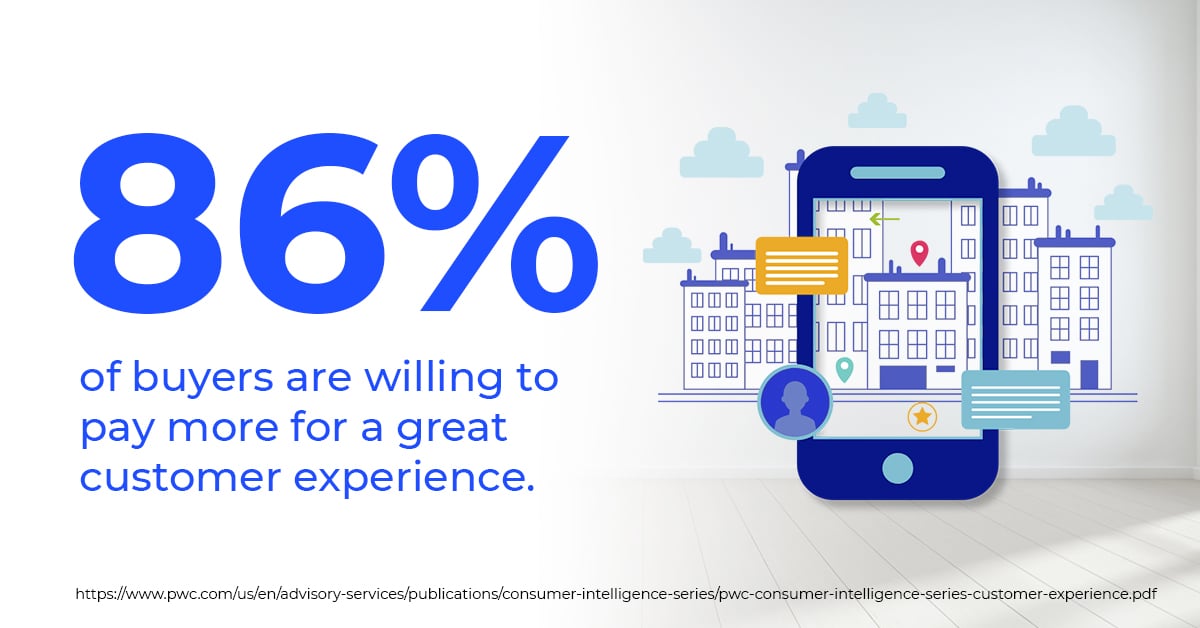 Everything we mentioned above greatly contributes to enhancing the shopping experience for your customers. Interacting with the product in AR boosts their confidence in the purchase, provides more accurate information and in total, gives them peace of mind about buying from your store. That in itself is more than many other e-commerce brands can offer, unfortunately.
Another aspect of Augmented Reality in e-commerce that might not be obvious right away is its ability to satisfy the consumer's need for instant gratification. Immediately. We've grown accustomed to having most things in life available to us without delay or deferment. We can "blame" the digital disruption for this, but it won't change the fact that it's what customers expect from brands today. Shopping with AR allows online retailers to meet those expectations as it promises convenience and an instant pleasure from purchasing exactly what they wanted/needed.
Final thoughts
There was once a time when AR for ecommerce was considered to be nothing more than a "shiny object", unaffordable for most online retailers. Things have changed since. The costs of developing AR product holograms have decreased significantly. The COVID-19 global crisis has made it almost impossible to shop in physical shops. All this pushed brands to reconsider their stance on Augmented Reality.
Not to mention that right now, as we approach the holiday season, would be the perfect time to add this immersive technology to your ecommerce arsenal. More than ever consumers will be looking to buy their Christmas gifts online and AR will help you capture as many sales as possible.
---

Are you convinced Augmented Reality is exactly what your online store needs after reading this article? Don't hesitate - schedule your demo today.