The world of Learning and Development (L&D) as we know it is changing. Over the last few years, we have seen a gradual annihilation of the traditional classroom-style learning environment while new, highly engaging training methods continue to make their way into learning and development departments.

It doesn't come as a surprise. The digital disruption has forever altered not just the way we shop or communicate but also the way we learn. And with millennials rapidly taking over the global workforce, more and more companies seek to replace the standard, cookie-cutter approach in favor of flexible lifelong learning opportunities to retain Gen Y employees.
Innovation also plays a huge role here as it's becoming more apparent that certain skills can be mastered faster and easier with the help of technology. Immersive technology to be precise.
Sure enough, Augmented Reality (AR) in L&D is already leaps and bounds ahead of most L&D solutions available to trainees today. Let's find out why.
The implications of digital transformation for L&D
Before we explore the potential of AR in learning and development any further, it's imperative to understand what exactly is driving the L&D revolution.
The biggest culprit is our relationship with technology - in recent years, it has become an almost inseparable element of our daily lives. We've learned how to leverage tech to our advantage and achieved a human-machine balance as a result. You can see this especially amongst generations raised in the digital age since most of the millennials or Gen Zers Google for answers instead of asking. It might not seem like a big deal but it speaks volumes about their approach to learning, as most information today is just a click away on smartphones or tablets.
It's something learning professionals must take into consideration when looking to enhance their current training initiatives as merely providing more information won't satisfy native digital's educational needs. For trainees to significantly increase their level of competence, the learning experience has to be relevant, available on-demand, engaging and driven by technology.
The power of immersion
Augmented Reality supporting learning enables L&D professionals to meet those expectations. Learning takes place in a simulated work environment, recreating life-like scenarios instead of employees passively observing the task at hand from behind the desk. AR training literally places the user in the centre of the activity, enabling them to get directly involved in the course content.
But increased engagement isn't the only positive outcome of AR-based training. Allowing learners to experience the situation for themselves in computer-generated surrounding creates a safe place for them to practise before putting their newly gained qualifications into use. Therefore, employees are fully prepared and confident in their skills, often reducing their error rate to 0.
The effect of Augmented Reality on retaining information in the future is also worth mentioning. Immersive learning fosters a deeper emotional connection between the users and the skill they're attempting to comprehend which has been found to have a substantial influence over cognitive processes such as attention, problem-solving or memory. In layman's terms, it's easier to remember about the things we care about, and AR learning experience causes us to invest in the task emotionally.
Indeed, 39% of learning & development professionals worldwide believe AR will substantially influence learning in the next 5 years: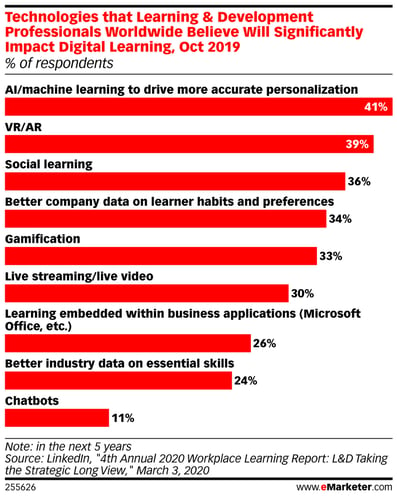 Augmented Reality in L&D has already made quite the impact in industries such as healthcare, automotive repair or assembly process. We've complained the most prominent examples AR-based training today:
Examples of AR in today's workforce training
NASA Project Sidekick
Installing new equipment or performing maintenance outside of the station is no picnic for astronauts on the International Space Station. It requires assistance from a whole team of scientists and engineers on Earth, knowing that even the smallest error could cost astronauts their lives.
For Project Sidekick, NASA is utilizing the HoloLens AR headset to enable real-time communication between astronauts and the ground team. Instructions are delivered in real-time via holographic display and built-in surround system.

Reyson University
You're probably familiar with learning management system (LMS) but have you ever heard of the learning experience platform (LXP)? It's an online learning platform allowing companies to deliver personalized on-the-job employee training, bringing all available learning materials in one place.
Nextech AR Augmented Learning Experience Platform adds a whole new meaning to virtual STEM activities. This virtual laboratory is a result of collaboration with Ryerson University designed to enable students to engage in an immersive (and fun!) learning experience.
Bosh
Bosh took AR-based training a step further and created their own Augmented Reality platform Common Augmented Reality Platform (CAP), allowing more efficient maintenance and repair work.
Workshop technicians utilize Microsoft HoloLens 2 and tablets to save time by not having to go through various manuals to find the problem resolution and start repairing process immediately, cutting repair duration by 15% on average.
In conclusion
Although we are seeing an increased number of organizations investing in immersive learning methods, Augmented Reality corporate training is yet to hit the mainstream. Which, in hindsight, is great news for companies aiming to get ahead of their competitors and attract top talent with immersive learning opportunities.
One thing for sure, AR-based training can help the L&D departments to overcome the ongoing challenge of poor employee engagement and boost their motivation to upskill. Visually stimulating and highly engaging training is bound to crush the traditional classroom learning environment any time day or night.
One other benefit of harnessing the potential of AR learning is its cost-effectiveness. Practising in a 3D environment removes the cost of hiring instructors or purchasing additional equipment for employees to train on. Combined with increased learner participation and hence, the efficiency of the course, the ROI is significant.
---

Looking to breathe life back into your L&D strategy? Reach out to us and discover our Virtual Solutions for Learning & Development.