In our previous post, we discussed the possibilities of applying Augmented Reality (AR) in higher education. Let's now take a closer look at how top universities and educational institutions apply this immersive technology to enhance student engagement, improve learning outcomes, and build future-ready institutions.
Explore 10 Ways Augmented Reality Can Be Used in Education
1. Virtual Open Days
Schools and colleges have seen a major disruption with the Coronavirus outbreak. Institutions worldwide are canceling in-person classes and are shifting to an online-only mode of instruction to contain the virus from spreading. Due to bans on large gatherings, colleges are also forced to postpone their admission events, orientation events, and open days. These changes, however, are denting the financial future of higher education institutions.
With the help of augmented reality, colleges can counter these issues effectively. Through immersive AR applications, institutions can arrange virtual webinars for students to reserve their spots without needing them to visit the campus in person. Since AR overlays virtual elements over real-world environments, students can immerse themselves in the real world while experiencing stimuli that feel almost like they are real. With live virtual events and video conferences, prospective students get the chance to know more about the university right from the comfort of their couch.
Be sure to check out our article, "Virtual Open Days for Higher Education." We go into depth about the benefits of hosting virtual open days and how institutions should prepare their prospective students for attending!
2. Virtual Campus Tours
Institutions can provide students an immersive way to take a tour of their campuses using 360-degree video and images! Through mobile devices or desktop computers, visitors and prospective students can take a self-guided campus tours, allowing them to see the environment and facilities. This technology allows higher ed institutions to reach more potential students as they're now able to tour your campus without commuting there!

Take a look at the University of Toronto's Virtual Campus Tour to experience the technology!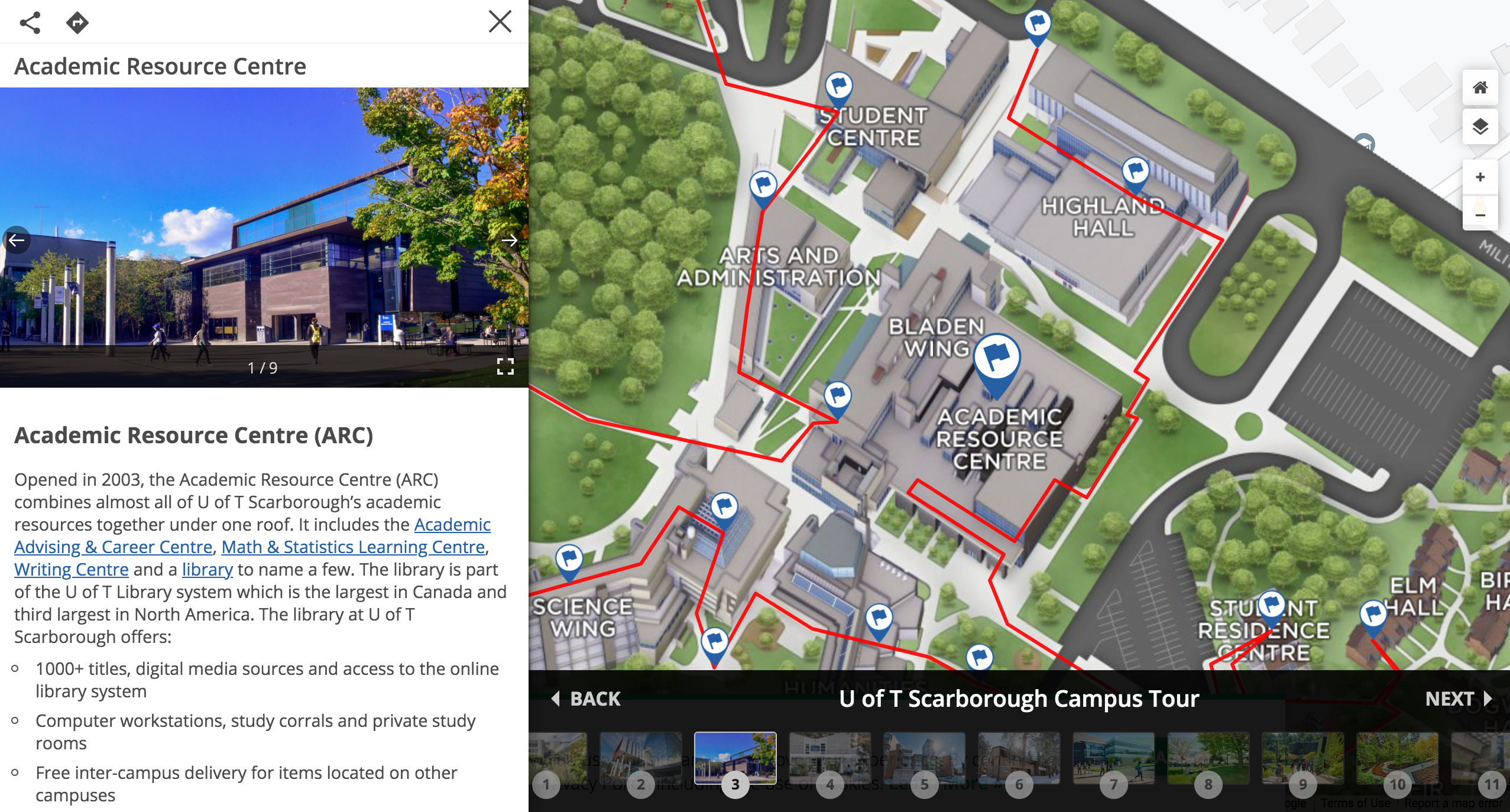 Additionally, as universities and colleges are plan to reopen their campuses once the social distancing norms ease, augmented reality can enhance physical tours by adding information spots at strategic locations around the campus. Through these information spots, students can access more details about their points of interest by simply pointing their phone's camera towards the highlighted spot while touring the campus. This engaging and memorable experience directly influences students' decision to enroll in university programs.
3. Augmented Reality Labs
The pandemic forced us to reinvent learning. Lectures are no longer happening within the four walls of a classroom. Teachers are playing the role of a mentor now as information is readily available to students at their fingertips. However, the bigger concern with digital learning through video conferencing is it doesn't guarantee student engagement. Besides, there are limited interactive elements with this mode of learning. For lab experiments and practical education, such mediums offer little motivation to students.
However, AR can completely change that. Higher education institutions can utilize the immersive nature of augmented reality to build virtual labs where students can interact with 3D life-size instruments and carry out experiments similar to the way they would do in a real lab setting. At Ryerson University, AR labs are already a reality. Utilizing Nextech AR's virtual higher education technology, the university launched the Ryerson Augmented Learning Experience platform where students can participate in rich and collaborative AR-enhanced learning experiences. From conducting experiments and taking online assessments to quickly attending conference calls with lab technicians, students can literally bring the entire lab into their home.

4. Online Classes
With AR, online classes get a whole new meaning. Unlike virtual meeting sessions that offer little engagement to students, AR brings the entire learning experience of a real classroom right into their homes. Imagine a science lecture where students can explore our planetary system or a history lesson where pupils get the chance to see 3D models of monuments while sitting on their couch. By adding gamification elements to AR apps such as points and rewards, colleges can further enhance student engagement while ensuring better learning outcomes.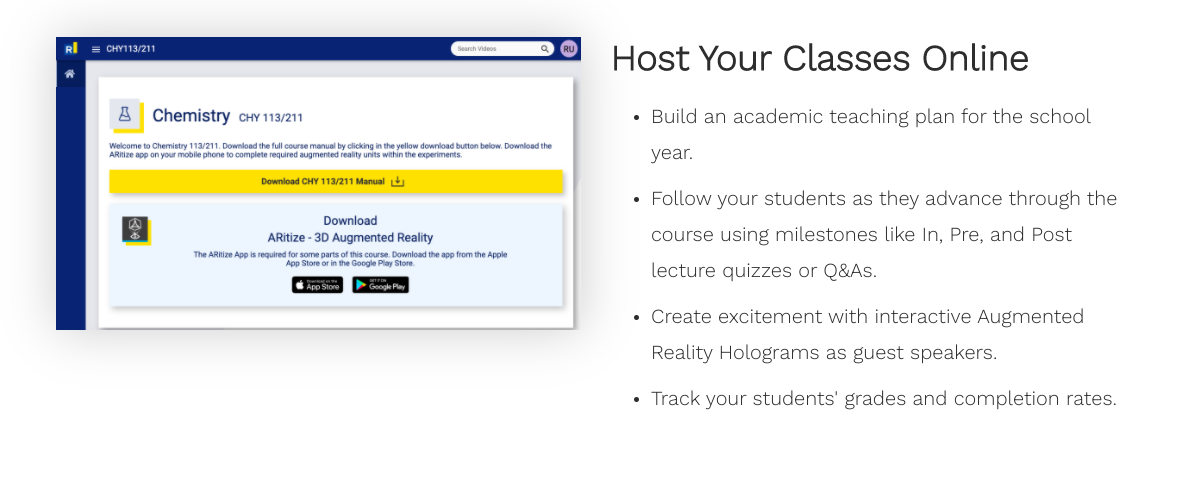 5. AR Training for Hands-on College Programs

AR training is another interesting application of augmented reality in higher education. While enterprises are already using this technique for product demos and how-to guides, the technology is equally useful to create engaging virtual training materials for students enrolled in hand-on programs.
For example, students registered for an automotive technician program can be provided with detailed training materials consisting of 3D models of cars and auto parts that they can interact with. A step-by-step guide projected around the 3D model will offer them instant access to information while carrying out their practical training sessions. Colleges can further enhance the student experience by providing a hologram of the professors right beside the object to ensure social interaction and better student engagement.


6. Virtual College Fair
While most university fairs got canceled this year to prevent the mass social gathering, AR offers an invaluable opportunity for institutions to organize virtual fairs to attract students. Since there are no logistics involved in setting up the venue, virtual fairs are also cost-effective. Invited prospective students can meet representatives from different universities through virtual meetings, access course content, explore the campus, and enroll for their preferred programs.
For example, using Nextech AR's solutions for Virtual Trade Shows, universities can create personalized halls and booths with their branding to offer students a feeling of visiting a real university fair. They can even add a holographic speaker and can connect with students directly through virtual meetings for counseling.
7. Virtual Graduation
Taking digital education a step further, colleges and universities can arrange graduation ceremonies virtually using augmented reality. Combining event live streaming with speaker holograms and portals, students get similar experience and excitement of attending a graduation ceremony like the real one.



8. Campus Shopping
Students feel pride in possessing exclusive merchandise from their school. AR can offer an engaging way for them to shop for university hoodies, accessories, and other gear online. Using AR, students simply tap on the item they want to purchase and explore the product in 360-degrees, zoom in and out, or even try out the piece of merchandise virtually.

9. Virtual Events
Colleges can further leverage the AR technology to organize virtual events and conferences that students can attend from anywhere. Using mobile devices, they can beam 3D holograms of speakers, post their questions in real-time, and even register for one-to-one discussions.

Check out this sizzle reel of the Restaurants Canada 2021 RC Show powered by Nextech AR Solutions! Restaurants Canada leveraged AR technology to provide holograms of speakers, augmented reality booths, and more.
Carnegie Mellon, a globally recognized leader in higher education, utilized Nextech AR's virtual events platform to host its third-annual INTERSECT@CMU Conference. The university invited thought leaders from different disciplines for panel discussions and conversations related to the impact of COVID-19 on the future of business, technology, and society.
10. Interactive Course Materials
Students are likely to get distracted while practicing remote learning, especially if they stick to traditional textbooks or eBooks. With AR, it is possible to turn this ordinary experience into an engaging one, providing detailed explanations of models and course material. Instead of letting students read through texts, colleges can provide AR-enabled course content that students can interact with. Using an AR app, students can point their phone's camera on parts of the text or visual content to beam videos, 3D content, or gaming elements that support textbook materials, offering an interactive and engaging learning experience.
---

Lead the digital learning revolution by leveraging augmented reality. Get in touch with us to discuss new opportunities AR can bring for your educational establishment or book a demo of our AR solutions for higher education.



Blog Cover Photo designed by:
macrovector / Freepik
www.freepik.com