The power of 3D models and augmented reality (AR) is supercharging the world of ecommerce. It is being used by major commerce platforms, such as Amazon, Wayfair, Shopify, eBay, and more. It is being tapped by sellers of every kind - from large direct-to-consumer brands to mom-and-pop sellers. Regardless of the platform, regardless of the product (assuming, of course, that it is a physical object), and regardless of the merchants, 3D and AR can have a huge impact.
What does that impact look like and how does it work? Customers considering a product can virtually pick it up, turn it, zoom in, zoom out, change the colors, virtually "place" it in a room, and feel confident that the item they order will meet their needs and expectations. The result is a 93 percent increase in click-through rates, a 40 percent decrease in return rates, and a 90 percent drop in the cost of product photography.
There are three primary ways to generate 3D assets:
Using static 2D images and AI to create a reusable model,

Scanning a physical object using photogrammetry to create a 3D version, and
Converting CAD drawings into 3D models based on precise product specifications.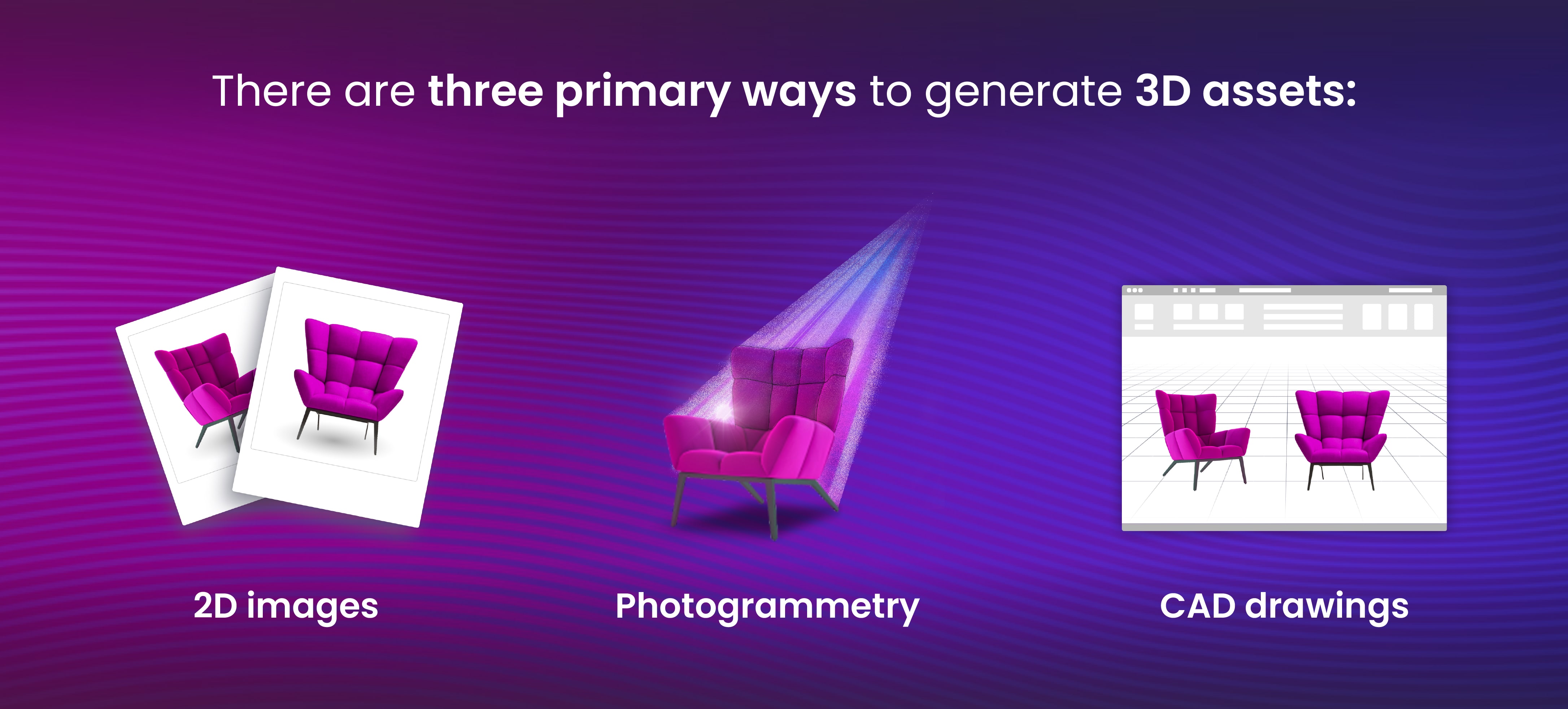 All three approaches have their pros and cons. Figuring out which approach to take depends on the specific use case. At Nextech AR Solutions, we offer products and services that support all three models. The fastest and easiest way to get started is by converting 2D images into 3D models. The only thing you'll need to see this approach in action is your smartphone!
Start by downloading the ARitize 3D app from the Apple App Store or Google Play. Once the app is installed, you can browse through a wide-range of 3D experiences, everything from learning about cheese from a hologram to exploring the features of a race car to imaging the look of a hover scooter. Finally point your phone at an open area near you and "place" the model for in-depth exploration and information. It is a fun and engaging introduction to the versatility and capabilities of the product.
The experiences available in the app are only the tip of the iceberg. The real power comes when these 3D capabilities are matched to real-world commerce situations. That is happening now through partnerships we have with major ecommerce platforms like Shopify, Big Commerce, and WooCommerce. In these cases, the 3D capabilities are further enhanced with the power of configuration, which allows customers to scale, rotate AND apply their personal preferences (color, texture, size, and more) to each model.
Hundreds of ecommerce businesses are using 3D and AR today to make their products more appealing and engaging to customers. Explore these capabilities for yourself through ARitize 3D Configurator and imagine how they can help support your business.
If you're ready for an affordable, scalable, and easy solution for 3D/AR models for ecommerce, look no further than our AI-powered ARitize 3D Configurator.