Not that many years ago, it would have been impossible even to imagine speaking to your colleagues or loved ones face-to-face while located in different parts of the country or the world. Today, however, video conferencing and digital interactions have become our reality - and even more so during the COVID-19 pandemic.
As each day passes, more and more technologies typically associated with science fiction movies are being introduced into our daily lives, and augmented reality human hologram technology is no different in that aspect. While still in the early stages of its development, it already shows a lot of potential in terms of how we communicate with each other in digital and real-life environments. If you are unfamiliar with augmented reality technology, check out a few of our previous articles, "Augmented Reality, Everything You Need to Know" and "What is Augmented Reality?" to get a good understanding of AR before we dive into human holograms!

It won't be long until full-size three-dimensional human images become the norm and we won't be able to imagine our lives without it. In the meantime, let's take a closer look at where the technology is at today and what exciting developments we can expect in the near future.
What Is Human Hologram Technology
We're sure that by now, you have seen a human hologram yourself, whether it was Princess Leia pleading: "Help me, Obi-Wan Kenobi. You're my only hope." in "Star Wars: Episode IV – A New Hope" movie or an unexpected appearance of Tupac at Coachella in 2012. The 3D augmented reality hologram technology available to consumers today works in a very similar way where a 3D holographic image of a person is projected onto a stage or conference room, enabling two-way and real-time interactions between the holographic presence and its viewers.
If it sounds complicated - it isn't. Just take a look at our Head of Digital Sales, Vivian Chan, showcasing Nextech AR's augmented reality holographic capabilities and explaining how they work:

Experience a Human Hologram
TRY IT YOURSELF! Beam an augmented reality human hologram into your environment through our AiR Show APP! Follow the steps below:

Steps 1: Download the AiR Show App on your mobile smartphone





Step 2: Scan the QR Code in the app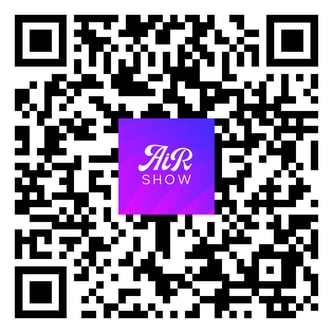 Step 3: Beam an augmented reality human hologram into world through your smartphone! Interact by pinching and zooming to increase or decrease the size of the hologram. Don't forget to turn the volume up!

Human Hologram Examples
If you're looking for a more practical example of a human hologram in action, take a look at the hologram that Nextech AR produced of the Dean of FACD, for the Ryerson University Virtual Convocation:

Want to see more? Check out this sizzler video showcasing additional augmented reality human holograms experiences!
As you can see for yourself, the latest hologram technology is straightforward to use and does not require additional hardware such as AR/VR headsets or head-mounted displays - only a smartphone or a tablet. Even from a technical standpoint, in order to transform yourself into holographic telepresence, all you'll need is a DSLR camera or smartphone, tripod, microphone and green screen background with adequate lighting and you're ready to begin recording.

Livestream Human Holograms
Nextech AR's AiR Show app recently released a brand new feature: LIVESTREAM augmented reality human holograms! Viewers only need to download the AiR Show app, and access an event that contains a livestream, and in real time a streamer will appear in the viewers space like magic. This incredible technology has endless applications and the ability to revolutionize multiple industries.

See what Nextech AR CEO, Evan Gappelberg had to say about our livestream human hologram technology:
Tech that can change the world! Beyond entertainment...just imagine, instead of a Zoom call, using our AiR Show app to beam into someone's office and stand in the room as if you're actually there. In reality, you're in another country or across world!https://t.co/CrOSt0Orzs

— Evan Gappelberg (@EvanGappelberg) March 18, 2021

Applications Of Hologram Technology
A practical application of 3D holograms that comes to mind is, of course, teleconferencing. Videoconferencing has done wonders in terms of maintaining social interaction, especially since most face-to-face gatherings are currently on hold, but it has been months of communicating predominantly via screens and cameras and so the Zoom fatigue is becoming a major concern.
On the other hand, holographic technology seems to be the ideal alternative to today's digital means of communication while giving viewers the impression they're speaking to a real person, present in the room with them. As a matter of fact, a 2019 study researching the effects of Augmented Reality on social interaction found that the study participants purposefully avoided sitting down on a chair that was previously occupied by a human hologram - just like they would if it was a real person instead of a holographic presence.
The real-life 3D image that looks the same from every angle empowers organizations to remove geographical restrictions and the need to travel and still deliver their messaging in an engaging and extremely realistic way. But corporate meetings, conferences or expos aren't the only commercial applications of holograms - the educational and healthcare sectors can also benefit from it, together with the entertainment industry, of course.
Human Holograms - How Long Before They Hit The Mainstream?
Truth to be told, we don't know. We could be looking at the same story as with traditional augmented reality technology - we keep asking when real-life AR applications will hit the mainstream, but we only need to take a look around to realize AR is already present in our daily lives. Admittedly, we predominantly see it being used on social media platforms such as Snapchat or Instagram and their selfie filters, but it's clear the technology itself is starting to leave a lasting impression on the consumers.
The problem with holographic technology is more about the general perception of it rather than accessibility or limited capabilities - many people simply don't realize human holograms are ready for commercial use and no longer something we only see in movies. However, while some may see it as an early-stage technology that'll take years to perfect, we see it as an opportunity for organizations to position themselves as innovators and industry leaders by being one of the first to employ it.

In conclusion
Until recently, the only human holograms we were able to experience were those on a TV screen. Today, augmented reality hologram technology is making an entrance (with a bang!) into conference venues or corporate meeting rooms as a great alternative to current video conferencing tools.
It may well still be early stages as we explore the potential of holographic teleconferencing but considering that the coronavirus pandemic continues to supercharge the growth of all things digital, we can expect the technology to be one of them too.
---

Are you interested in Nextech AR human hologram technology and would like to find out more? Reach out today and let one of our sales representatives walk you through it on a demo - click here to schedule one now.