Artists now have the opportunity to differentiate and personalize their brand through Augmented Reality - a communication medium that is experiential and interactive. With AR human holograms, artists across the globe can leverage the new remote entertainment environment by increasing and personalizing fan engagement.
Human Holograms are valuable in the entertainment sector and are already being used by artists in the industry. According to Giorgia Lombardo, editor at Design Matters' magazine, holograms have been used since 2012 to bring back those who have passed away in their digital form. For example, 2Pac's hologram showcased at Coachella in 2012, Michael Jackson's hologram moonwalking in 2014, and Whitney Houston's postponed holographic tour meant to take place last year. A more recent hologram use-case was demonstrated by K-Pop group BTS at their 2020 Mnet Asian Music Awards performance where they used a hologram to substitute one of their injured members. While in another sector of entertainment, holograms are being used to replace real animals to promote cruelty free circus performances. These examples show how holograms are developing in entertainment with positive reactions from fans and technology visionaries.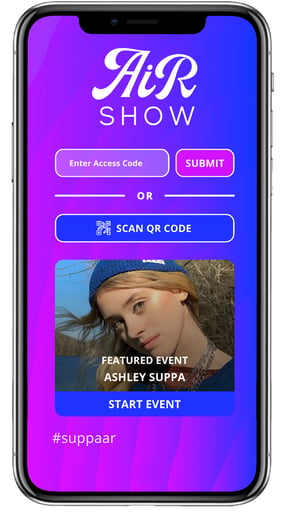 One artist that is taking advantage of this is 18 year old upcoming New York singer/ songwriter/musician Ashley Suppa, whose musical point of view reflects that of a young, fresh crowd of digital natives looking to embrace immersive experiences. As Ashley prepares for her EP release, Nextech has created a hologram of Ashley performing her latest single "Move!" from her recently released album that she will use to announce a special contest and giveaway. Ashley will be one of the first artists in the industry to launch a viral hologram campaign to promote her music and engage with her audience. The augmented reality experience is available through Nextech's AiR Show AR mobile app, shown left.

Watch a video preview of the experience:

Evan Gappelberg, CEO of Nextech, says: "With technology growing each day we wanted to give something back to the entertainment industry, especially to those who are starting out. We believe human holograms will transform the entertainment industry and become a norm for both virtual and in person performances. By collaborating with young artists, Nextech is offering the next generation of creators an innovative way to connect and engage with their fans"
TRY IT YOURSELF!
Experience Ashley Suppa's Performance in Augmented Reality

Step by Step Instructions:
Scan the QR code below using your smartphone camera.

After scanning, it will prompt you to download the AiR Show mobile app. Proceed to download the app on your device (available for both iOS and Android).

Enter the access code: SUPPAAR

Scan your environment and place the augmented reality human hologram in your space

Turn up your volume, watch & enjoy the experience!




---

About Ashley Suppa
Ashley Suppa is an 18-year-old singer/songwriter from the suburban New York City area. From an early age, Ashley was exposed to music by her father, an accomplished guitarist who played nationally with a variety of notable musicians.
Listen to Ashely Suppa on Spotify
Listen to Ashley Suppa on Youtube Music

Connect with Ashely Suppa on Social Media
Instagram
Twitter
Facebook

About Nextech AR
Nextech develops and operates augmented reality ("AR") platforms that transports three-dimensional ("3D") product visualizations, human holograms and 360° portals to its audiences altering e-commerce, digital advertising, hybrid virtual events (events held in a digital format blended with in-person attendance) and learning and training experiences.
About the AiR Show App
AiR Show is all about human holograms in augmented reality. Watch musical performances, dance performances, attend virtual meet and greets with celebrities, produce livestream holograms, view more.

Apple App Store
Google Play Store