Goh Ballet and Nextech AR Create Ballet Holograms to Improve Broader Access and Introduce New Ways to Learn Dance

Nextech AR is collaborating with Goh Ballet Academy Canada utilizing holographic technology to provide a series of new interactive dance experiences for the community.

In a partnership that connects the Arts with technology, the two organizations have co-created a set of holograms that capture Goh Ballet in a multi-sensory experience, which includes its teaching approach and its legacy through founders Mr. Choo Chiat Goh and Mrs. Lin Yee Goh's own personal words. Developed on Nextech AR's AiR Show, an AR performance platform for entertainment, arts and culture, these augmented reality experiences can simply be opened by scanning a QR code or entering an access code on the app.


"As human beings in an ever-evolving world there is a need to find innovative ways to connect, inspire and create shareable moments." said Chan Hon Goh, Director of Goh Ballet. "Nextech AR's digital human holograms broadcast rich immersive moments from Goh Ballet to anyone in the world with a smart phone. We have chosen to partner with Nextech because of the ease of use and realism of their AR experiences."
The holograms capture Chan Hon Goh's masterful technical instruction and artistic expression, as she imparts her wisdom as a Prima Ballerina with The National Ballet of Canada, and teacher. When released, the holograms will provide access to virtual ballet experiences accessed from the academy's website and social media as well as enhancing studio walk-through tours at Goh Ballet's locations in Vancouver and Toronto.
Preview the augmented reality experience! Watch the video below:

"Working with a prolific artist like Chan Hon Goh, truly showcases how technology can be used to connect dance in a personal way," said Evan Gappelberg, CEO of Nextech AR Solutions. "We're building solutions that enable creators, artists, and performers to capture their full artistic expression through digital human holograms to tell stories, drive meaningful engagement and create learning opportunities."

TRY IT YOURSELF! View a Goh Ballet Experience
Step by Step Instructions:
1. Scan one of the QR codes below using your smartphone camera.
2. After scanning, it will prompt you to download the AiR Show mobile app. Proceed to download the app on your device (available for both iOS and Android).
3. The AR experience will automatically launch. If not, please enter the access code provided below.
4. Scan your environment and place the augmented reality human holograms in your space
5. Turn up your volume, watch & enjoy the experience!

EXPERIENCE # 1
Port De Bras
Access Code: gohballetjunior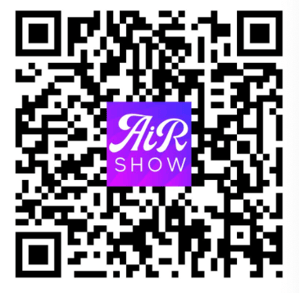 EXPERIENCE # 2
Swan Ballet Movement
Access Code: gohballetdance
---

About Goh Ballet Academy
Established in 1977 and now under the directorship of Chan Hon Goh, former Principal Dancer of The National Ballet of Canada, Goh Ballet is flourishing in the renaissance of a global arts community. Following the vision of its founders while expanding on current artistic aspirations, Goh Ballet pursues technical and artistic excellence while raising cultural awareness in our communities through dance instruction and performance productions. Their commitment to nurturing dancers has garnered Goh Ballet students first place gold-medal awards at some of the most influential international dance events in the world. Many of these dancers go on to become leaders in the artistic community, thriving on the global stage and contributing to the ways people express, view and enjoy art as a part of every day.
Goh Ballet is synonymous with excellence, training talent and fostering the presentation of classical ballet. It provides extraordinary opportunities for dancers to reach their full potential, while contributing to the artistic well-being of our city and country. An art form that touches human emotions beyond that of anything else, dance speaks to the soul and Goh Ballet looks to encourage and introduce people to lead creatively inspired lives with studios in Vancouver and Toronto. Visit their website to learn more: https://www.gohballet.com/
About Nextech AR Solutions
Nextech develops and operates augmented reality ("AR") platforms that transports three-dimensional ("3D") product visualizations, human holograms and 360° portals to its audiences altering e-commerce, digital advertising, hybrid virtual events (events held in a digital format blended with in-person attendance) and learning and training experiences.

About the AiR Show App
AiR Show is all about human holograms in augmented reality! Watch musical performances, dance performances, attend virtual meet and greets with celebrities, produce livestream holograms, view more.
Apple App Store
Google Play Store