Long gone are the days when the price was the only factor consumers considered when making a purchasing decision. Today, when your customers are just one Google search away from finding ten other eCommerce stores offering the same exact product, competing on price simply isn't a sustainable growth strategy - there will always be someone willing to undercut their prices further.
Consumers want more. They want their shopping experience to be personalized, engaging and frictionless. Of course, pricing still plays a huge role in their decision-making process, but with 80% of consumers admitting that the experience a brand delivers is just as important as the products or services it offers, you need to explore other ways to attract and retain your customers.
Cue Augmented Reality for ecommerce. Although still significantly underused, AR shopping is already making a splash in the direct to consumer (DTC) space.
The Impact of Augmented Reality in eCommerce
Augmented Reality in eCommerce is by no means a new concept, but until recently, it was primarily considered nothing more than a gimmick rather than a viable revenue driver. Unsurprisingly, it wasn't until the coronavirus pandemic and the non-essential store closures that made marketers and brands reconsider their stance on AR. Why? The evidence speaks for itself:
Higher Conversion Rates
The main reason many consumers prefer to shop in physical stores is so that they can experience the goods in real life before paying for them - recreating that in-store shopping experience seemed impossible until the rise of AR eCommerce. 3D product models remove this barrier, giving website visitors a chance to visualize the product in their home environment (or anywhere with WiFi access) and virtually try it on.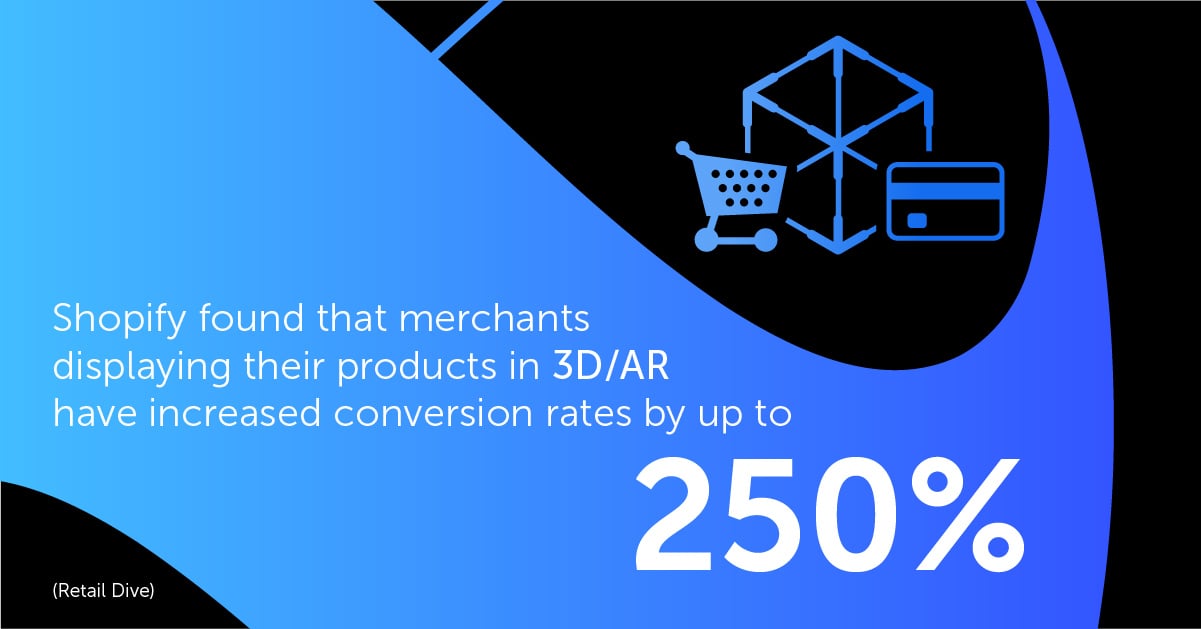 Essentially, the customer doesn't have to guess whether the product they're about to purchase is a good fit for them - they know it is before it even leaves the fulfillment centre. As you can imagine, this has an immense impact on the store's conversions; L'Oreal reported its conversion rates tripled since allowing their customers to try on makeup products virtually.
Lower Return Rates
eCommerce sales may be all-time high due to national lockdowns and social distancing measures, but so is the number of shoppers returning the merchandise. Currently, it's estimated that anywhere between 15% to 40% of items purchased online gets returned, and only 20% of them are returned due to the product being faulty. The rest is sent back as consumers tend to order a few options at a time to then test them at home and return ones that didn't work.
3D renderings give the consumer a 360° view of the product they're about to purchase, eliminating the need to test it at home - in a sense, they are testing it at home. By using a smartphone or tablet, the consumer gets to view the item in detail, from every angle and on a realistic scale - just like they would in when shopping in-person.
Increased User Experience (UX) and Customer Experience (CX)
Excellent customer experience is the foundation on which great brands are established. Consumers realize they are in control now and if their interactions with your brand are not up to their standards, they won't hesitate to shop around. This goes for the entire shopping journey, from the moment they see your ad to the day they receive their order and beyond - every single touchpoint needs to be seamless, engaging and valuable to the user.
While implementing Augmented Reality won't take care of the entire customer journey optimization process, adding 3D product models on product pages or in your ads will positively contribute to the overall user and customer experience.
The more time users spend engaging with a product, the higher chances of them buying it and Augmented Reality is one of those technologies that makes it hard to walk away and not take part in the experience. Furthermore, AR in eCommerce helps reduce buyer's anxiety by removing doubts such as whether or not the product will fit, for instance. As a result, customers feel more confident during the purchasing process and are able to fully enjoy the experience rather than worry until the goods arrive.
It's Now or Never
If the thought of enabling customers to experience your products in 3D/AR has crossed your mind, now is the perfect time to act on it.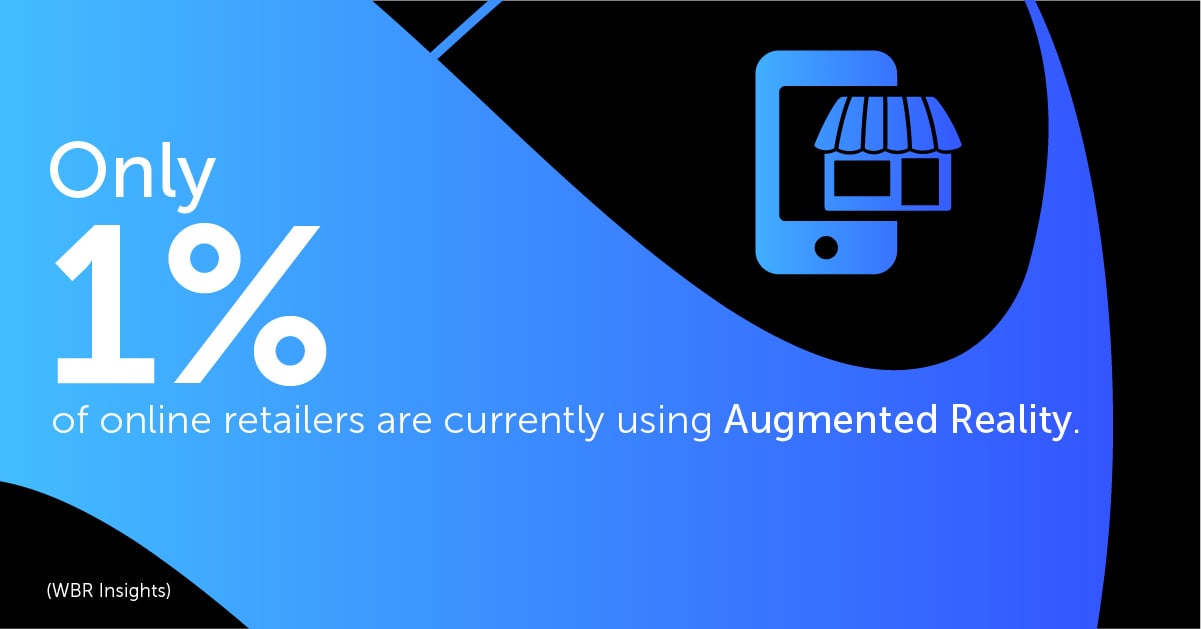 With only a fraction of eCommerce stores offering an Augmented Reality shopping experience, implementing it sooner rather than later will give you a significant competitive advantage over brands that are still unsure about the technology. Make no mistake though - as AR for eCommerce is quickly gaining the attention it deserves, we can expect those numbers to rise in no time.
It's also worth noting that more and more consumers want retailers to offer AR experiences and would rather shop with brands that do:
The thing is, once you've experienced a product in Augmented Reality and found it to help guide your purchasing decision process, it can be somewhat challenging to go back to doing things the old fashioned way. No product image, no matter how well-captured or how realistic it is, will never give the customer a comprehensive view of the product the way 3D models do.
Lastly, the end of third-party cookies is looming as we approach 2022. While the search for sufficient alternatives continues, marketers and brands must also ensure their website is fully optimized for conversions and ready to capture as many website visitors as possible. Why? At least initially, there'll be fewer of them, and the third-party phase-out will significantly narrow your retargeting options, so making the most out of each visitor will become a priority for many DTC brands in the cookieless future.
Final Thoughts
Augmented Reality in eCommerce has the potential to completely revolutionize the shopping experience for your customers, and not just because it reduces buyer's anxiety and gives them the confidence they're about to purchase the right item. Above anything else, it elicits an emotional response from the user, turning each Augmented Reality interaction into a meaningful and positive experience today's consumers seek.
While still only a few online retailers use 3D product models, rest assured this state won't last long as more and more brands declare their plans to adapt this immersive technology in the next two years. Augmented Reality may still be a novelty in 2021, but it will become our reality in not so distant future.
---

Interested in investing in Augmented Reality shopping feature for your e-commerce store? Don't hesitate - contact us to book your demo today.