Artificial intelligence (AI) has recently gained a lot of popularity for its impressive visual artistry. However, art is only the tip of the iceberg when it comes to the entire scope of AI-powered creation in general. One of its most promising fields of application is AI based product design – or simply using AI for product design at different stages. It can not only save costs and time, but also help companies create better products. The possible applications are so many that it's not far-fetched to say that AI and product design would be almost inseparable in the future.
Here is how AI in product design can be greatly helpful at various stages of the process:
1. Data Collection
AI can not only create, but also find things for you. AI tools like ChatGPT can access and analyze a vast amount of data (even the entire Internet) with great speed and accuracy. They can help product designers find precisely the information they need to research the market, their target users and get inspiration for their new designs. Such tools help designers save a substantial amount of time and energy that's usually spent in research.
2. Ideation
AI technology can be used to generate multiple concept designs for new products by inputting data and prompts in order to establish the constraints and goals. This process is known as generative design. At present, AI software is capable of generating hundreds of different concept designs for a product in only a few minutes, saving the time required for manual design iterations. AI in product development can also work in collaboration with designers, combining AI based product design, analysis and optimization with human creativity. This helps designers think beyond the boundaries of their own imagination and dramatically accelerate their ideation process.
3. Designing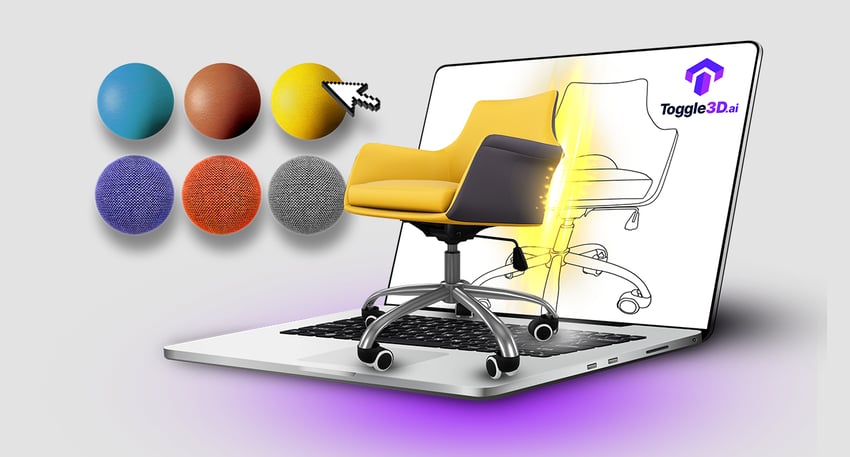 AI has made the process of 3D design more accessible than ever before. Skilled 3D designers, artists as well as laypersons with no specialized knowledge of 3D design can now texture and customize 3D models with an AI-powered web-based application, Toggle3D.ai. This groundbreaking 3D product design studio by Nextech3D.ai converts heavy CAD files into web-friendly 3D models that are ready to be textured into photorealistic art, at scale. Utilizing cutting-edge AI technology, it allows the creator to quickly generate web-friendly 3D models for making customizations and adding textures, colors and materials at lightning-speed. Not just that, it also generates AR models of the products that can be viewed by anyone without buying an expensive wearable, using only their smartphone. This can be quite immersive and very useful for marketing a new product online. Users can also repurpose their designed 3D models for realistic product photography that can be used for digital marketing, saving organizations add-on costs and at the same time increasing customer engagement and web traffic on their platform.
Click here to start using AI for 3D product design with Toggle3D.ai for free!
4. Simulation and Testing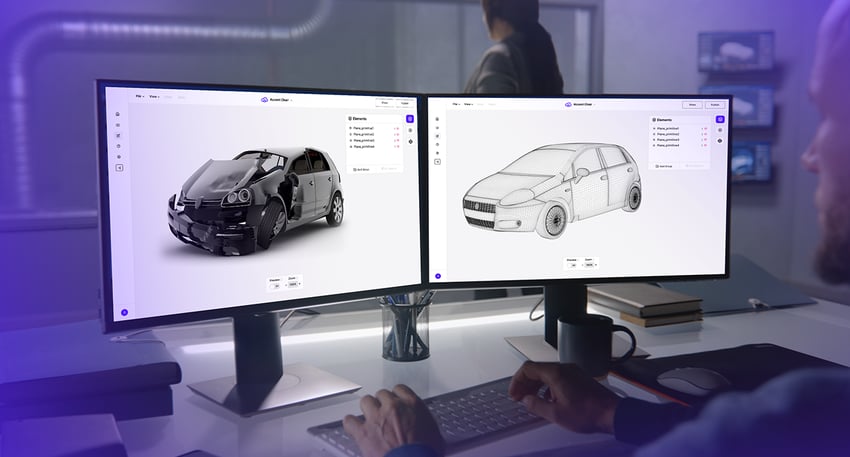 AI-powered simulations can accurately demonstrate how a product would work in real-world conditions and then rapidly analyze the results to provide you key insights. Testing the designed model of a product in simulated virtual environments saves the significant costs and time required for repeated physical production and practical testing. Product designers can troubleshoot design problems and refine complicated designs even before a physical model of the product is built. Simulated crash tests for new car models are a great example of using AI for product design in the testing phase. Software like Toggle3D.ai can also be used to create different design options for a product using different materials, textures and colors. These designs can be virtually placed in real environments through AR using smartphones to see how well the product suits its environment – functionally as well as aesthetically. In this manner, Toggle3D.ai can be utilized to test design viability before generating the physical prototypes.
5. Design Optimization
By using AI for product design, product designers can optimize their models for parameters like weight, size, cost and performance, catering to specific goals. For instance, a product designer could use AI software to determine the optimal combination of materials to make a travel bag as light as possible, without compromising on its durability and cost. Such optimization could have a huge impact on a company'sbottom-line. Designers can then add the materials to their 3D models with ease using Toggle3D.ai. Toggle3D.ai can dramatically increase the speed and efficiency of designers and allow them to visualize AR and 3D models of the products they are working on. Using it for customizing colors, and prototyping options, the product designer and development team can optimize the product for manufacturing. It's a remarkably efficient tool for using AI for product design in a collaborative manner in various industries. Learn more about Toggle3D.ai's features here.
Examples of AI in Product Design
Here are a few real world 'AI for design examples' to see how companies are benefiting from AI in product development:
The A320neo Aircraft by Airbus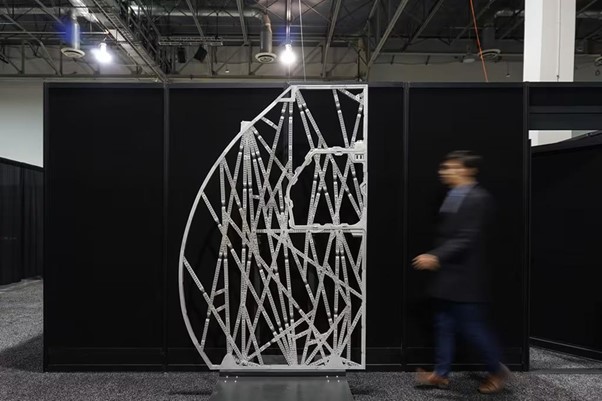 Source: Autodesk
A remarkably successful project that brilliantly used AI-powered generative design and optimization is the A320neo aircraft by Airbus. Airbus utilized generative design technology to optimize the design of A320neo's wingtip, reducing the aircraft's fuel consumption by 3.5 and setting an excellent example of using AI for product design.
The Futurecraft 4D Shoe by Adidas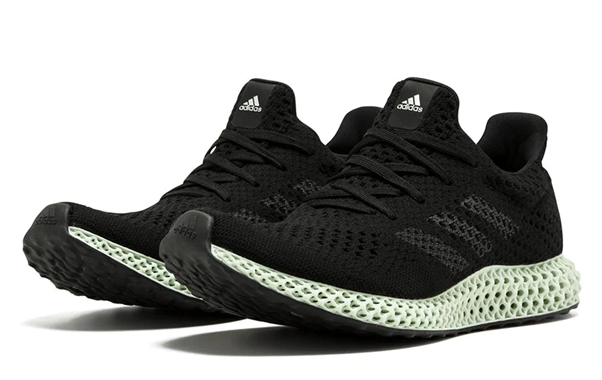 Another one of the noteworthy 'AI for design examples' is the Futurecraft 4D Shoe by Adidas. Adidas incorporated artificial intelligence technology for product design to enhance the comfort of their shoe's sole by creating a lattice-like structure inside it. It provides support and cushioning while also being durable and lightweight.
How Toggle3D.ai Can Improve Your Product Design Workflow
Toggle3D.ai by Nextech3D.ai is at the forefront of using AI for product design in the most user-friendly manner. Here's how it helps you speed up and substantially simplify your whole 3D design process:
With its cutting-edge product design artificial intelligence technology, it can convert 3D CAD files of sizes as large as 1000 MB into web-friendly formats, allowing product teams to work on product photography, product presentations, marketing collaterals, e-commerce and more.

Toggle3D.ai brings designers the advantage of speed. It drastically reduces the time spent in texturing, layering, adding shadows, materials, compressing and making the models optimized for use on the web.

The app allows you to access thousands of PBR materials and lighting pre-sets from a vast pre-built library to add to your 3D models.

Users can even create their own PBR materials with ease by simply uploading photos of real surfaces or objects onto the AI software.

You can convert, customize, texturize and share product designs – all in one place. It's a one-stop solution that eliminates the requirement of multiple apps.

You can share your design's link with suppliers, manufacturers and retailers to simplify decision-making.

The product models you design on Toggle3D.ai will also be generated with their own AR QR codes that will allow you to virtually place them in a real space, such as your living room, using nothing but a regular smartphone's camera.

You can fine-tune your 3D models easily and create high-quality works of art thanks to the power of its AI technology.

Even users with no special 3D modeling skills can easily use Toggle3D.ai to texture beautiful, photorealistic 3D models.

You can build and publish configurators online using Toggle3D.ai so customers can mix and match colors, styles to explore various options in 3D.
Click here for the pro version of Toggle3D.ai, and start creating your very own high-quality 3D model from CAD files at scale.
The rapid advancements we see in AI technology today indicate that the overlap between AI and product design is only going to increase in the future. Now is the time to get a head start in AI based product design by leveraging this technology effectively with apps like Toggle3D.ai.