One thing becomes crystal clear as we approach the second quarter of 2021: the chances of large conferences or trade shows taking place in-person this year are close to none. Despite our hopes, it'll take months for the vaccines to be widespread enough to turn the tide, so online events will continue to dominate the event industry.
It's both, good and bad news for organizations. To be completely honest, nobody was quite sure what to do with virtual events in 2020 and many companies and eventprofs simply planned for a live event to be broadcasted online. This assumption, together with the fact a majority of organizations were forced to switch to virtual at the very last minute, resulted in online events receiving somewhat mixed results.
2021 could be different. In fact, it should be. With the right approach, online trade shows and conferences can achieve the same goals their live counterparts do, such as driving revenue, generating & nurturing leads or raising brand awareness. This article will discuss virtual event lessons learnt the hard way, and how to avoid them moving forward. Consider these 5 virtual event ideas for your next event:
What We've Learnt from Hosting Hundreds of Virtual Events in 2020

The short answer? Plenty. On a more serious note though, one of the biggest mistakes companies make is approaching online events the same way they would an in-person gathering. Granted, the only visible distinction between the two is the medium - physical venue vs digital environment, but the reality is, they could not be any more different.
Participating in a conference face-to-face comes with the luxury of time and full attention. Attendees plan their commitments around the event, meaning they don't have to work or manage childcare and homeschooling while attending; they're usually away from home, responsibilities, and smartphones or laptops. They're relaxed and full of anticipation for the day ahead of them.
As you know yourself, that's not the case when working from home. After months of remote work, people are exhausted from spending their days in from of the screen, often working longer hours than they would in a physical office and on top of that, managing chores and other everyday responsibilities. For that reason alone, they would never endure through a three-hour keynote session and, more importantly, pay attention.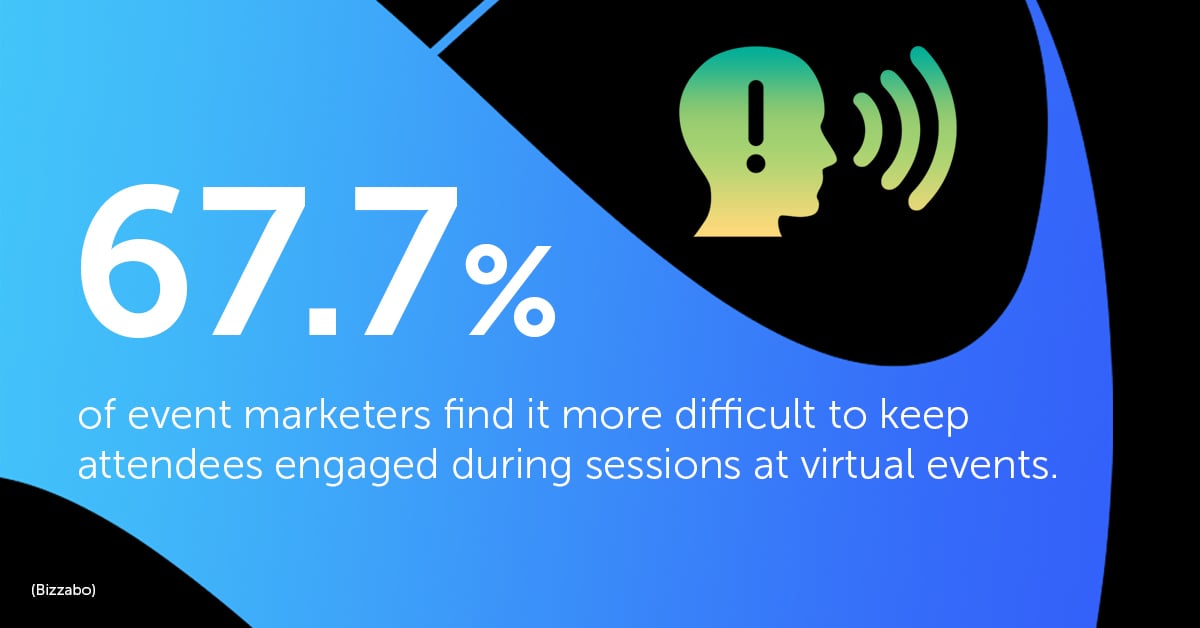 Another key factor to consider is promoting a virtual event. Some may assume that because the event takes place online, attendees will find out about it organically. But the "build it and they'll come" mentality only works in movies; in real life, marketing teams are constantly fighting through the noise for attention with hundreds of other virtual events. With geographical barriers removed and the fact that the vast majority of events are currently hosted online due to COVID, getting sign-ups is more challenging than ever.
Given the circumstances, relying on live event strategies will only generate mediocre results that cost companies millions in lost revenue. The global pandemic may well still be in full force, but it doesn't mean your organization has to wait until it's over to thrive. Below, you'll find actionable strategies that'll guide your event efforts to success.
5 Virtual Events Ideas to Implement in 2021
Virtual Event Experiences
Months of living in isolation have left us craving for meaningful human interactions - use it to your advantage. While re-creating certain elements typically associated with in-person gatherings is impossible in a digital setting, the best virtual event platforms empower organizations to deliver opportunities for authentic human connections (for instance, live Q&As or in-session polls). That way, attendees feel they're actively contributing instead of passively watching yet another video stream.
Engagement
at Virtual Events
When trying to engage virtual attendees, you're not just competing against home distractions but also short attention spans and Zoom fatigue. Where a 4 or 5-hour keynote session is perfectly acceptable and pretty standard practice for live events, you'd lose your virtual audience just after 2 hours (and that's us being optimistic!). Think shorter sessions and multiple breaks throughout the event to keep attendees interested and engaged in the experience.
Gamification
at Virtual Events
The idea of incentivising tasks and process to encourage users to complete an action is nothing new in the marketing world, but did you know you could also use it to boost audience participation in virtual events? It could be something as simple as offering extra points for early registration or setting a daily networking goal, rewarded with badges or promo codes; virtually anything that introduces challenge and elicits an emotional response.
Virtual Event Content
We've already mentioned that virtual event content should accommodate at-home distractions and Zoom fatigue but not event 30-minute sessions will keep participants engaged if they're irrelevant or plain boring. Dropping out of an online event involves only a few clicks to exit the virtual event platform so it's even more important to create content that provides value and encourages questions from the audience.
Virtual Event Monetization
Making money with virtual events is absolutely possible, even though it didn't seem like it last year. You'll find that sponsors and exhibitors are actually keen on being a part of online trade shows and conferences as they tend to attract a much wider audience. Many virtual event software providers designed their solutions with sponsorship opportunities in mind, offering banners and ad placement within the platform in exhibit halls, main lobbies or breakout rooms. Check out our previous blog article, "how to make money with virtual events" for virtual event sponsorship ideas.
Final Thoughts
The notion that virtual events are a poor man's substitute for the real thing has been around for years. If anything, though, it makes sense to think of them as the digital version of them. And just like face-to-face events, they too can be used to significantly boost your brand's awareness and drive profits.
There's no denying online conferences can be an effective alternative to in-person functions; however, if they are to reach their true potential as dynamic, interactive gatherings that serve business goals and delight attendees, companies need to look beyond what they know about what makes live events so successful and explore tactics and methods suitable for an online setting.
---
Looking for the perfect virtual event platform for your next event, virtual or hybrid? Don't hesitate! Book a demo and discover our platform today.