Making solid connections is a healthy challenge in the best of circumstances. It's not as simple as having a brief conversation while queuing up for coffee during a break. Building successful personal connections is an ongoing strategy where businesses and individuals look to secure leads, convert prospects, boost confidence, expand relationships and advance our interests through education and networking.
It had been obvious long before the global pandemic that the event industry was in desperate need of change (though nobody anticipated or wanted a global catastrophic event to be the catalyst). In-person events, while still a powerful revenue source for many businesses, lacked something that made a long lasting impression on attendees. The drastic switch to virtual, however, made us realize we were looking at the missing piece all along.
Hybrid event technology has provided the best of both worlds: the ability to host a targeted, concentrated event with a level planning field where all organizations – large and small – can establish a global reach and expand their networking beyond current geographic constraints and the confines of a smaller budget.
In other words, hybrid events opened up a whole new world of opportunities, encouraging whoever wants to join a community to do so and attend an event or activity that may have otherwise been beyond their reach.
There's one challenge with this though: you're not the only one considering hybrid events now - there are many, many others competing for your audience. The key is to understand how to be relevant to the masses in a world where they now have a lot of choice and embrace the customer journey while customizing the individual experience.
Do it with the 3 trends that facilitate connections in a hybrid world:
1. Unconference

Virtual events empowered us to continue living, working and playing despite the national lockdowns and social distancing regulations. They also made us realize pretty soon that they'll never replace the real thing.
Still, the somewhat forced transition to virtual events showed us what in-person events were missing all this time: leveraging digital transformation to deliver engaging virtual experiences. You see, hybrid wasn't designed to replace but rather to amplify face-to-face experiences.
It is long past time to redefine what a conference is by creating a seamless virtual and physical experience that enriches participant collaboration through real-time interaction and providing fluid content that is influenced by the audience.
Be sure to engage, react and customize through:
surveys
contests
real-time chats
The upside of the hybrid model is that you can do both but pay special attention to the 'why' people are attending.
2. Journify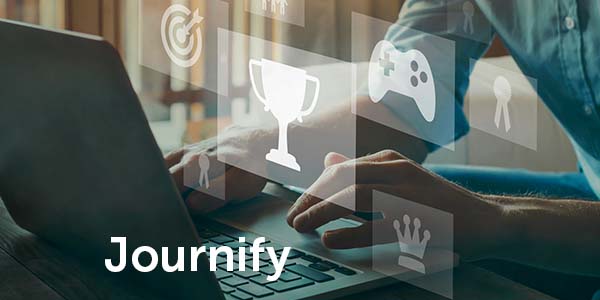 An event is a journey for your participants. They've spent the time to register, showing interest in a topic you're presenting and quite possibly, they'll want to continue communications post-event too.
However, holding that interest is not accomplished in a couple of generic emails slapped together that acknowledges a form fill through a couple of emails. There are possibly tens of other companies fighting for attendee's attention. Your leads know they have options and can click the off switch faster than you can send another email.
Utilize attendee behavioral data to guide your marketing efforts so that the communications are contextually relevant and personalised to their interests and needs. Offer things they care about, personally, via technologies such as gamification, augmented reality (AR), holograms and surveys to keep them engaged and not flip the off switch.
3. Always Humanize
Certain face-to-face interactions cannot be recreated online so humanize your event whenever you get a chance. Every person who attends your event feels their time is valuable so make it work for them. It is your responsibility to make every person feel like what you're offering is worth their time.
Recognizing that event participants need an individual experience based on their learning styles to boost their virtual and in-person experience is the stepping stone to building thriving digital communities. People want to be heard and want to make sure you're listening.
Want to learn more? Download the Nextech AR and formfuture white paper Return on Experience (ROE) Through Hybrid Events on the 3 trends to facilitate personal interactions here.