Emerging new technologies such as Augmented Reality or AI are paving the way for companies at the forefront of The New Economy. There's no returning to life before COVID; the post-pandemic reality will be built upon amplifying what we've learnt in the past 18 months. Face-to-face events are now hybrid events - the best of two worlds. Online shopping, thanks to 3D interactive product models and AR banner ads, is now bringing the in-store shopping experience to the consumers at the comfort of their own homes. Immersive learning and human holograms are forever altering the way we consume content and learn.
This is an opportunity for high-growth industries; an opportunity to leave the competition behind and engage customers in a way we never thought possible. But where to start? How to find yourself and your brand in the New Economy?
We have the answers and we can't wait to share them with you this July during the Nextech AR Live Now Asia Pacific virtual event. It's designed to inspire industry leaders with innovative ideas that challenge the norm and will give your business the tools, skills and platform to thrive in this new reality.
The New Economy
We are on the brink of a whole new digital ecosystem and it's far from the normal we've been waiting for. The rapid growth of virtual experiences caused by the global pandemic, combined with the ever-evolving consumer landscape, drives the business sector to redefine the concept of innovation and customer experiences as we know them.
All digital is on the rise: shopping, learning, working and playing. Since more people are working from home than ever, we can see a major shift in consumer sentiment and behavior on a global scale. Two trends are shaping this shift: convenience and memorable & meaningful digital experiences. But there are other factors, too.
The rise of 5G will make Augmented Reality even more realistic and accessible anywhere. AR going mainstream will empower brands to fully leverage this immersive technology to deliver interactive and captivating experiences. Deloitte Digital & Snap Inc found that by 2025, 75% of the global population and almost all smartphone users will be frequent AR users (Deloitte Digital & Snap Inc.), highlighting another trend shaping The New Economy: increased mobile usage.
The digital transformation is also heavily influencing other sectors, such as healthcare, education or manufacturing, exposing the need to provide employees and students with engaging and immersive learning methods like AR/VR. After months of what we'd call a "trial period", it's clear the technologies of tomorrow are ready for the mainstream, and consumers expect nothing less.

The New Economy is inevitable. Brands either learn how to monetize and adapt to it, or they don't and perish.


Live NOW Asia Pacific
We're hosting Live Now Asia Pacific virtual forum to guide you on how to approach the former and elevate Augmented Reality's role in digital transformation.


Join more than 700 digital innovation strategists on Friday, 2 July 2021 to get inspired by thought leaders, industry-leading keynote speakers on how they are transforming digital experiences; see for yourself how AR works and explore new ways of engaging your community through immersive technology. Below, you'll find highlights of our most prominent speakers and how they are disrupting the industry.

The Rise of Digital Experience Innovators
Tracy Quah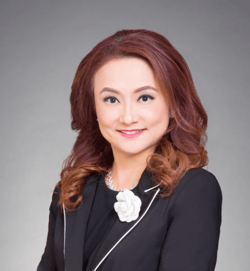 Tracy leads a rigorous Marketing team at Informatica Asia Pacific & Japan. She believes in using integrated data across the business applications to align marketing strategy with the buyer's journey to drive business success. Helping customers achieve transformative outcomes in their data-driven digital transformation journey has been her top priority.
Innovation truly comes for customers when they experience relevancy, integration, connectivity and refreshing ideas - in other words, innovation has to be interesting and entertaining. Tracy will be joining us to discuss the role of Digital Experience Innovation throughout the buyer's journey and how they can be used to hold your customer's attention for longer.



Zarina Lam Stanford
As Chief Communication & Marketing Officer of Rackspace Technology™, Zarina leads with a customer-centric, insights-driven and outcome-based approach to branding, communications, demand generation, field marketing and product marketing. A recognized growth catalyst, Zarina is passionate about design thinking, agile marketing and purpose.   
During the pandemic, we were almost overexposed to the world of online. Some even claim that working from home can put a hamper on our creativity - after all, we thrive on collaboration. Zarina and her colleagues at Rackspace TechnologyTM saw how difficult fostering collaboration is remotely and decided to turn their headquarters into a 3D AR virtual experience to bring their employees together.

The NextGen AR Ecosystem
Nathan Pettyjohn
Nathan is the Commercial AR/VR Lead at Lenovo, managing a team and leading the global go-to-market strategy for Lenovo's ThinkReality enterprise augmented reality and virtual reality hardware and software solutions. Lenovo is a Fortune Global 500 company with 50,000+ employees and $43B in global sales serving customers in 180 + markets.
Lenovo recently released ThinkReality A3 versatile smart glasses for enterprise and is already seeing a successful return on investment. Nathan will be joining us to talk about the importance of recognising market trends and spotting opportunities within the immersive technology space.



Tay Ling

An engineer by training, a marketer by profession, an ex-entrepreneur by choice; with his unique combination of skills, Tay Ling is currently leading PICO TBA Hong Kong and North Asia's integrated marketing communications. With his deep understanding of brand strategies, he helps clients build their brands stronger while engaging larger communities across multiple channels.
Mainstream Augmented Reality adoption is on the rise. While AR is by no means a new concept, many brands still consider it a novelty; not to mention it's still seen as a gimmick. Tay Ling and his team at Pico are on the mission to change that and show brands the true return on investment by incorporating AR experiences into their marketing strategy.

Are you ready to embrace The New Economy?
Digital transformation is now in full swing. The rise of 5G, combined with the increased mobile usage and digital disruptors like Nextech AR, Augmented Reality experiences are about to become even more immersive and real. Consumers want to be "wowed"; they want businesses to fully embrace what the latest technology has to offer. They will seek brands that put delivering excellent customer experience above anything else and won't hesitate to abandon businesses that don't.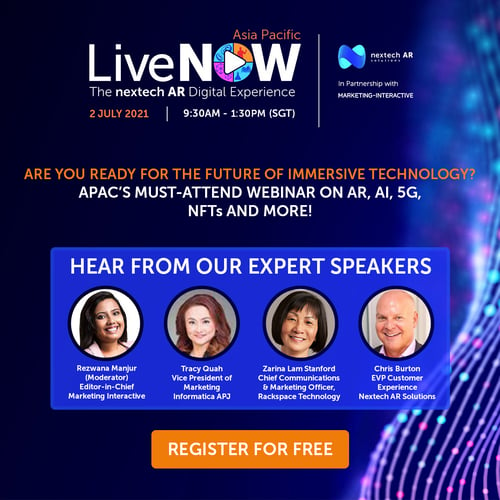 Become part of the transformation and join us at Live Now Asia Pacific Friday, 2 July 2021 9:30 am – 1:30 pm (SGT) to discover innovative ideas to implement in The New Economy.
Book your seat today!