Navigating large and intricate indoor venues such as malls, hotels, and universities can be a challenging experience for visitors, akin to navigating a complex maze. The traditional methods of solving this problem at venues so far have been location markers, signboards, and wayfinding kiosks with maps for navigation and, if all else fails - calls to customer support asking for directions. However, these solutions come with their own set of challenges, for instance, limited accessibility, and they're often difficult to follow.
Besides being problematic for the visitors, poor indoor navigation facilities can significantly cost a business. Loss of sales, an unsatisfactory customer experience, frustration among visitors, bad reviews, and reluctance to revisit are also some of its dire consequences. Indoor navigation using augmented reality (AR) is the ultimate solution to all these issues.
Read this blog to uncover all the benefits of AR for indoor navigation.
What is AR indoor navigation technology?
AR-based indoor navigation technology helps users reach point A to point B indoors using augmented reality to provide real-time directions.
It overlays virtual elements, such as arrows, on real environments as seen on the digital screen of an electronic device through its camera. The most commonly used electronic device for indoor navigation using augmented reality is a regular smartphone due to its high accessibility and easy availability. According to The Manifest, 77% of smartphone users regularly use navigation apps. In 2020, there were 0.6 billion active, AR-friendly mobile devices worldwide, according to Statista. And the number is expected to reach 1.7 billion by 2024.
Indoor navigation using augmented reality is a far better experience for users than following maps posted at different locations in a large indoor space. An AR navigation system can be with you and guide you throughout your journey. Also, following a simple direction indicator, like an arrow, is much easier than figuring out the right path while referring to a map. Commercially, it is more beneficial for businesses as AR indoor wayfinding is a hassle-free experience for visitors and ensures they reach the desired venue quickly, resulting in an improved customer experience.
The Unprecedented Benefits of Indoor Navigation Using Augmented Reality
Here are some compelling reasons why businesses should offer AR indoor navigation to their visitors:
1. Absence of the Indoor Limitations of GPS
Although GPS technology has several applications in large-scale navigation, such as wayfinding around a city, it faces significant obstacles when mapping indoor spaces. Unlike an AR navigation platform, a GPS can't be used to navigate across floors of a building. GPS satellites can't transmit strong enough signals to penetrate buildings, so they cannot provide accurate directions or positions indoors.
2. Greater Cost-Effectiveness and Efficiency Than WPS
It is impractical to rely solely on WiFi Protected Setups (WPSs) for accurate indoor navigation. WPSs require the installation of beacons at multiple positions, which can be costly. Beacons are access points that depend on signal strength for pinpointing a user's location. They have a range of 5-15 meters, making them inefficient and inaccurate. On the other hand, the precision of AR-based indoor positioning technologies is to the millimetre.
3. Ease of Use
In real-time, an AR indoor navigation tool can spoon-feed directions to users with clear indicators on their phone screens. It can even convey information through text and audio as users reach various checkpoints or location pins within the venue. It is hard to imagine an easier way for wayfinding than indoor navigation using augmented reality.
4. Unmatched Accuracy and Precision
Maps can be hard to follow, especially in intricate indoor spaces. However, AR-based indoor positioning technologies have an accuracy within millimeters. They can pinpoint a user's location and give them real-time directions to reach their desired destination, making it impossible to get lost. An AR navigation platform can also refresh in real time, guiding users on the shortest ways to their destinations.
5. Improvement in Visitor Experience
An AR navigation tool saves users time to reach their destinations and dramatically improves their overall experience navigating a large indoor space. This creates positive associations with the venue and business in their mind.
6. Increased Visitor Engagement
The immersive navigation experience empowers users to engage more effectively with their surroundings. The time saved in reaching destinations ultimately allows site visitors to enjoy an increased capacity to engage in the activity they came to the venue to pursue. This significantly boosts customer satisfaction and earned revenue.
7. Reduced Crowd Density
When visitors of crowded indoor spaces like stadiums and airports use AR navigation tools to get to their destinations, the overall crowding at the venue reduces substantially. It is simply because the probability of a visitor taking accidental detours within the space is dramatically reduced.
It is also important to note that the benefits of setting up an AR navigation platform will only increase with AR technology advancements. And we can expect them to rise even further shortly.
ARway.ai: The Only AR Based Indoor Navigation System and AR Experience Platform You Need
ARway.ai by Nextech3D.ai is an incredibly intuitive platform that helps users create their own AR indoor navigation system using floorplans and even empowers them to create and share AR experiences. It requires no prior coding knowledge, and you can easily integrate ARway.ai's technology within your business's mobile app. It allows users to create interactive navigation maps for indoor spaces with easy-to-follow step-by-step directions, a course-correcting compass, and interactive AR content along the route. Its applications include creating curated tours, location-based games like treasure hunts, AR advertisements, and gaining location intelligence - to name just a few.
Watch the demo video below to learn how ARway.ai works:
The Exceptional Benefits of Using ARway.ai to Build Your AR Indoor Navigation System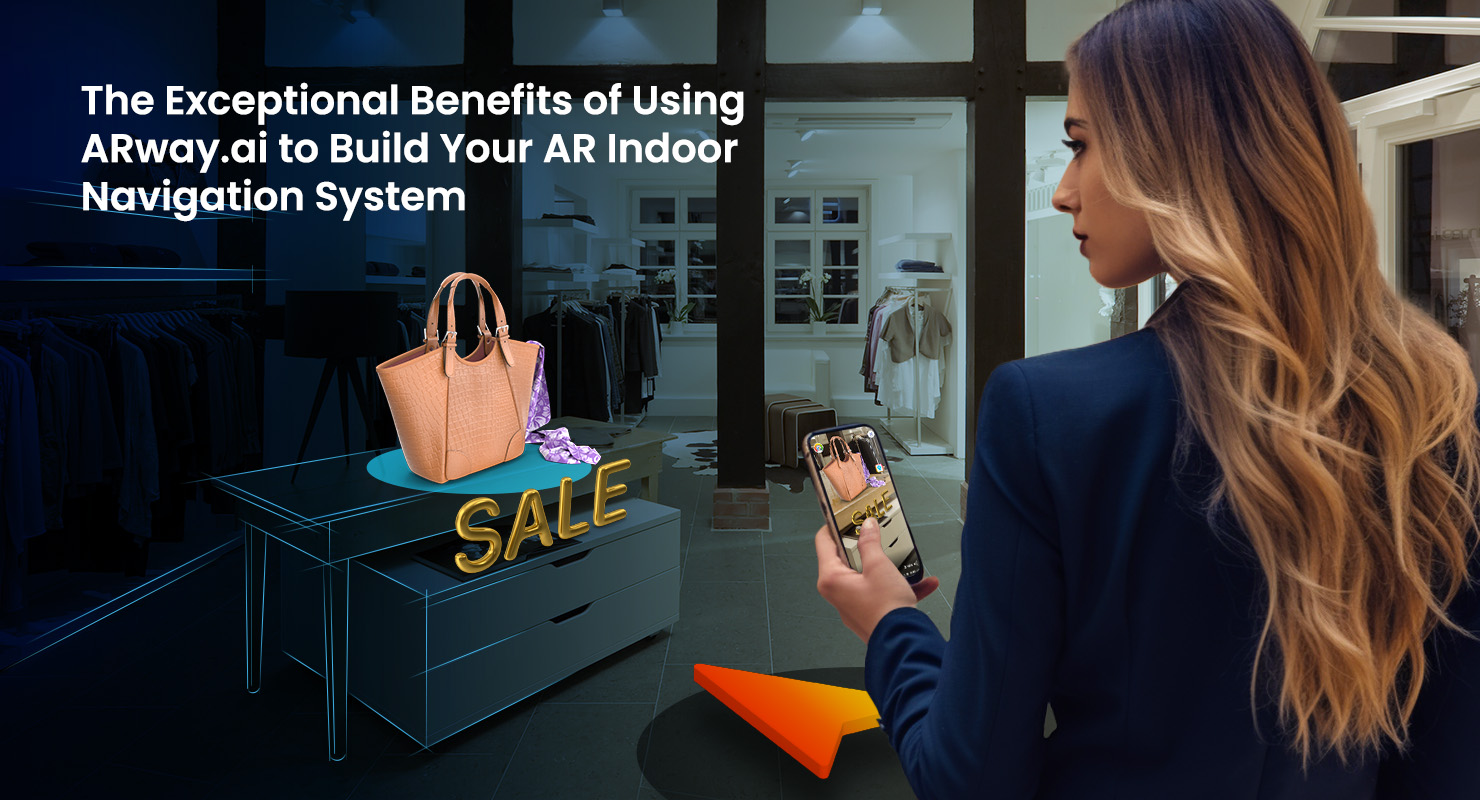 ARway.ai has been meticulously designed to give you the full benefits that augmented reality and indoor navigation technology can offer.
Here are the exclusive benefits of using ARway.ai for indoor navigation:
1. Flat Learning Curve
Due to its intuitive interface, even a layperson can create immersive maps easily and soon become proficient in using the software. ARway.ai users require no special training or prior coding knowledge to use the app.
2. Great Accessibility for Users and Site Visitors
Businesses simply need to use ARway.ai's web-based studio to create interactive navigation experiences. Site visitors can access these AR maps by scanning a QR code with their smartphones. They do not have to install any additional software to use it.
3. Provisions for People with Disabilities
ARway.ai allows creators to add voice instructions for site visitors. Making it easier for people with disabilities such as visual impairments to navigate the indoor space as efficiently as anyone else.
4. Guided Tours & Experiences
Multiple visual and audio-narrated guided tours and AR experiences can be easily set up for a single site map using the ARway.ai app. Visitors taking AR-guided tours to explore the indoor spaces have a more participatory experience associated with higher learning and knowledge retention. Curated AR tours empower users to personalize their tour experience and even strengthen their emotional connection to the brands they engage with ARway.ai users can add interactive holographic tour guides to the AR experience to make it more immersive and easier to follow. This further bridges the gap between venues that have in-person tour guides and venues that provide AR tours.
5. Marketing & Advertising Opportunities
ARway.ai enables users to monetize airspace and generate whole new revenue streams virtually. ARway.ai makes executing AR marketing campaigns and digital ads incredibly easy – even those with appealing 3D animations.
6. Gamification Opportunities
ARway.ai unlocks the possibility of providing highly interactive location-persistent AR games. ARway.ai users can create unique experiences and games for their site for visitors to interact and play along their route while navigating the venue. For example, one can design an AR-based treasure hunt that allows visitors to collect 'treasures' along the route and redeem the accumulated points.
7. Easy Updates
An interactive map created with ARway.ai is not set in stone and can be updated as frequently as required. So, users don't need to develop new projects and begin from scratch whenever changes are made to their venue's layout.
8. Cost-Effectiveness
AR navigation platforms are generally less expensive than WPS systems. ARway.ai is an exceptionally cost-effective software for creating robust AR navigation with accurate location positioning and rich AR experiences.
9. No Requirement of Hardware
ARway.ai eliminates the need to install hardware components, such as BLE beacons. Your computer/laptop is all you need to make the most of all the features of ARway.ai. A site visitor needs a smartphone to access the platform's unique experiences.
10. Inbuilt 3D Model Library
The static and animated 3D models that can be inserted into the AR navigation platform created with ARway.ai are called AR spatials. ARway.ai has an inbuilt library of the commonly required AR spatials, such as arrows. Therefore, users don't have to waste time creating or finding and importing 3D models from any third-party 3D modeling software.
11. Creation Studio
Users can access pre-built AR and 3D designs from ARway.ai's library. They can also create and integrate it themselves using ARway.ai's Creation Studio.
12. Access to Insightful Analytics
ARway.ai can provide businesses with helpful data, such as the locations most frequented by site visitors and heat maps of the time spent at various indoor spaces. By accessing such data, ARway.ai users can push more ad content at the most-visited locations to increase its visibility and conversions.
Click here to learn in detail about ARway.ai and its indoor wayfinding features.
Click here to contact us if you have queries regarding ARway.ai.
Nextech3D.ai is on a path to creating a world where professionals from all fields could benefit from augmented reality, 3D design, and artificial intelligence breakthroughs, using only accessible devices such as smartphones, computers, and laptops. ARway.ai is pioneering the AR revolution with its versatile applications in industries ranging from education, healthcare, construction, entertainment, events, and many more.