There is no debate that 3D content surpasses 2D content in marketing due to its visual appeal, clarity, and immersiveness. Due to the increasing popularity of 3D content, the metaverse, and the AR industry growth we are witnessing today, the paradigm shift of content from 2D to 3D is assured. The number of brands leveraging 3D and AR for digital marketing will only increase. Many brands are already in a race to define what it means to be a business creating immersive 3D experiences—in the Metaverse or even on their websites and apps. This has also created a need for simpler, better, faster, and innovative 3D content creation software—a challenge that Nextech3D.ai has undertaken to resolve with its creative 3D design studio, Toggle3D.
As we dive deep into 3D content creation and its various applications for brands, let us first evaluate:
Why 3D Content Creation Is Becoming an Important Strategic Asset for Brands
Here are the four main reasons why 3D content creation is proving to be almost essential for an increasing number of brands worldwide:
1. Feasibility
Due to the advancements in 3D modeling and AR technology, using AR 3D models is now a cost-effective strategy for brands in the long run. Moreover, smartphone users can now easily have 3D AR experiences online.
2. Conversions
According to Shopify, adding 3D visualizations to online shopping experiences can increase conversion rates by up to 94%. It also increases brand engagement and reduces product returns.
3. Appeal
AR 3D models add to the appeal of all digital marketing content, making brand experiences more enriching and memorable. A study by Mindshare UK revealed that AR increases ad recall by a staggering 70%.
4. Clarity
AR 3D models help customers visualize and understand complex products better and more quickly. According to Shopify, 3D models in AR can increase conversions by up to 250%.
5. Personalization
AR 3D model integrations into web pages can allow users to personalize products and see them in virtual 3D before purchasing.
Hence, for brands aiming to increase their e-commerce dominance, AR and 3D content creation are no longer an option but an indispensable necessity.
Marketing Applications of 3D Content Creation
Amazon has observed that customer engagement increased by 66% with a 3D technology configurator compared to 2D marketing solutions. And several studies indicate that 3D content has immense scope for helping you build confidence with potential customers. It helps reduce pre-purchase anxiety and instill more confidence in the product, reducing the chances of buyer's remorse. Resourceful marketers are looking for different ways brands can utilize 3D models for marketing. Here are the top 6 ways in which you can use 3D content to your business's advantage:
1. Interactive Content
Wearables like clothes, watches, footwear, gadgets, and jewelry look great on a web page with interactive features. Users can zoom into the visuals and rotate the 3D model to get the best possible view from all angles. Even the simple zoom feature gives potential buyers an excellent opportunity to inspect products closely before purchasing. Small details like color schemes, stitch patterns, and tiny decorative designs can significantly affect purchase decisions.
2. 3D Product Animations for Demos
Marketers can now use 3D animations to showcase how their product works to their target audience. Consider a watch, for example. A 3D animator can highlight its impressive mechanical properties and show the intricate parts moving inside it.
Watching videos of how a product works is more immersive and enjoyable than reading text and referring to images. 3D product animation videos are a great way to attract a crowd at trade shows or product launches.
3. Social Media Content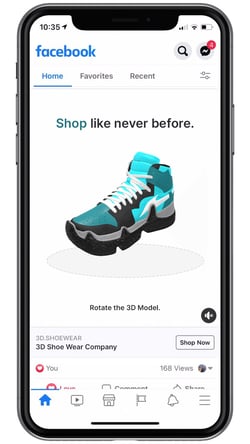 In the age of social media marketing, posting eye-catching and easily shareable digital content is vital. 3D models of products can be used to design high-quality social media posts or advertisements for platforms such as YouTube, Facebook, Instagram, and LinkedIn. Interactive 3D posts, intriguing animations, and even virtual tour videos are great ways of incorporating 3D content into a brand's social media universe. 3D content makes brands stand out in people's social feeds and increases brand engagement. According to Martech Series, 3D ads have caused an increase of 44% in cart additions and 27% in orders.
4. Rendered 3D Videos
Videos of 3D models in a virtual environment are a suitable alternative to 3D models in advertising mediums that don't support interactive features, e.g. digital billboards. Rendered 3D videos can now appear hyper-realistic, giving viewers the impression that they are videos of actual products. Rendering can turn 3D models into realistic product footage with backdrops or animated surroundings. For instance, real-estate businesses are now successfully attracting eyeballs outdoors by showcasing their properties in 3D format, with immersive visuals of interiors and exteriors.
5. Immersive AR Experiences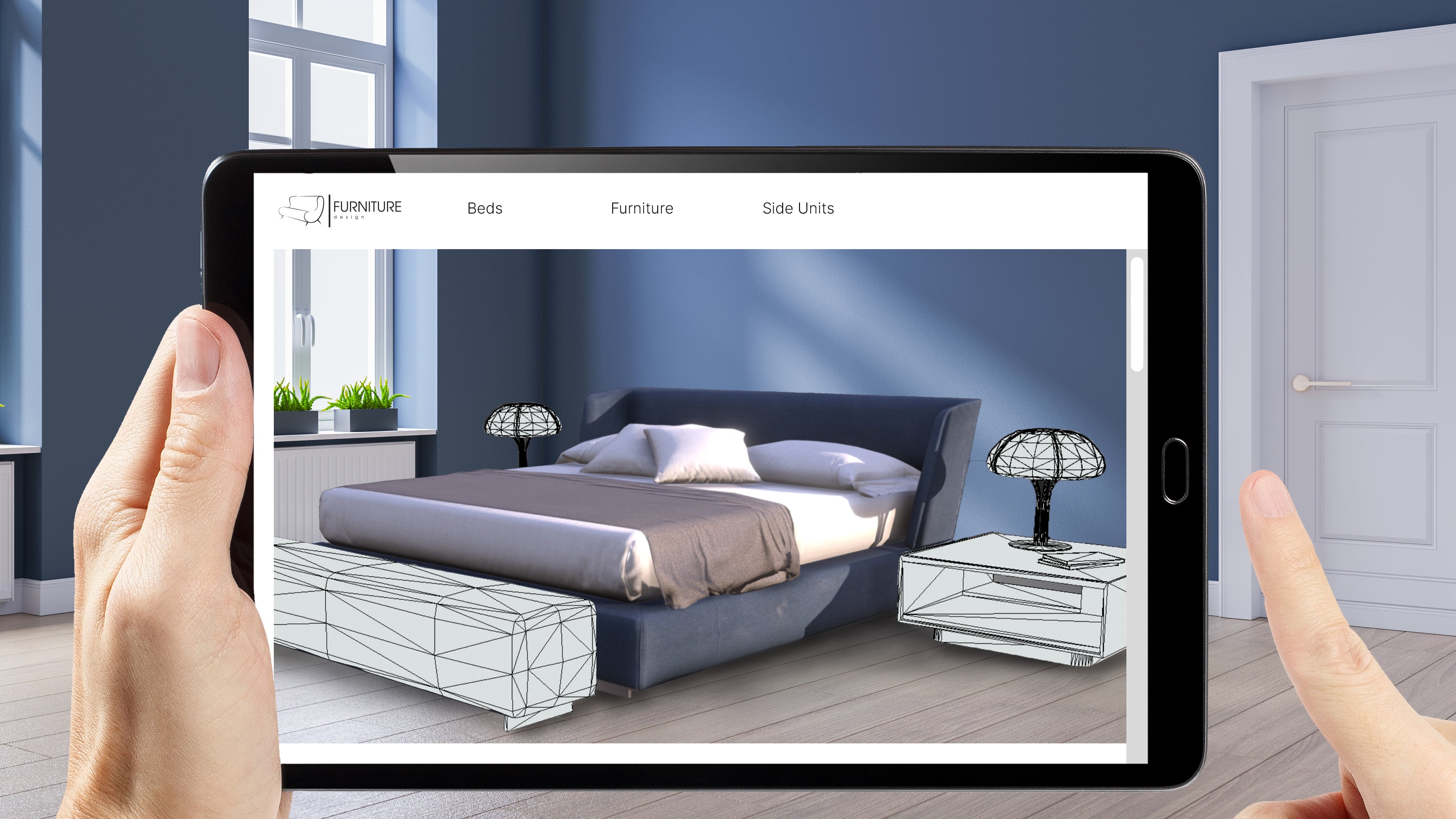 Augmented reality (AR) has created compelling new possibilities for digital marketers to create immersive and memorable brand experiences. Marketers can now place the 3D model of their product inside a virtual environment that people can interact with. For example, a furniture brand could allow potential customers to see how a bed would appear in their bedroom through an AR interface on its product web page. They would never even have to visit the store.
6. Profound Storytelling
In marketing, storytelling is a compelling way to evoke feelings and build a brand connection with the target audience. 3D content enhances storytelling by including mesmerizing visuals and complex scenarios to capture in shot videos. From animated commercials to 3D infographics, 3D content dramatically adds to the visual appeal of various marketing content.
How Brands Have Benefited from 3D Content Creation
Here are some examples of noteworthy brands that have made the most of 3D for AR experiences to showcase their products and stand out from their competitors:
1. Rebecca Minkoff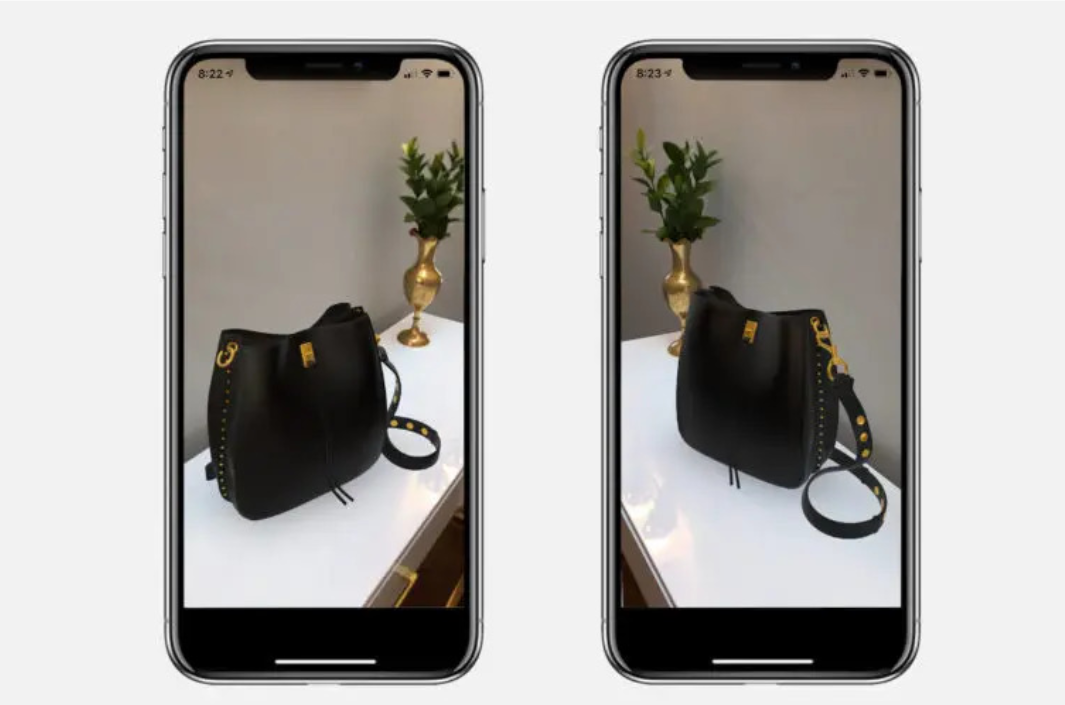 Source: Vogue Business
The global women's fashion and accessories brand began leveraging 3D for AR by the end of 2019.
What it led to is truly impressive. According to Shopify, Rebecca Minkoff's website visitors were:
44% more likely to add a product to their cart after seeing it in 3D.

27% more likely to place an order after viewing a product in 3D.

65% more likely to place an order after interacting with a product in AR.
2. IKEA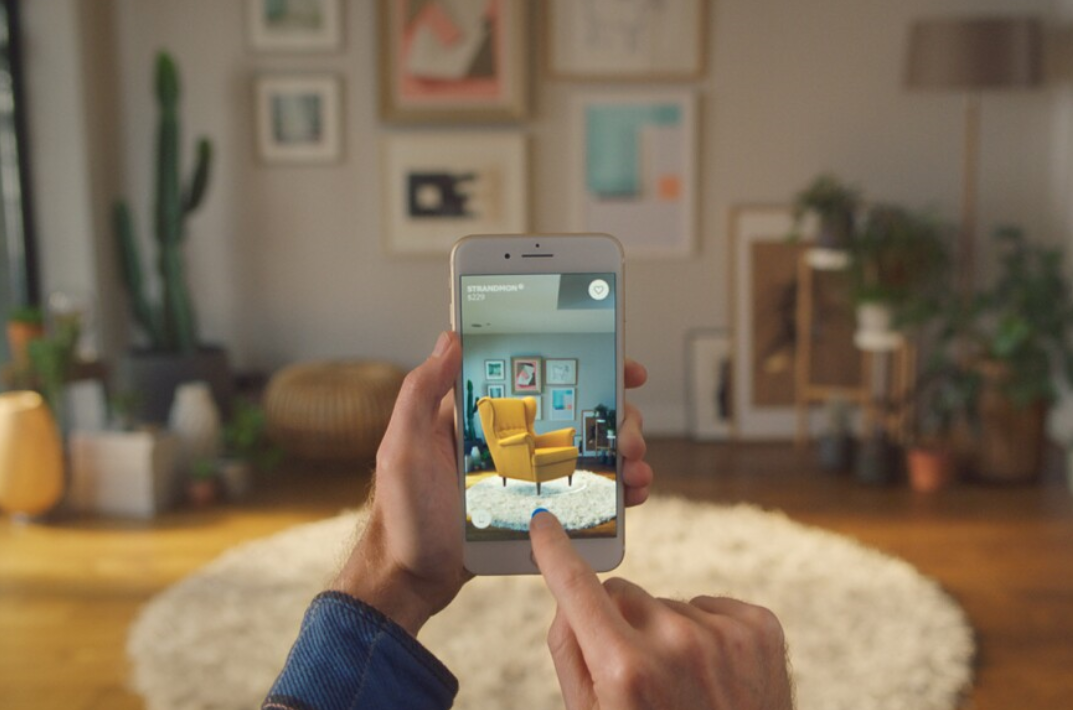 Source: Architect Magazine
The furniture giant has been developing its 3D product library for 21 years. IKEA designs its products in 3D for AR and markets them using 3D models. The company introduced IKEA Place, its first AR app, in 2017. It allows users to virtually place true-to-scale 3D models of IKEA products in natural spaces, such as living rooms, before purchasing.
The app boosted IKEA's online sales by 43%, and the company's annual revenue increased to $40 billion in 2019.
3. Nike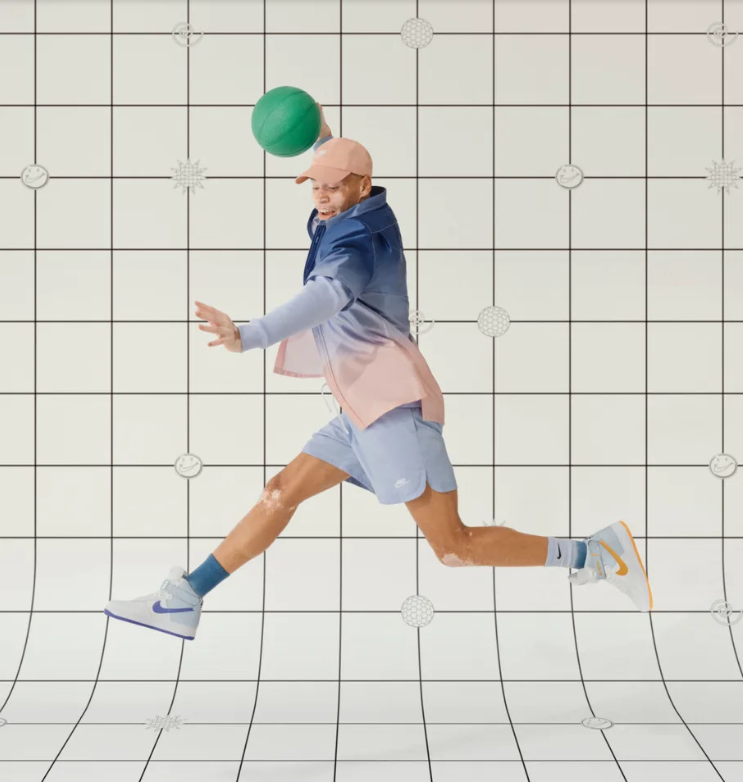 Source: Nike
The company's innovative 'Nike by You' feature allows people to choose from their range of shoes and customize the selected shoes in virtual 3D before sharing them on social media. As a customer customizes their option, Nike updates its product images in real-time so the customer can see their design in action.
Simplify 3D Content Creation for Your Brand with Toggle3D
Throughout the development of new product designs, all the departments and professionals involved in the project, starting from the ideation phase itself, need to be aligned on the same page concerning all aspects of the product. It's not just the 3D design experts but all brand custodians, including the marketers, that must have a shared understanding of all product aspects. This creates the need for the 3D content creation process to be simple enough for anyone without training to be able to handle it.
Toggle3D is a 3D content creation software that overcomes this major challenge by eliminating the steep learning curve involved in 3D content creation. Its cutting-edge AI technology handles all the complicated steps of 3D content creation, and users only have to click a few buttons to create high-integrity 3D models for AR at scale – on the sole, web-based platform of Toggle3D.
Here are the four simple steps to designing web-friendly 3D models for AR using Toggle3D:
Upload a CAD file (up to 1000 MB) to the Toggle3D platform.

'Toggle' the CAD file format to Poly (95% lighter) with nothing more than a click of a button.

Directly get the 3D model textured by selecting from more than 1000 PBR materials ready for use in 4K in Toggle3D's pre-built library.

Select a 3D lighting preset from the design studio's pre-built library and click another button to render the final 3D model.
Toggle3D exports 3D models in AR/web-friendly file formats. Each file comes with a unique QR code that enables people to view it in AR using nothing but the internet and their smartphones' cameras.
Toggle3D was built for productivity for the whole team. It's a singular platform that allows users to convert, texture, customize, and share high-quality 3D and AR designs without using any code. It is an exceptionally cost-effective, quick, easy, and scalable solution for 3D content creation.
Click here to try Toggle3D and experience how quickly and efficiently you can create high-quality 3D designs.
The Future of 3D Content Creation for Brands
The 3D models market size in 2022 was valued at USD 1255.8 million and is expected to reach USD 3573.08 million by 2028.
The use of 3D technology in marketing is predicted to grow exponentially.
Here are the top 5 predictions about 3D content creation for brands:
1. Anyone without formal training in 3D design would be able to create and share 3D models through their smartphone.
Creating 3D models would become as effortless as scanning objects or images with smartphones. These models would also be easily shareable. Apple's Object Capture API has already made breakthroughs in this field.
2. AI tools would be able to eliminate errors in 3D capturing.
Currently, a margin of error is found in data-capturing processes like 3D scanning and photogrammetry. It compromises data integrity. But in the future, AI tools could be programmed to identify and resolve anomalies in the captured data, ensuring more excellent success rates and accuracy of 3D content creation.
3. 3D models would be built using 3D elements previously made by creators.
3D asset libraries offering many 3D elements will become the standard. They would allow lay people to construct entire 3D environments using the 3D features in stock. So, 3D content creation would be as simple as pulling icons together on a smartphone. Toggle3D is already at the forefront of 3D design, enabling users to benefit from its pre-built 4K 3D asset library.
4. Creation of 3D models entirely in AR.
3D experiences would be composed in 2D digital screens and virtual 3D platforms. With advancements in extended reality (XR) technology, it could evolve from a view-only format to one compatible with a virtual 3D environment.
5. 3D design workflows would be standardized in all businesses.
3D design and development functionality across various departments would only increase with the use of 3D design workflows. It would become a must-have solution for businesses to remain relevant in the technologically ever-evolving world.
With consumers demanding more personalization and immersive experiences on every platform, it is only natural that 3D and AR content will continue to rise until it eventually dominates the market. Google has already reported that 3D Swirl ads can achieve engagement up to 8 times more than standard 2D ads. The enthusiastic response of consumers while interacting with 3D content is already driving brands to leap into the 3D world with creativity and excitement.
The AI and AR industry growth we have seen in recent times is paving the way for an exciting future. Nextech3D.ai is pioneering the 3D and AR revolution by innovating and developing new AI-powered software for various applications, from 3D product design to AR-assisted navigation and event management. Expect more unexpected solutions to your marketing problems from Nextech3D.ai in the future.