The Black Student Fund/Latino Student Fund School Fair is a Washington, D.C. tradition dating back decades. In 2020, it went virtual for the first time and it was a success.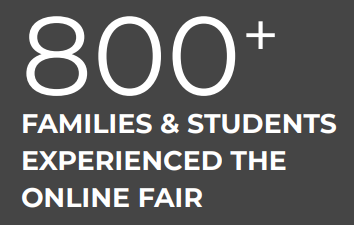 The Challenge
BSF/LSF School Fair faces COVID challenges in 2020 to host its most popular annual school fair. How did they conquer? "Covid dealt us lemons, so we made lemonade."
The Opportunity
The Virtual School Fair offers families of Black and Latinx backgrounds an equal opportunity to explore independent schools and in return offers independent schools exposure to a larger audience.
About the Black Student Fund Organization
BSF is a nonprofit organization with over 50 years of experience providing financial assistance and support services for African American students and their families within the Washington DC metropolitan area. BSF works within the K-12 space creating educational opportunities and choices for families to explore independent schools.
About the Latino Student Fund Organization
LSF is devoted to providing free support and academic assistance to Latinx students and their families within the Washington DC metropolitan area. LSF offers scholarships, tutoring, mentoring programs and high school college preparatory for to students from K-12. ABOUT THE BSF/LSF SCHOOL FAIR
"For many schools this was their first Virtual Event. Schools have learnt from this experience on how to do things with online with technology."
The Challenge
When COVID hit, it's no secret that live events were significantly impacted. There was and remains much uncertainty regarding how to move forward. Big decisions are forced to be made quickly, and BSF/LSF was no exception.
"This year because of COVID we panicked, and we decided in March to look at a virtual option" - Mr. Nesbitt
With Mr. Nesbitt's anticipation that many people would be "zoomed out," he hoped for a platform that was first class and upscale to host his event. During a conversation with a college executive colleague, Mr. Nesbitt learned how companies like Nextech AR were helping colleges leverage technology to provide virtual learning experiences as intricate as organic chemistry courses and labs. Mr. Nesbitt's curiosity increased, and with Nextech AR in mind, his search to find a solution began. Mr. Nesbitt viewed a demo with Nextech AR's President Paul Duffy and immediately knew this was it.
"When I described what Nextech AR could do, people did not believe me!" - Mr. Nesbitt.
He arranged another demo this to showcase Nextech AR to his team. As soon as they experienced the demo, it was a done deal.
The Outcome
Families, independent schools and BSF/LSF were satisfied with the outcome of the event. In fact, in many ways going virtual helped with the shortcomings of live event, such as the issue with some schools being more popular than others. At the live event the popular schools' booths are very crowded, making difficult for all families to engage with them. Virtually, there was not such a discrepancy between the booths' popularity, providing an equal opportunity for families to engage with the various schools.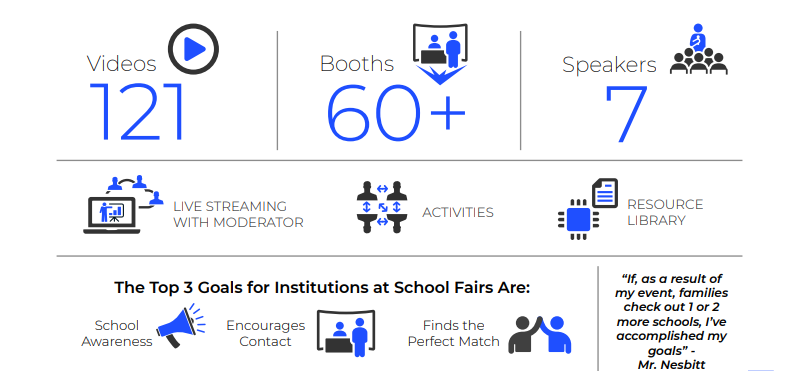 The biggest highlight of the Mr. Nesbitt's experience was the look of the booths.
They [the booths] were spectacular for people. However, the biggest WOW for me is the production stream presentations. Because it's like a T.V. show. It played classic… it wasn't just 'zoom'"
The BSF/LSF School Fair Site Was Formed With:
60+ exhibit booths

Networking

Agenda

Live streaming with moderator and ask questions feature

Resource Library

Workshops with special speakers

Sponsors
More Benefits for BSF/LSF
Families want to window shop at the event, but it's a bit uncomfortable in person since they are walking directly past the school's booths with the representatives waving them down. Going online provided families the opportunity to window shop without the immediate pressure from the schools. They could check out helpful resources, such as videos and virtual pamphlets prior to engaging with the schools.

Live school fairs are losing momentum, as this style of event is not as sought-after as in the past. Families' first instinct is to browse the internet for opportunities for their children's futures, so it it's a natural fit to host the event virtually.

Historically, the live event had workshops and presentations in separate small breakout rooms. This year BSF did both live stream and recorded presentations for the workshops which were better attended numerically.

The workshop attendance increased on average 50% virtually.

For many schools this was their first time participating in an online event. Schools have learnt from this experience how to utilize technology and do things virtually.

Thrilled Attendees
My name is Angeles Reza, I had the opportunity to attend the BSF/LSF school fair. My experience at the BSF/LSF school fair was great, my daughters and I had the opportunity to ask questions of the different high schools where my daughters are interested in applying. We liked the way in which the staff of most of the schools answered our questions and they, like us, were happy to be present virtually. In general, it was very easy to access the meetings, the instructions were very simple. Thanks to the school fair my daughters have made the decision which schools to apply for high school."
Watch and listen what participants said about this event - CLICK HERE!
About

Nextech

AR Solutions
Nextech AR Solutions is a technology company that puts Augmented Reality (AR) at the center of everything we do. As an AR solutions provider, we take existing, proven, and successful business models like ecommerce, Advertising, Virtual Events, Digital Experiences, Digital Learning and augment these solutions with AR technology to deliver an elevated reality with a better return on investment across multiple time zones, languages, and devices. As a pioneer in immersive technology, Nextech AR is fundamentally changing the way we live work, play, shop and learn in the new digital economy through our integrated and innovative solutions. Nextech AR is beyond digital, offering a comprehensive range of personal experiences – from dazzling 3D models, human holograms and 360 portals - striving to create infinite possibilities for the masses through robust branded programs that deliver an unforgettable branded internal or external event, learning portal or product showroom.
Check out our 3D and Augmented Reality offerings for virtual and hybrid events below!
Ready to expand your reach with a virtual event? Check out our platform fit with all the essentials and exciting Augmented Reality features here!