We are living in a golden age of product design and development. Not that there haven't been amazing and wonderful products in the past, but it has never been easier for designers to engage with lighting, materials, colors, and textures. While there are powerful tools out there for doing these things, they demand steep learning curves, large investments, or are difficult to scale. These limitations are holding back even more exciting designs and products from ever reaching store shelves or consumers' hands. Thankfully, that is starting to change.
Computer-aided design (CAD) files are ubiquitous today. They are used in every industry and by a wide range of professionals - product designers, industrial engineers, and architects. These groups use CAD files to create products, imagine new possibilities, and engage key decision makers. Being able to convert dense CAD data into accessible 3D models for the web is an impactful and empowering way of prototyping and communicating design variations with stakeholders and customers.
But that doesn't mean this area is without options - or challenges.
Enterprise-class software, such as Illustrator and Substance in the Adobe Suite have been relied on by 3D designers for some time. However, these tools come at a high price and require many dedicated hours to truly master. The Adobe ecosystem is also highly specialized and requires users to jump from one app to another to complete the many elements of a 3D project.
While some large manufacturers and retailers may wish to learn these products, others are looking for more accessible and affordable solutions that can be easily learned and adopted across organizational teams. And there's precedent. In 2012, Canva arrived on the scene and was able to disrupt Photoshop. Canva opened the floodgates for anyone to become a graphic designer and content creator by giving them access to easy-to-use tools and templates. This became an appealing prospect for people who weren't in the Adobe ecosystem and didn't want to be.
That's where Toggle3D comes into the 3D design picture.
Toggle3D, from Nextech AR Solutions, is a standalone web application that provides product designers, artists, and marketers, with a new AI-powered SaaS platform that enables the creation, design, configuration, and deployment of 3D models at scale - with virtually no learning curve.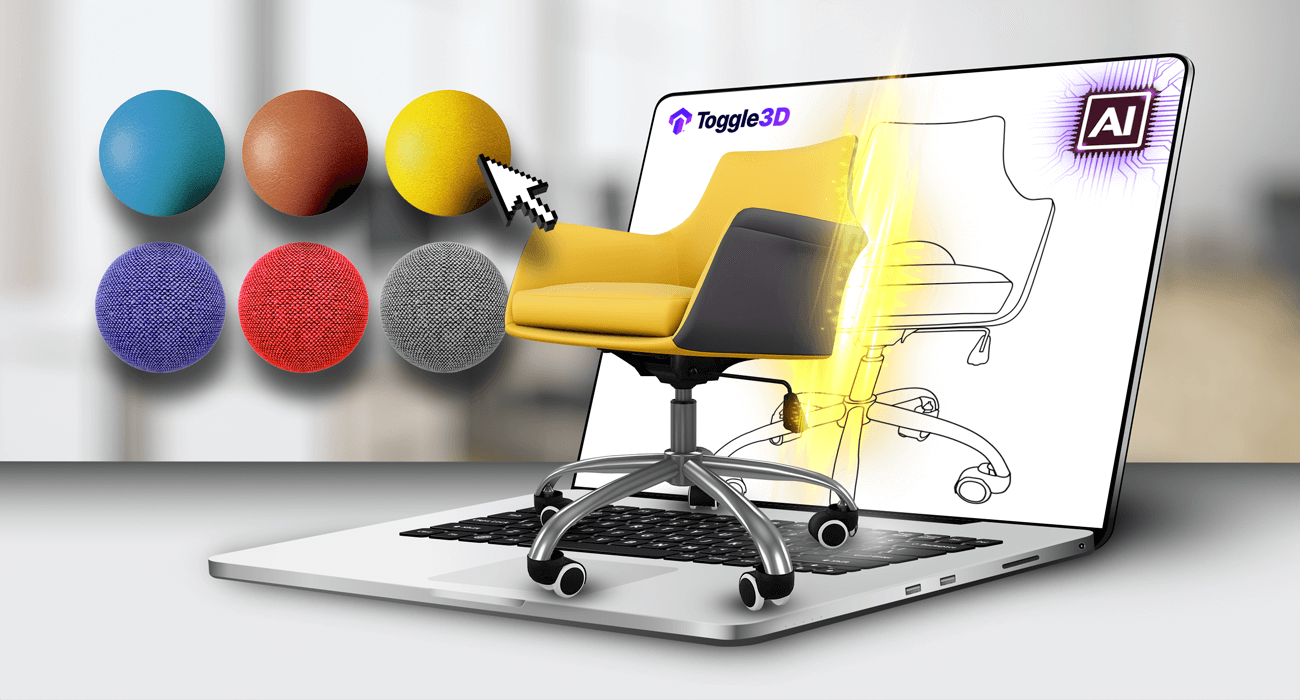 Toggle3D's advanced AI converts CAD files into high-quality 3D meshes that the user can then design by assigning materials, textures, and colors. A full suite of tools, easy-to-use templates, and an extensive library of professionally rendered PBR materials make it simple for anyone to get anyone started with Toggle3D. As demand continues to increase and use-cases expand, more templates and tools are being produced to make 3D visualizations even more valuable to more people. The excitement around Toggle3D is bolstered by the fact that anyone can try it free today!
Right out of the (virtual) box, Toggle3D allows people to build two projects for free, and the "pro" version, with unlimited models, costs only $29 per month. This low cost of entry allows Toggle3D to be put to work without fear of breaking the bank. With the flip of a (virtual) switch, legacy CAD models, fresh new designs, and effective marketing campaigns can suddenly become stunning 3D objects.
As Canva has been to Photoshop, Toggle3D aims to be for Adobe Substance: a powerful, accessible, and affordable solution for any organization interested in working with 3D.
If you are a product designer, design studio, 3D artist, or marketer who wants to scale to the digital world - without exorbitant additional costs – try
Toggle3D for free
today or
contact us for a demo
.