If you own an ecommerce business, odds are you use Shopify, as it's the 2nd largest ecommerce site in the U.S. with more than 1.7 million merchants using the platform.
With all Shopify stores and themes now supporting 3D models, it's becoming a simple and successful way to gain an edge for your online business. Online customers are expecting more and more digital merchandising and visuals to help bridge the gap between online
+and in-person shopping since buyer's remorse is a common result with online purchases+ that don't meet expectations since it's not possible to touch or try out products.
A study by eMarketer found that in 2016, consumers expected an average of three images per product. Flash forward to 2019 and consumers across every age group expect nearly double the number of photos and a minimum of two videos per item.
These increased expectations in product visuals means it's important to provide not only the proper amount, but proper quality. A Salsify study cited by eMarketer showed that one of the top reasons customers abandoned product pages were due to low-quality images or videos.
3D models prove to be the perfect solution to meet the demand for vast amounts of product content. Outstanding visuals equal more sales, and if looking between your dynamic 3D models versus typical, flat 2D photos from competitors, it's clear what route will help your customer complete their purchase. In fact, Shopify shows an increase in conversion rates by up to 250% on product pages with 3D models.
How Do I Add 3D Models to My Shopify Site?
ARitize 3D, our 3D and AR model creation platform, has made available a Shopify app as an easy 1-click integration self-serve tool. Just install the application and businesses can begin displaying 3D and AR models in as little as a few days.
What was initially perceived only as a managed service for large enterprise companies is no longer the case.
Whether a business wants to create 5 models or 500 models, they just simply sign up, enter a credit card payment method, and enable WebAR for their website. Nextech AR has created this first of its kind self-serve tool to open this technology to anyone with an ecommerce site, as it's not only incredibly easy to get started with but affordable.
What Do I Need to Add 3D Models to My Shopify Site?
While 3D models may seem complex, the good news is that ecommerce businesses already have everything they need in order to use our Shopify app! Our requirements are 2D photos and dimensions of your product you want transformed into the 3D model, and odds are that businesses already have a few high-quality images and dimensions on their pages.
From there, our Artificial Intelligence technology takes this information and creates stunning 3D/AR visuals ready to be displayed on your product page in a few days.
Don't have any technical experience with 3D models? No worries – our app generates a JavaScript tag that's automatically inserted and creates "See in 3D/AR" buttons on the product page. Zero 3D/AR experience needed, and zero effort to take advantage of this amazing technology other than installing our application!
Boost Your Google Ranking with 3D/Augmented Reality Assets
Is your ecommerce business prepared for the new way customers are shopping and searching for products in Google? AR is at the forefront of upcoming changes to the Google search algorithm, as AR and 3D models are starting to be indexed by the search engine, giving participating businesses the opportunity to rank higher organically, demonstrating it's no longer an extra but essential strategy in establishing a prominent online presence.
As customers look for answers and products that fit their needs, businesses can turbo-charge awareness at the top of the funnel with higher visibility on competitive searches through featured 3D and AR models. Businesses effectively stand out from competitors with improved SEO as Google crawls websites for these visuals. Take a look at Target's number 1 spot in the search engine thanks to their "View in 3D" button!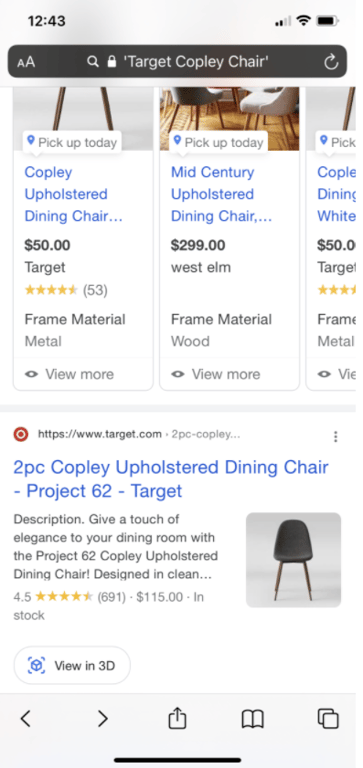 How

T

o Leverage 3D and AR

M

odels

in

Y

our Shopify

S

tore
A Single 3D Asset Leads to A Complete Product Portfolio
3D/AR models are just the starting point – with our unique features they become the base for multiple ways of providing exciting and important information to customers.
Color configurator: Have multiple versions of a product? No problem! With 1 model creating and base shape established, it's easy to swap out colors and textures. Put the power of personalization in your customers' hands with our product configurator tool that changes the color of an object as well as its arrangement, allowing clients to explore countless options and pick their favorite.
The ability to swap out pieces, colors and textures of products in real-time promotes imagination for clients and boosts engagement as they spend time designing a customized product.
Interactive product hotspots: Don't make customers endlessly search for the information they're looking for – add messages to your 3D and AR models that describe and link to specific features of your product through a single click!
Adding hotspots to your WebAR models highlights key product features while allowing your clients to earn and engage with your products virtually.
Animations: Walk customers through the usability of your product with unique and creative animations. Adding eye-catching and engaging movement to 3D and AR objects not only brings them to life, but effectively demonstrates their function where a written description fails to.
Custom CTA's: Our custom call to actions provide customers with clear interactions that make it simple to move towards a purchase. Promote a seamless shopping experience with functional buttons like "add to cart," "checkout," "Apple Pay," "View similar items," all inside the AR experience while engagement levels are at their highest!
Virtual staging and photography: Virtually place 3D product models in beautiful settings without the high cost of photography. One 3D model lays the groundwork for a visually appealing and beautiful product portfolio. Easily switch up the environment, size and angle of items without the traditional hassle of equipment, lighting, props, or a crew.
360° and exploded view: Simplify the complex for your customers. Our exploded view feature breaks a product down into its individual components in 3D and AR to showcase internal structures as well as the smallest details.
Full 360 views or videos give customers a greater understanding and improved confidence when purchasing a product, as every detail is viewable and results in customers knowing products inside and out.
Product page 3D carousels: Continue nurturing customer engagement with 3D carousels on product pages! Replace or simply add 3D models to your existing image carousel, adding an interactive layer and enhancing the user experience to those who come across your product pages.
See it in Action!
Check out a few of our client pages who are reaping the benefits of 3D and AR assets on their product pages!
Entryway Table by Blooming Tables
90 Degree Desk by Office Group Office Furniture
Bambus Coffee Table Round 140 X 45H by North by North
Pisa Luxury Swivel Recliner Chair by Just Recliners
Ready to get started? Learn more here.
Have questions? Reach out to our expert 3D and AR team here to get started with 3D and AR!