ARway is pleased to introduce our latest eBook, A Game Plan for Re-Inventing the In-Stadium Experience: Augmented Reality Wayfinding for Stadiums That Goes Beyond Indoor Navigation.
The timing couldn't be better as all eyes are on the Super Bowl, the biggest game of the NFL season happening on February 12 in Glendale, Arizona. Spring Training for MLB begins and MLS teams take the pitch later this month. Next month, March Madness college basketball will take over arenas around the country. NBA and NHL stadiums are heating up with playoff positions becoming more clear.
All the major sports leagues and pursuits are upon us - and fan-filled stadiums are where the action happens!
Now is a good time to evaluate fan experience and fan engagement in these venues - and understand why some fans are opting to stay home to watch their favorite sports.
Why Do Sporting Venues Need Augmented Reality?
A Stadium Experience and Fan Satisfaction Survey conducted by Deloitte in 2018 revealed the main visitor pain points and expectations (which outweighed all other ones by over 50%) to be the following:
Stagnating attendance amongst younger generations due to the convenience of an at-home game-watching experience, large screen TVs with an unobstructed view, and immersive sound system.

Difficulty navigating the stadium, leading to getting lost, missing out on exciting parts of the game, being unable to find the desired food stand, and an overall feeling of frustration.

Exciting atmosphere demanded by fans, which goes beyond the normalized expectation of a good quality game, clear view from their seat, and overall safety and accessibility of the venue.
The survey also revealed that the main factors that bring down the in-stadium fan experience the most are navigation and the cost and quality of concessions.
Augmented Reality (AR) addresses these issues and provides the exciting experience fans want. In this eBook, you will learn:
How offering augmented reality indoor navigation in stadiums can improve the fan experience
How stadiums can use spatials and location-based marketing to increase fan engagement and drive revenue

How data insights about the venue and visitors can boost the bottom line for stadium owners, its vendors and sponsors.
Readers are taken through creative approaches and opportunities that address the pain points of sports fans. Just as in the sports world, we share stats, stories and innovations that illustrate the role AR can play in venue improvements, fan engagement, and revenue generation. We close with a Playbook that details how easy it is for a sports venue to work with ARway.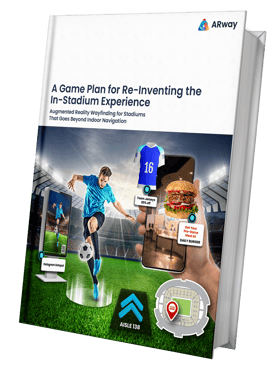 ARway's Game Plan is for everyone from stadium owners, CIOs, CMOs, operations, sales, marketing, team liaison and fan engagement executives, to game experience decision-makers. Improving your bottom line is the reason ARway developed this eBook for re-inventing the in-stadium experience.

Download A Game Plan for Re-Inventing the In-Stadium Experience now and learn how AR wayfinding is the game-winner for fan engagement, immersive experiences, and revenue streams. To get your copy, please visit here.
Get your copy of A Game Plan for Re-Inventing the In-Stadium Experience now!