The average person spends nearly seven hours a day looking at a screen, and nearly one-third of adults say they are online "almost constantly" as they browse websites, engage on social media, or shop for products and services.
In the process, people encounter thousands of advertisements and digital images each day, leaving companies to compete for people's limited attention and buying power. Winning the war for attention can be arduous and ineffective, requiring companies to continually revamp their customer engagement strategies to adapt to changing trends.
Increasingly, eCommerce platforms, retail media networks, and other online merchants are turning to 3D and augmented reality (AR) to better merchandise their products to enhance the shopping experience for customers, reduce returns, and increase sales.
When implemented effectively, 3D and AR can deliver tremendous value, including:
Increasing conversion rates by 250 percent

Delivering 94 percent higher click-through rates

Catering to 61 percent of eCommerce consumers who prefer shopping in AR

Reducing returns by 40 percent.
Bottom line: 3D and AR technology can elevate eCommerce websites and catalogs by giving customers a more accurate representation of products, allowing them to see how a product looks and fits in their space before purchasing, and personalizing a product's color, parts, or materials.
Keep reading to learn three ways Nextech AR Solutions can help your company leverage 3D and AR technology in your eCommerce strategy this year and beyond.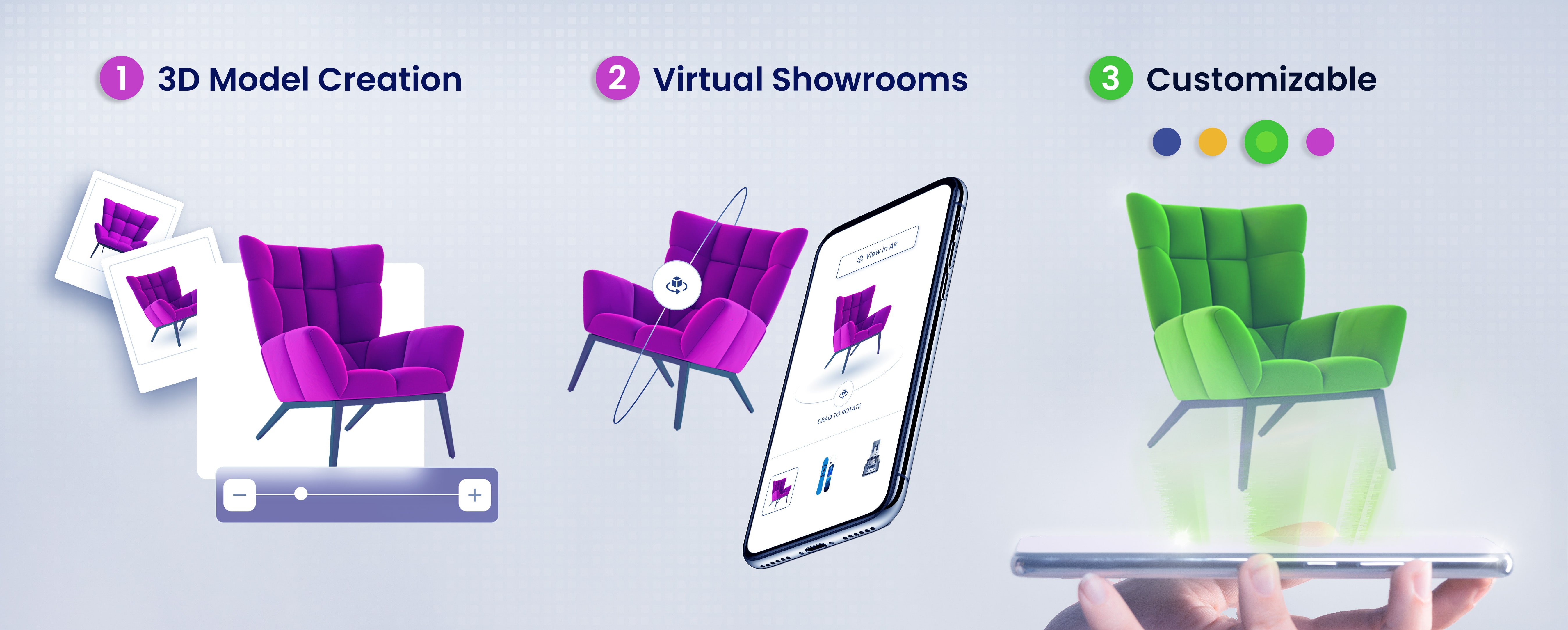 #1 3D Model Creation
ARitize 3D Configurator is your one-stop-shop AR solution for automated 3D model creation at an unbeatable price. Our AI will turn your existing 2D product images into high-quality 3D and AR experiences. Not only does this increase sales and personalize the shopping experience, but it can also lower photography costs by 90 percent.
William Wood Design, a UK-based mirror manufacturer, looked to Nextech AR Solutions for help in creating models of their mirrors, a notoriously complex product to convert into 3D. The work demonstrates the capacity of ARitize 3D Configurator to handle a wide variety of complex products. 
In addition, Art Millwork Design, an American wood wall art and wood decor manufacturer, is using ARitize 3D Configurator to create a variety of high-quality 3D models showcasing their unique products. Nextech AR Solutions enables the company to offer high-quality and high-resolution models that accurately reflect exactly what customers are buying, improving customer satisfaction in the process.
#2 Virtual Showrooms
Virtual showrooms allow you to display and merchandise products in 3D on your website, enabling shoppers to browse and interact with products as if they are in a physical store. With a 3D model, prospective buyers can interact with the product to see every detail: turn it, spin it, zoom in, and zoom out.
This can be particularly useful for companies that sell large or bulky items that are difficult for customers to view in person or for companies that want to provide an immersive shopping experience for their customers.
With ARitize Decorator, you can give shoppers the ability to view merchandise virtually in their home surroundings, giving them the confidence to buy a particular item after viewing it in their virtual showroom.
As a result, companies can provide dynamic virtual showrooms that are affordable, scalable, and frictionless.
#3 Customization
Customization is critical to today's buyers. In fact, one in five consumers who expressed an interest in personalized products or services are willing to pay a 20 percent premium. Giving shoppers the ability to change styles, colors, and materials while viewing their selections in 3D is made possible by ARitize 3D Configurator. Not only does this help to shorten the sales cycle, but it can help overcome inventory wait times and increase the speed to market by showcasing all product variations.
For instance, Kindred Custom Snowboards, a brand well-known for its "rideable art," leveraged ARitize 3D Configurator to make their snowboards, split boards, and skis jump to life with customizable 3D models for customers.
With ARitize 3D Configurator, any eCommerce platform, retail media network, and other online merchant can provide a personalized experience that delights customers and drives sales outcomes.
Take the Next Step Today
In today's crowded digital landscape, 3D and AR technologies can attract more attention and engagement from customers, resulting in higher conversion rates, click-through rates, and reduced returns. Companies that want to succeed in today's crowded and competitive online market should consider integrating 3D and AR technology into their eCommerce strategies.
Nextech AR Solutions' technology is utilized by leading ecommerce retailers, and the company's ARitize Configurator technology is fully integrated into the ARitize 3D app in Shopify. Join these companies by implementing 3D and AR on your website.
Get started today
, and stand out in your market with our 3D eCommerce solutions.