Happy Father's Day! To celebrate, Nextech AR Solutions had the wonderful opportunity to chat with a few fathers from a diverse set of industries. Here is their personal take on fatherhood:

What does fatherhood mean to you?
To me, being a father means having the privilege of making foundational and lasting contributions to the development of another human being. Children are dependent upon their parents for so much throughout their lives, but especially at first, and the care, support, and guidance we provide to our kids can literally shape the arc of our kids' whole future. That is a tremendous responsibility, but also just the biggest privilege I could ever imagine. I'm proud to have such a special place in my kids lives, and take great joy in watching them grow.
Austin Childers., Marketing Campaigns & Lead Generation Manager, Nextech AR
Fatherhood is a blessing and a huge responsibility to be a role model for the next generation.
Bek Shamsiev, Director of Business Development, Nextech AR
Fatherhood means to learn, to build, and to become the strongest foundation for your family.
Herman Chan, Designer & Co-Founder, Formfuture
It means keeping your kid engaged and teaching them how to do things and work hard at them. It's also about teaching them how to be happy, rather than making them happy. To do this, they need to learn to excel at something - anything. My job as a father is to teach and facilitate these things.
Derrick Clough, Author & Leadership Coach
What advice do you have for fathers in your industry?
Be present. Be spontaneous. Say "yes" and give it a try. All these things have for me, led to incredible memories.
Herman Chan
Make time for your kids (and your partner). In the demanding world of events and marketing, there's always more to do. If our jobs were ever truly "done," we wouldn't have jobs! It's important to carve out time in your schedule to bond with your kids - even if it's just sitting with them to watch one of their favourite shows, tossing a ball around for 15 minutes, or taking the kids along while you run errands on the weekend. Making space for your kids to talk to you is a father's responsibility but can also be very rewarding with the conversations to be discovered.
Austin Childers
Name a book, podcast, show or recreational activity you could recommend to other fathers.
Going for a walk, hiking, biking, camping, and board game nights are great activities that create memories that last a lifetime.
Bek Shamsiev
Honestly? I don't think fatherhood has to be complicated. Personally, I view children as whole people and myself as a gentle custodian of them while they are young. I have found that the best activities - the most rewarding time spent with my kids (for both of us) - is often simply walking, hiking, and talking together, and letting conversation evolve naturally.
Austin Childers
What traits, habits or values did your father (or parental figure) teach you that has helped you to be successful in your career?
Work hard, be tough, and go above and beyond for the people you lead or serve - "What comes round, goes round," was my dad's favourite saying.
Derrick Clough
Without a doubt, the best value my father taught me is change. My father wasn't always perfect, and I won't be either, but he changed as I grew older, and our relationship has always grown better for it. I think the ability to change is valuable for careers, too. Change is constant, and being flexible to grow and change alongside workplace demands is essential for success.
I have learned a lot from my father by observing him everyday. He was always honest, respectful, positive and resourceful when someone needed help.
Bek Shamsiev
My father taught me that there is no such thing as mediocracy. When you commit to an action you should put your heart into it.
Herman Chan
Learn more about these incredible fathers on social media!
Austin Childers
Nextech AR Solutions
Marketing Campaigns & Lead Generation Manager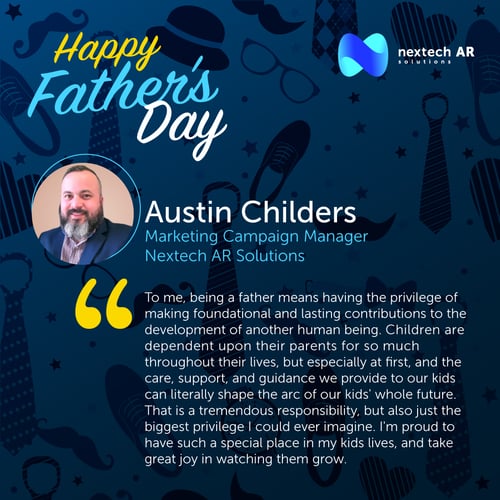 Bek Shamsiev
Nextech AR Solutions
Director of Business Development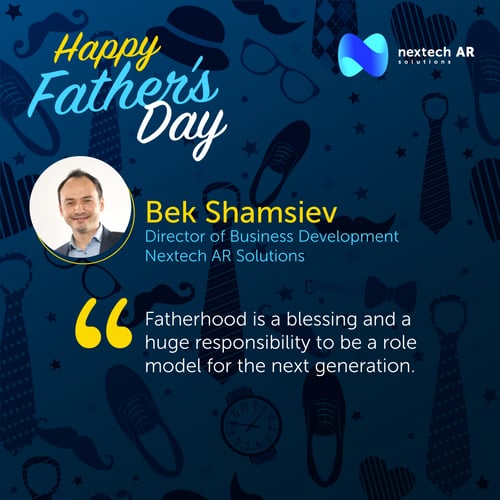 Herman Chan
Formfuture
Designer & Co-Founder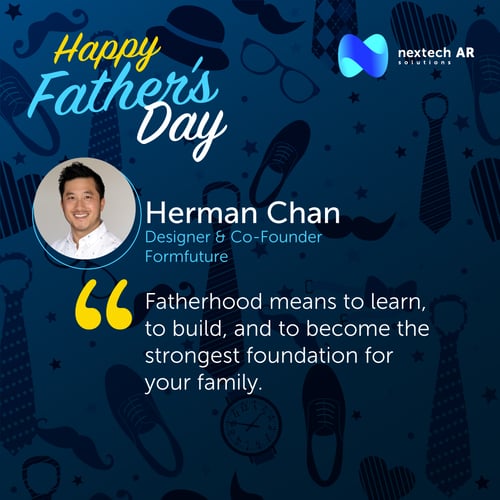 Derrick Clough
Author & Leadership Coach