Artificial intelligence (AI) isn't a new concept. But has gone from being a fascinating subject for sci-fi movies to actually helping real companies save enormous amounts of time and money. Artificial intelligence in ecommerce or online shopping has also turned out to be increasingly beneficial – for customers as well as online merchants. Moreover, the benefits of AI in ecommerce are making it much simpler for brick-and-mortar businesses to foray into the ecommerce industry, grow fast and even go global.
Here are the top ten 'AI in ecommerce examples' that are improving online shopping by leaps and bounds:
1. Virtual Voice Assistants and Chatbots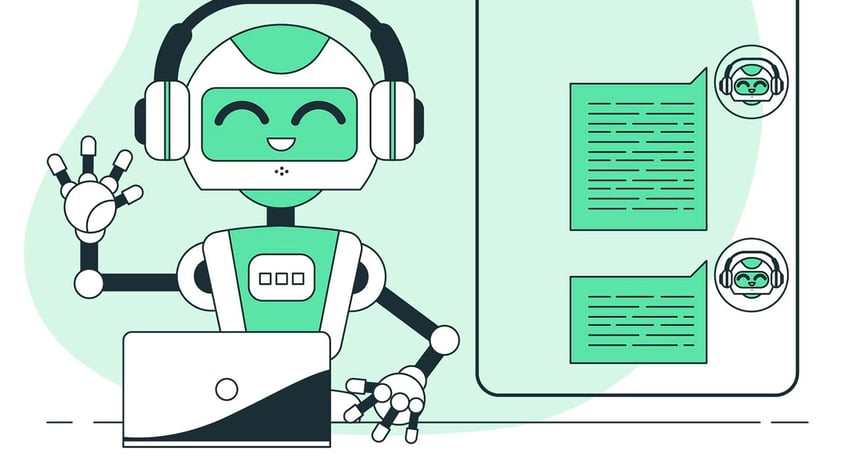 When customers go to a shop, a shopkeeper or sales associate helps them find what they want. This makes the shopping experience quick and easy for customers. It has been difficult to have this convenience in online shopping, but not anymore. Now, AI chatbots and voice assistants are so advanced that they can understand customers' queries and be as helpful as human sales associates. Moreover, they can service your customers 24 hours a day, 7 days a week and in multiple time zones and languages. AI technology is bridging the gap between physical and online shopping and boosting the scalability of ecommerce businesses worldwide. Since customers are already familiar with apps like Google Assistant, Apple's Siri and Amazon's Alexa, they are comfortable interacting with artificial intelligence in ecommerce, too.
2. Personalized Product Recommendations
Personalization is no more an additional or special provision. Today, customers expect it whenever and wherever they shop. According to Salesforce, 66% of customers expect companies to understand their unique needs and expectations. It is unquestionably impossible to personalize shopping experiences for individual customers manually. But now, AI in ecommerce can learn about multiple individual customers by analyzing their actions on an ecommerce platform and the personal information they share with the website. Using a mathematical computer-generated algorithm based on various historic data points, the same AI technology can determine an individual customer's likes and preferences and recommend products to the customer, they are more likely interested in purchasing. This can radically boost sales and significantly increase the customer's time on the ecommerce platform.
3. Creation of Virtual Shopping Experiences
This is where artificial intelligence in ecommerce and AR technology meet and make online shopping truly immersive and exciting. At present, realistic 3D models of products can be viewed online on the screen of a smartphone, tablet or computer using AR technology. AI powered AR marketing solutions like ARitize3D can create such web-friendly 3D models of a large number of products in a very short time. These 3D models can be integrated into the respective products' web pages, which online shoppers can view on their screens.
Customers can even see how a product, such as a chair, would look in a real space, like their living room, by placing the product's AR model in their room virtually using just their smartphone's video camera. Not only that, major ecommerce platforms like Shopify even permit their buyers to personalize products by making changes to the 3D model on the brand's store with the help of product configurator apps like ARitize3D.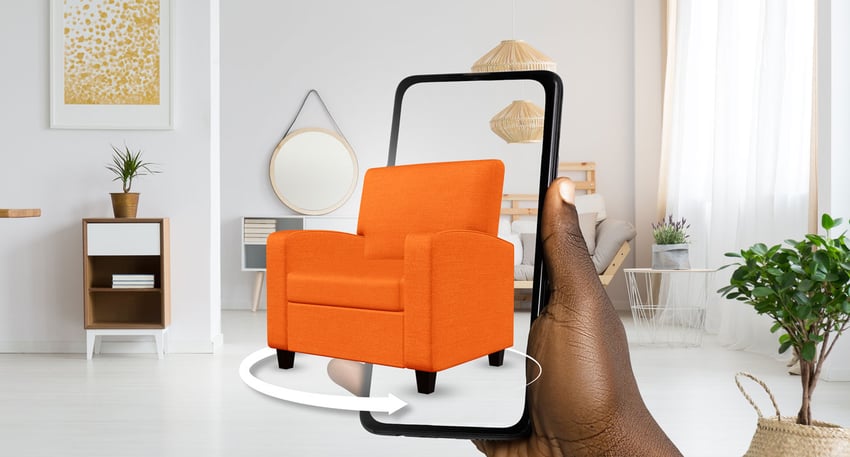 There are many benefits of AI in ecommerce when it comes to using such AR and web-friendly 3D modeling technology:
Customers get an experience that is faster, more comfortable and even better than visiting a real store, as they can see how a product will look in their space. The time customers spend engaging with different products on the ecommerce websites increases due to the visual immersiveness.

The time required to make important purchase decisions reduces due to the clarity provided by AR models.

It significantly increases product sales by accelerating the checkout cycle. Studies have shown that customers check out with more products in their carts. Research shows 250% higher conversion rates for AR-enabled products.

It drastically decreases returns as personalized products cater more to each individual customer's needs. Shopify has reported a 40% decrease in returns of 3D-visualized products.

Most importantly, thanks to AI powered marketing platforms like Nextech3D.ai an ecommerce business can get their products 3D modelled at a very reasonable price and within a record-breaking turnaround time.
Statistics also reports
Nextech3D.ai's cutting-edge technology create 3D models of products by simply analyzing the products' 2D images on ecommerce websites, and they do it faster than you can imagine. The company is at the forefront of using AI to help ecommerce businesses 'ARitize' their platforms – with a service named ARitize3D. It provides support to ecommerce giants like Amazon and Crate & Barrel by revolutionizing the way online shopping works. It integrates the 3D models into ecommerce web pages and also generates AI videography and photography for the products, on demand. Thus, saving costs and generating more revenue for the businesses, in more ways than one.
To know more about ARitize3D, click here.
4. Targeted, Predictive Marketing and Remarketing
Reaching a customer with a relevant marketing message at a time when they are in need of a product or service substantially increases the chances of making a sale. And in this age, AI in ecommerce is capable of hyper-segmenting customers based on their demographic and psychographic information and online searches. These stored data points are then used by AI in ecommerce to target customers with specific ad sets catered to their profiles to increase their likelihood of clicking on them. In this way, AI contributes to achieving higher CTR (Click Through Rates) and lower CPA (Cost Per Acquisition).
If, for example, a particular customer buys a pack of corn flour online every month, an AI-powered retargeting tool can register it and inform the customer about the different offers on corn flour through a push notification, right when they need it – and thus make the customer continue buying the pack from your ecommerce platform every time.
5. Ecommerce Automation
Ecommerce platforms of the current age are required to be functional 24/7, on multiple channels simultaneously. With AI-enabled automation, ecommerce businesses become capable of managing and executing repetitive tasks quickly and cost-effectively, simplifying the front-end and back-end workflow. AI in ecommerce businesses can automate tasks like featuring newly launched products on various channels to synchronize sales, offering discounts to regular customers and identifying high-risk transactions. The time your business saves on these tasks is bound to be reflected in higher profit margins as well as lower product costs for the customer, giving your business a competitive advantage. That makes automation one of the main benefits of AI in ecommerce.
6. Smart Logistics and Warehouse Management
Warehouse management is a vital part of an ecommerce business. Lack of inventory adversely affects sales, and an excess of it increases storage costs. One of the biggest benefits of AI in ecommerce is that it can help you avoid both. AI-powered inventory management software like Webgility can monitor inventory levels and automatically optimize them by ordering stock whenever it's needed. Such softwares can also give you the information you need to make important decisions about your supply chain and help you troubleshoot logistical problems faster and with ease. Artificial intelligence in ecommerce can improve small-scale as well large-scale businesses that deal with inventory and logistics.
7. Simplified and Scalable 3D Modeling of Products
AI in ecommerce has greatly simplified and sped up the 3D modeling process for product designers and artists. Web applications like Toggle3D.ai by Nextech3D.ai incorporate AI to convert CAD files of products into web-friendly 3D models super-fast. Users can then customize the models however they want, without any coding skills or even 3D design expertise. Users can add PBR materials, textures or finishes to the models by picking them from the pre-built library or by simply uploading photos of them. The app's AI software analyzes the photos and directly creates the respective textures on the 3D model, without the additional steps of UVN wrapping.
Check out the working of Toggle3D.ai, the cutting-edge design studio for generating 3D and AR models, for free right here.
8. Demand Forecasting and Price Optimization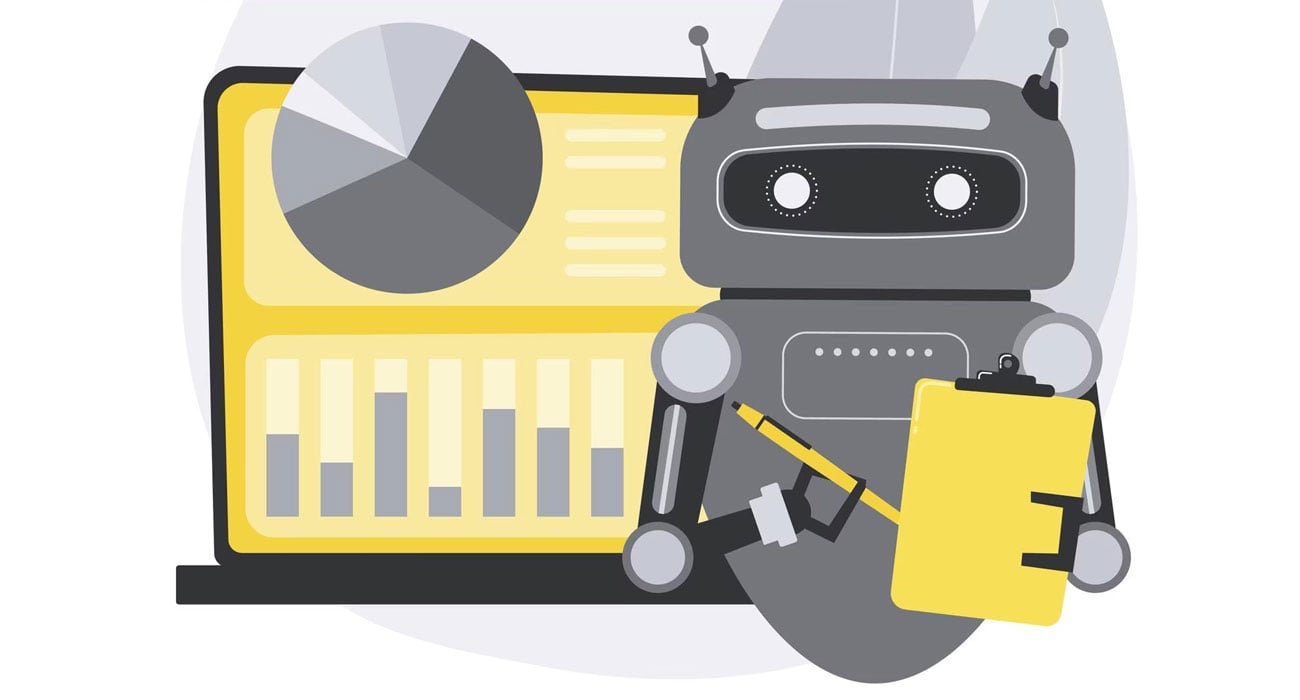 By analyzing customer behavior in real time, tools of artificial intelligence in ecommerce can actually predict future demands to help you modify your offerings better. And even if you have a plethora of products, AI tools can optimize their individual prices automatically as per their demand. They can even adjust prices by accounting for data points like the weather, the season, the time of the day and the day of the week. It's called dynamic pricing, and it is now more possible and effective than ever, thanks to smarter AI in ecommerce. Such AI tools are therefore being extensively used by airlines, hotels, booking portals and other industries to increase their revenue with dynamic pricing.
9. Enhanced Social Listening
Knowing what your customers think about your brand, product or service is crucial for solving their problems and making them stay loyal to your brand. Social listening is the monitoring and analysis of the mentions your brand, product or service gets on social media platforms. Simply put, it is the act of listening and understanding what people say about your brand, product or service online. It helps you to not only improve your actual product or service, but also come up with a more effective marketing strategy for it. One of the remarkable benefits of AI in ecommerce, is that AI can do it for you and give you insightful data, which you can use to make the right product decisions and create effective marketing strategies.
10. Seamless Ad Placement in AR Navigation
AR wayfinding or indoor navigation for places like malls, exhibitions, expos, airports, stadiums and museums, is only going to be increasingly common due services like ARway.ai by Nextech3D.ai, which make the most of mobile AR technology as well as AI.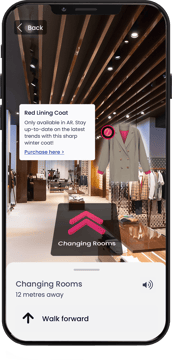 Visitors can use the app or app integrations created by ARway.ai to view their surroundings in augmented reality on their smartphone screens and have virtual elements like arrows guiding them to the location they wish to reach. They can also opt for preset guided tours that would take them through a fixed path, covering all the major attractions at a venue.
How is this helpful as AI in ecommerce? ARway.ai also enables you, the AR map customizer, to place virtual ads at various locations on the map or checkpoints of a guided tour. Visitors can see those virtual ads popping up in the augmented reality they see on their smartphone screen through its video camera.
They can even make purchases online after tapping on the ads, bringing ecommerce into the picture.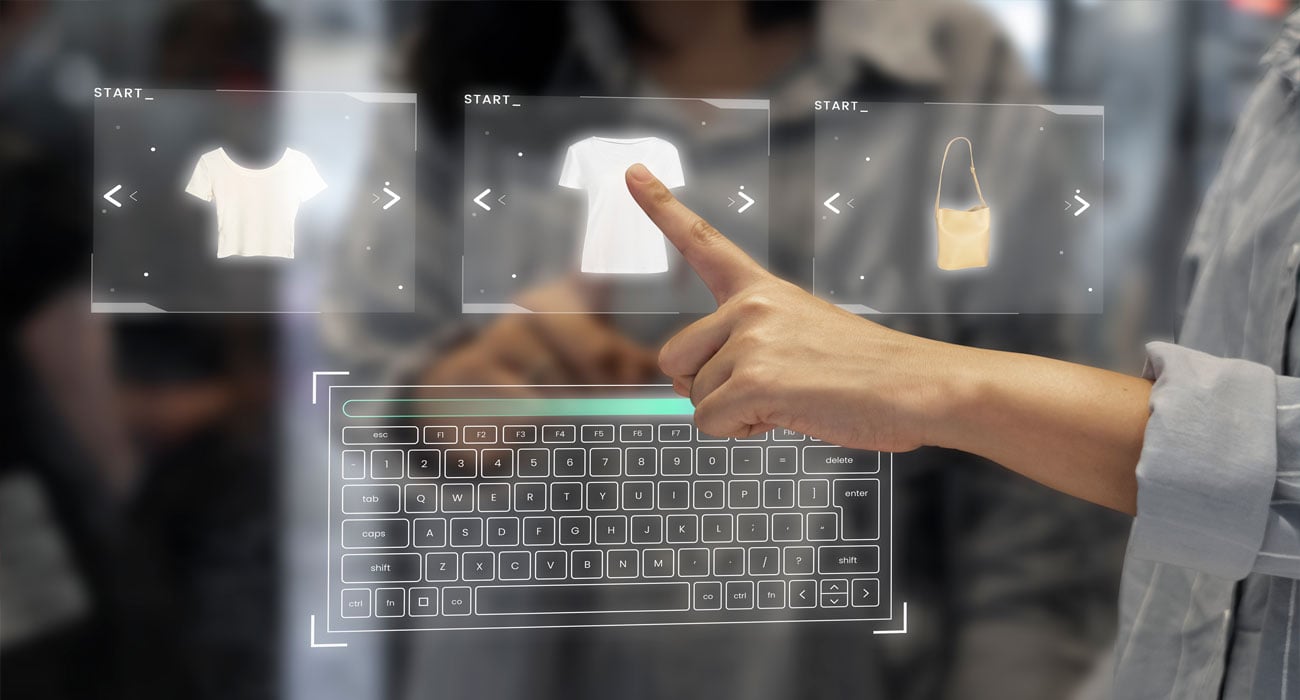 Click here to see a creation of ARway.ai in action.
All of this has been made possible only by artificial intelligence in ecommerce. And the best time to make the most of the benefits of AI in ecommerce, is now.