The search for the ultimate customer experience is over: make room (loads of room!) for Augmented Reality. According to research from Forbes Insight and Arm Treasure Data, consumers today are looking for authentic and relevant customers experiences. AR is surfacing as the dominant experience technology that'll empower e-commerce and brands to drive conversions. Case in point, the recent Snap & Deloitte Digital AR Consumer global report highlights that brands offering Augmented Reality experiences are 41% more likely to be considered and can expect a 250% increase in their conversion rates as a result.
The latest AR real-world application to make a major impact is Augmented Reality packaging. Although the unboxing experience remains hugely underrated in the DTC space, it's the first physical interaction a customer has with your brand - it absolutely has to be 100%. But where exactly does AR fit into all this? Let's find out.
Augmented Reality Packaging Explained
Imagine receiving your goodies when this happens:
Augmented Reality packaging (also referred to as smart packaging) is an engaging and innovative approach that brings life standard branding & packaging or marketing collateral to initiate the users first experience of the product. Human holograms with brand ambassadors are activated once the customer scans the product's QR code. Providing consumers with brand and product education, Human holograms act as support agents who are accompanied by 3D product callouts, hyperlinked product pages, and immersive branded environments. This 'Genie in a Bottle' concept creates unique customer interactions through its delivery of episodic content and allows users to turn on their notifications to be alerted of new content the moment it's released.
The benefits of Augmented Reality packaging are vast. But we don't just want to tell you about them; we want to show you how smart packaging is helping health supplement brand, TruLyfe, revolutionize the way we approach taking care of our bodies. How? By sharing nutritional advice via a human hologram of a registered dietitian and VP of Product Development at TruLyfe, Noora Mousa. Genie in a Bottle has been a smashing success as TruLyfe customers are finding this feature valuable: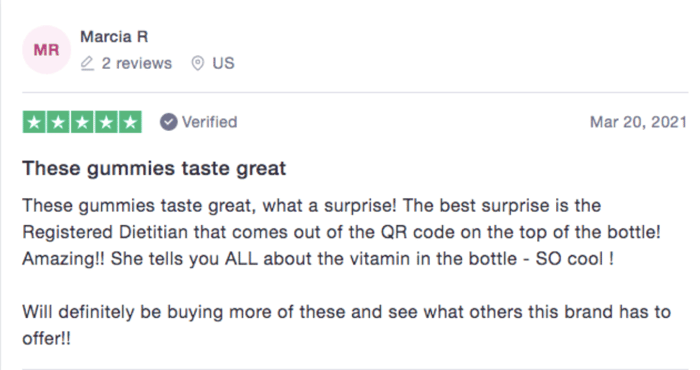 Women Operated Health Revolution
Keeping on top of your supplement and vitamin intake can sometimes feel more like a chore rather than a satisfaction from nourishing your body - the everyday struggle to remember to take multiple pills and tablets is all too real. The story of TruLyfe began when Noora was struggling with her own journey with supplements and wanted to find a more enjoyable way to support her health & wellness.
But, TruLyfe is more than yet another supplement brand - at this point, it's a woman-orientated health revolution. By combining their extensive nutritional knowledge with Augmented Reality experiences, the women behind TruLyfe don't just talk about the future and how their brand fits in the new order. No. They're the ones driving change and bringing the future to us, bridging the gap between science, business and creative.

As we continue to work closely with TruLyfe and observe the effects of its Genie in a Bottle experience, it's becoming apparent the smart packaging affects more than just the unboxing experience. From improving customer engagement & education to increasing lifetime value, Augmented Reality packaging is quickly proving to be a meaningful addition across the entire shopping journey.
Customer Engagement & Education
The hard work doesn't end as soon as a visitor converts; in fact, it's precisely when the hard work begins because now you've got to do everything in your power to keep the momentum going and start engaging customers with meaningful & valuable interactions. That means delivering personalized content at every touchpoint of the customer journey, whether that may be a live social media Q&A with a personal stylist or... nutritional advice from a registered dietician.
The best part? Consumers want Augmented Reality to enhance their shopping experience.

49% of consumers want to see more information about products, while 42% want to view instructional guides using Augmented Reality. (Deloitte Digital, Snap Inc.)
Sharing expert advice changes how people interact with your brand and helps build trust amongst new and existing customers. In a world where most information is just a Google search away, there is also a multitude of misinformation that could potentially result in harm, especially when it comes to the health industry. Providing your customers with professional advice around your product will help them make informed and confident buying decisions and lay the foundations for a long-lasting consumer-to-brand relationship.
Customer Lifetime Value
For those looking for sustainable growth, increasing customer LTV is non-negotiable. It's the truth older than the world itself: the cost of acquiring a new customer can be as much as seven times more expensive than retaining an existing one. Boosting LTV starts by identifying your most valuable customers and then, cross and up-selling to them via personalized recommendations and messaging.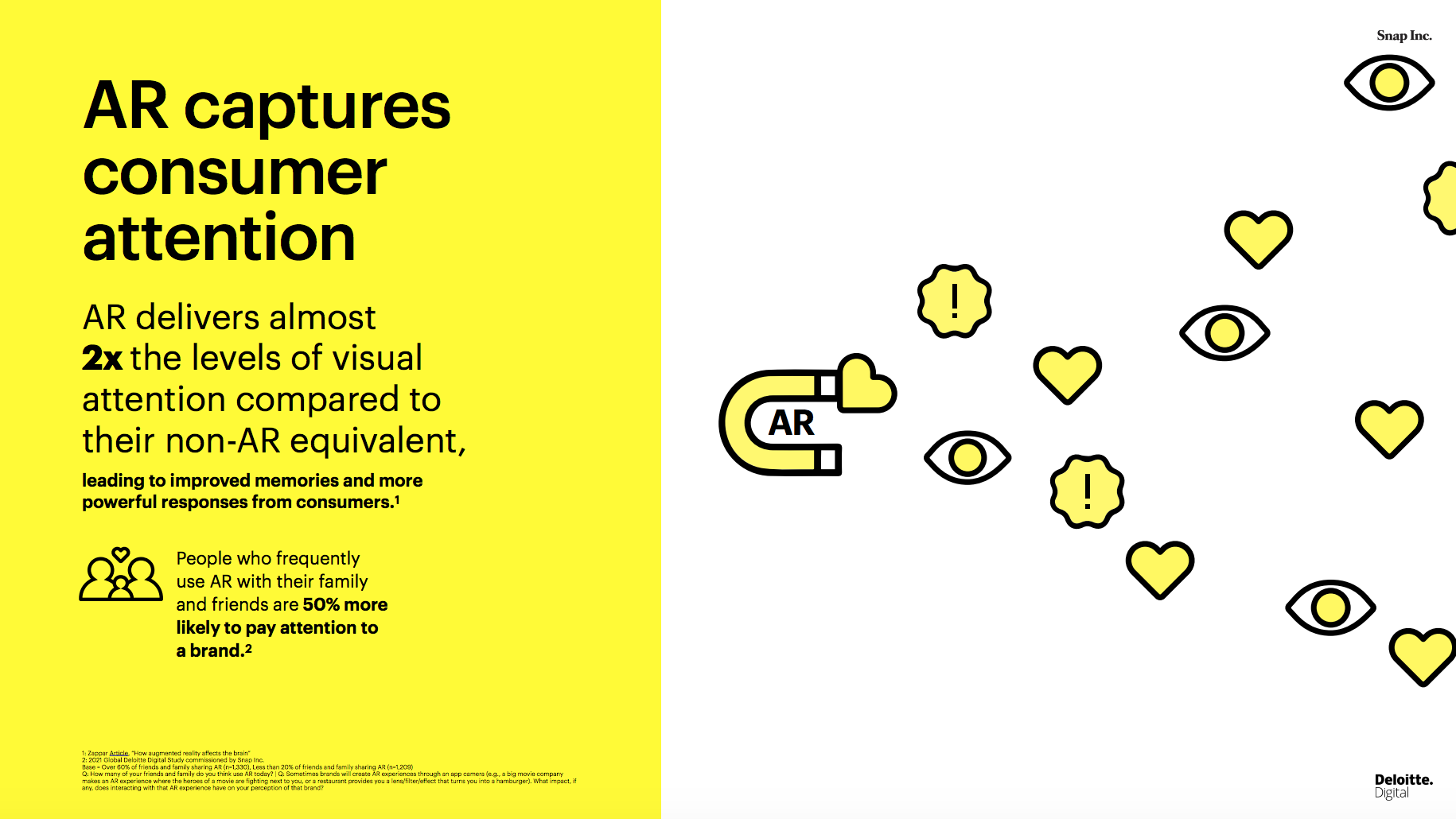 AR delivers almost 2x the levels of visual attention compared to their non-AR equivalent. (Deloitte Digital, Snap Inc.)
Augmented Reality packaging is a great tool to add to your LTV arsenal. Aside from enabling you to effortlessly link the experience to other recommended products for customers to bundle (and as a result, spend more per purchase), AR is proven to grab and hold the user's attention for longer. Meaning, they'll be more susceptible to your marketing communications, helping you overcome today's consumer short attention span and banner blindness.
What the Future holds for AR experiences
The thing is, Genie in a Bottle is only a fraction of how DTC brands can utilize this immersive technology in their growth strategy. Augmented Reality is on the fast track to becoming an inseparable part of our lives and is constantly evolving with tech brands like Nextech AR creating innovative solutions and making them more affordable each day.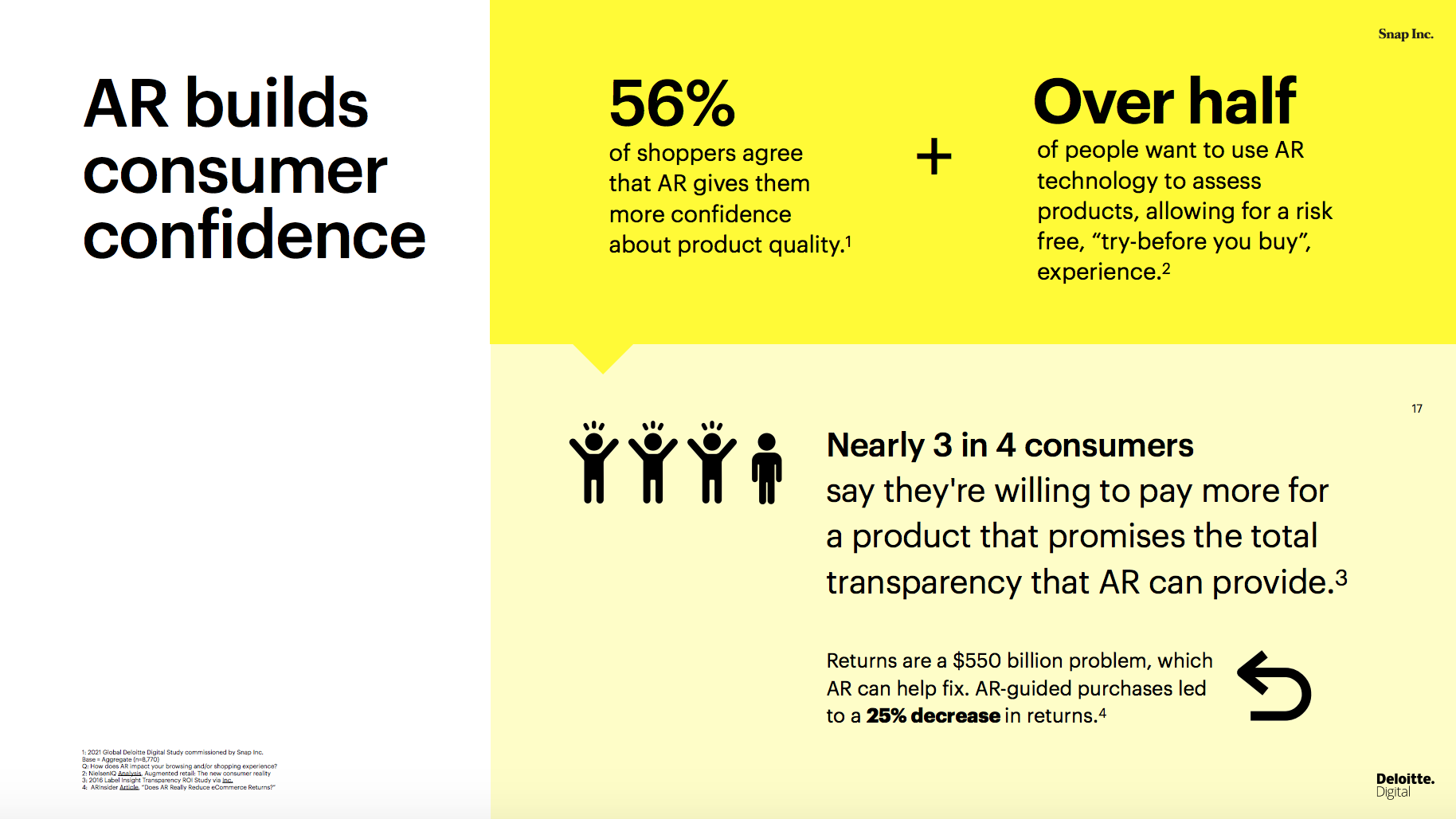 Nearly 3 in 4 consumers say they're willing to pay more for a product that promises the total transparency that AR can provide. (Deloitte Digital, Snap Inc.)
The marketing and advertising space is particularly a great fit for Augmented Reality. From promoting episodic content, improving in-store activation to AR-powered online ads, the possibilities to attract new customers in a fun and engaging way are endless. More importantly, though, consumers are starting to realize how Augmented Reality enhances the shopping experience from their perspective and want to see more of it.
---

Want to learn more about how Augmented Reality packaging can grow your business? Contact us today or schedule a demo.