Q2 & Six Months 2023 Financial Highlights
Six months revenue up +157% compared to same period last year
Q2 revenue up +155% compared to same period last year
Q2 Gross profit remained consistent at 39%
TORONTO, ON Canada – August 22, 2023 – Nextech3D.AI (formally "Nextech AR Solutions Corp'' or the "Company") (OTCQX: NEXCF) (CSE: NTAR) (FSE: EP2), a Generative AI-Powered 3D model supplier for Amazon, P&G, Kohls and other major e-commerce retailers is pleased to report its financial and operating results for its second quarter ended June 30, 2023.
Please join Evan Gappelberg, Chief Executive Officer and Andrew Chan, Chief Financial Officer after the close today August 22, 2023 at 5:00 P.M. ET where Nextech3D.ai will host a conference call to discuss these financial results.
Evan Gappelberg - CEO Commentary:
"Our results for Q2 were in line with our prelim numbers as we achieved record sales of $1.4 million +155% over Q2 2022. However, based on the current order flow from Amazon and others, we are projecting a breakout Q3 quarter with revenue of $1.7 million." He continued, "In Q3 we are not only seeing our revenue accelerate but our focused team has been successful in reducing our burn down to a minimum level that I have not seen in years. I'm excited to report to our loyal shareholders that with contributions from increased revenue and shares for services on an unconsolidated basis, we've reduced Nextech3D.ai's cash burn down to $300,000 which when combined with our recent capital raise, gives me the confidence in saying that we won't need to raise additional capital for the next 12 months. Nextech3D.ai's groundbreaking generative-AI technology positions the Company as a leading AI solution globally for scaling 3D model production in the thriving e-commerce, gaming, and manufacturing industries. Furthermore, thanks to our latest funding round, our cash position is now robust enough to accommodate the increased demand we anticipate in the second half of 2023 and beyond."


Unaudited Q2 2023 Financial Highlights:
Three month quarterly revenue up +155% compared to same period last year;

Sequential quarterly revenue grew 8%

Delivery of over 50,000 3D models to date


6 Months Ending Ending June 30, 2023:
Year to date revenue up +157% compared to same period last year;

Gross profit remained consistent at 39%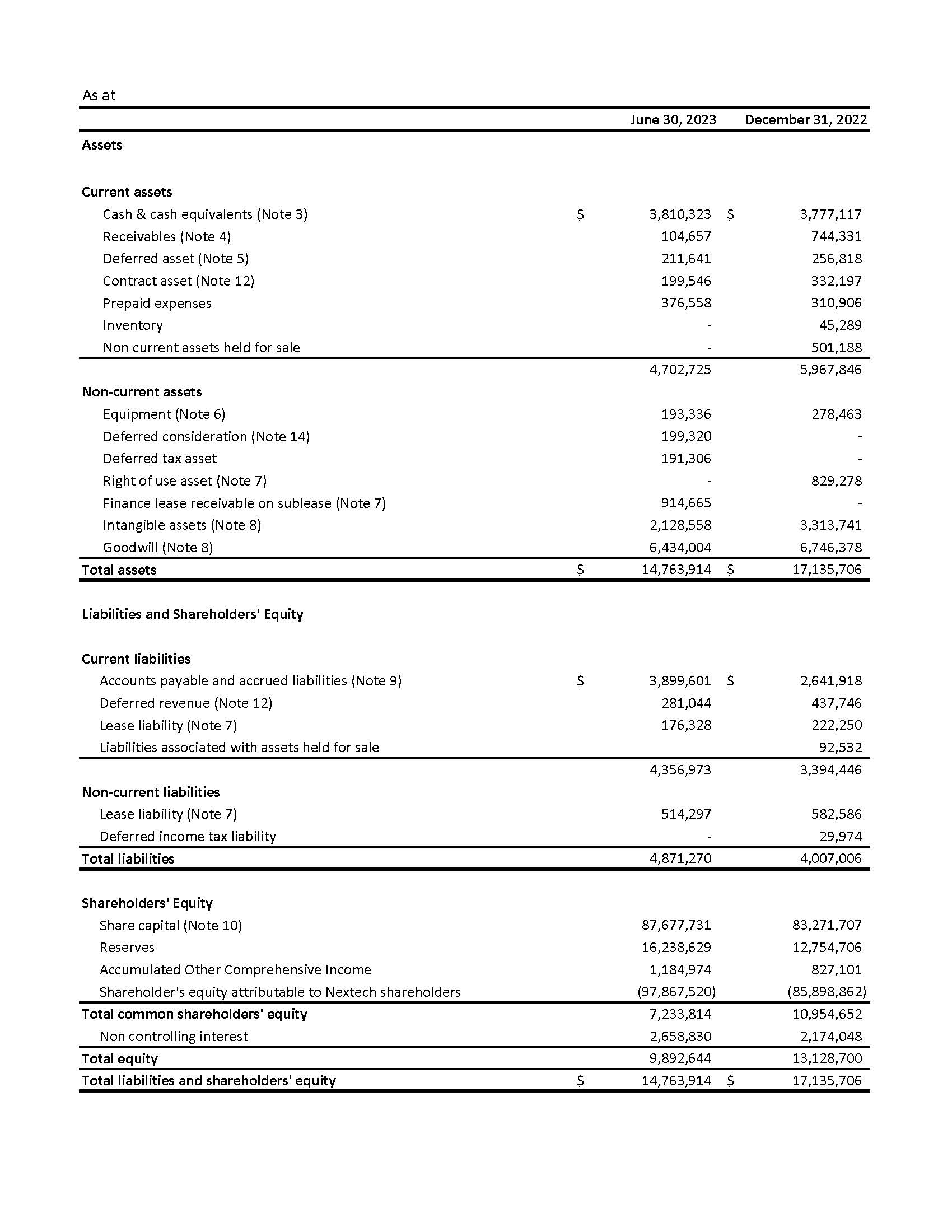 Condensed Consolidated Interim Statements of Comprehensive Loss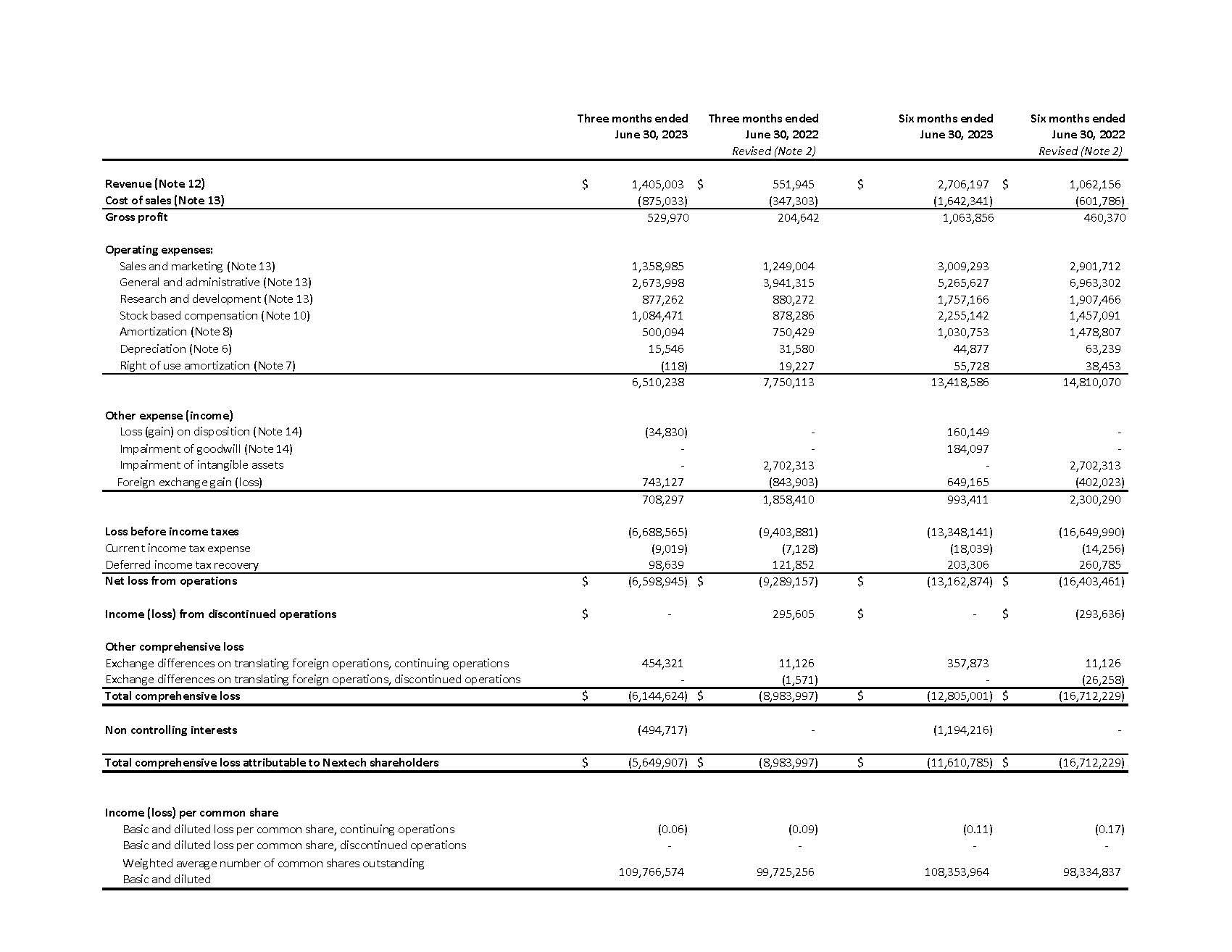 Condensed Consolidated Interim Statements of Cash Flows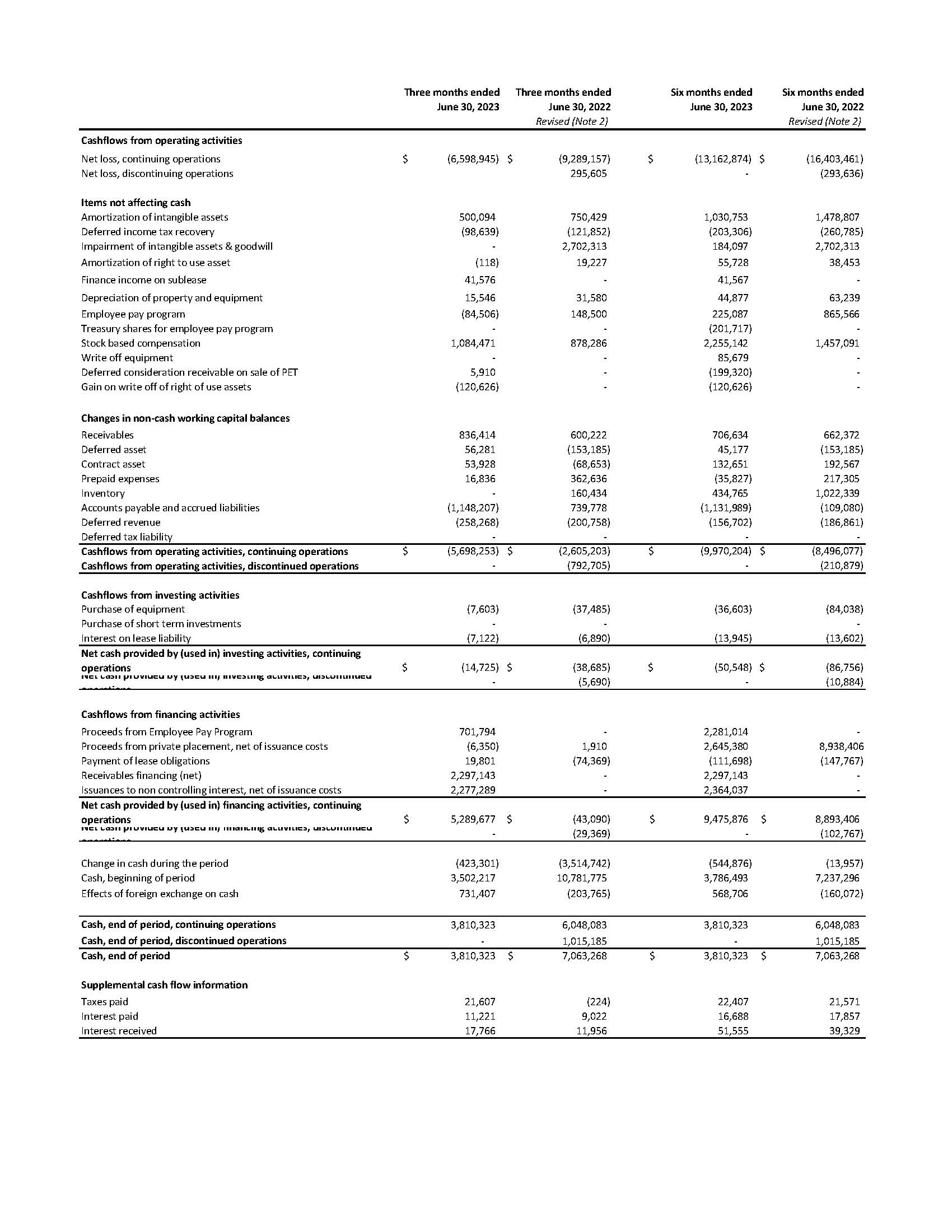 Earnings Call Details
Title: Nextech3D.ai 2023 Second Quarter Earnings & Conference Call
Call Date: Tuesday, August 22, 2023
Time: 5:00PM (GMT-04:00) Eastern Time (US and Canada)


Participant Details

For those unable to join the live event, a recording of the presentation will be posted on the Company's IR website.
Update on Previously Announced Warrant Issuances
The Company previously announced on July 13, 2023 that in order to manage its cash flow and reduce or possibly eliminate its dependency of raising capital for payroll or contractor expenses it has renewed its previous share purchase warrant program pursuant to which, over the ensuing 12 month period, it will issue an aggregate of 6,661,388 share purchase warrants (the "Warrants") to its service providers in connection with their employment and/or consulting arrangements with the Company. Each Warrant will be exercisable to acquire one common share of the Company (an "Underlying Share") at an exercise price of Cdn$0.55 for a period of one year. The Company has now issued these warrants as of August 21, 2023.
Recent News
The Public Company CEO Experience Podcast
Nextech3D.ai has recently "The Public Company CEO Experience Podcast," featuring Evan Gappelberg, a highly accomplished three-time public company CEO and serial entrepreneur. The podcast offers listeners an exclusive behind-the-scenes look into the dynamic life of a public company CEO with valuable insights, while also discussing trending topics and providing business updates on Nexech3D.ai, Toggle3D.ai, and ARway.ai. To learn more please visit https://www.nextechar.com/investors/the-ceo-experience
Listen Now
https://publiccompanyceoexperience.buzzsprout.com/
Subscribe
https://www.nextechar.com/the-ceo-experience/subscribe


About Nextech3D.ai
Nextech3D.ai, formerly known as "Nextech AR Solutions Corp" or the "Company," (OTCQX: NEXCF) (CSE: NTAR) (FSE: EP2), is a versatile augmented reality and AI technology company that utilizes its proprietary artificial intelligence (AI) to craft immersive 3D experiences at scale for E-COMMERCE. The Company's primary focus lies in creating high-quality 3D WebAR photorealistic models for Amazon and various other online retailers. Nextech3D.ai has adopted a unique approach to creating shareholder value beyond its operating business of creating 3D models.
The Company also develops or acquires disruptive AI-technologies, which are subsequently spun out to shareholders as standalone public companies. This spin-out strategy allows Nextech3D.ai to issue stock dividends to its shareholders while maintaining significant ownership in the public spin-out, without dilution to the parent company Nextech3D.ai.
Notably, Nextech3D.ai successfully spun out "ARway," (OTCQB: ARWYF | CSE: ARWY) its spatial computing platform, as a standalone public company on October 26, 2022. The Company retains a 49% stake with 13 million shares in ARway Corp. while distributing 4 million shares to Nextech AR shareholders.
Similarly, Nextech3D.ai accomplished its second spin-out launching Toggle3D.ai, (OTC: TGGLF | CSE: TGGL) an AI-powered 3D design studio aimed at competing with Adobe. The Company retains a 44% stake with 13 million shares in Toggle3D.ai Corp.

To learn more, please follow us on Twitter, YouTube, Instagram, LinkedIn, and Facebook, or visit our website: https://www.Nextechar.com.


For further information, please contact:
Investor Relations Contact
Lindsay Betts
investor.relations@Nextechar.com
866-ARITIZE (274-8493) Ext 7201
Nextech3D.ai
Evan Gappelberg
CEO and Director
866-ARITIZE (274-8493)


Forward-looking Statements
The CSE has not reviewed and does not accept responsibility for the adequacy or accuracy of this release.
Certain information contained herein may constitute "forward-looking information" under Canadian securities legislation. Generally, forward-looking information can be identified by the use of forward-looking terminology such as, "will be" or variations of such words and phrases or statements that certain actions, events or results "will" occur. Forward-looking statements regarding the completion of the transaction are subject to known and unknown risks, uncertainties and other factors. There can be no assurance that such statements will prove to be accurate, as future events could differ materially from those anticipated in such statements. Accordingly, readers should not place undue reliance on forward-looking statements and forward-looking information. Nextech will not update any forward-looking statements or forward-looking information that are incorporated by reference herein, except as required by applicable securities laws.