3D modelling revenue increased +266% vs 2021

2022 technology service gross profit margin expands by 82% jumping from 51% in 2022 compared to 28% in 2021
TORONTO, ON Canada – April 20, 2023 – Nextech3D.ai (formally "Nextech AR Solutions Corp" or the "Company") (OTCQX: NEXCF) (CSE: NTAR) (FSE: EP2), a generative AI-powered 3D model supplier for Amazon, P&G, Kohl's, and other major e-commerce retailers reports its unaudited financial and operating results for its fourth quarter and fiscal year ended December 31, 2022
Please join Evan Gappelberg, Chief Executive Officer and Andrew Chan, Chief Financial Officer today after the close today April 20, 2023 at 5:00 P.M where Nextech will host a conference call to discuss these financial results.


Evan Gappelberg - CEO Commentary:
"In 2022, our company placed significant emphasis on addressing the growing global demand for our 3D modelling and AR solutions designed for the ecommerce sector in web3.0. As we progress into 2023, we are seeing continued evidence of this trend, with our business remaining strong and experiencing growth. As previously announced in Q3 of 2022, Amazon became our customer, making them our largest enterprise customer for 3D model delivery in ecommerce. As Amazon is widely regarded as a leader in ecommerce, their decision to transition from 2D to 3D models serves as a strong indicator of the direction the industry is heading towards. We believe this highlights the staying power of 3D models, which will continue to drive the multi-decade, $5 trillion dollar ecommerce megatrend moving forward." He continued, "In the coming decade, 3D models will be a prerequisite for competing in various industries such as e-commerce, medicine, education, and events. At Nextech, we specialize in creating superior, cost-effective, and timely 3D models. We make them better, faster and cheaper than any other company I know of, and this positions us to be the leaders of this rapidly growing, trillion-dollar megatrend. While it was quite a challenge to get here, we are here now, and we are confident that we are optimally positioned to benefit from the rapid growth in demand for 3D models. From our vantage point we see nothing but blue sky opportunities."

Unaudited 2022 Q4 and 2022 Fiscal Year Financial Highlights
Total fiscal revenue of $11.5 million (including legacy ecommerce business)

Technology services revenue of $3.2 million

Legacy ecommerce business revenue of $8.3 million

3D modelling revenue increased +266% compared to 2021 contributing $1.5 million in 2022

2022 technology service gross profit margin expands by 82% jumping from 51% in 2022 compared to 28% in 2021 on $3.2 million revenue

Technology business contributed $1 million in Q4 revenue up 14% sequentially compared to Q3
Unaudited Consolidated Statements of Financial Position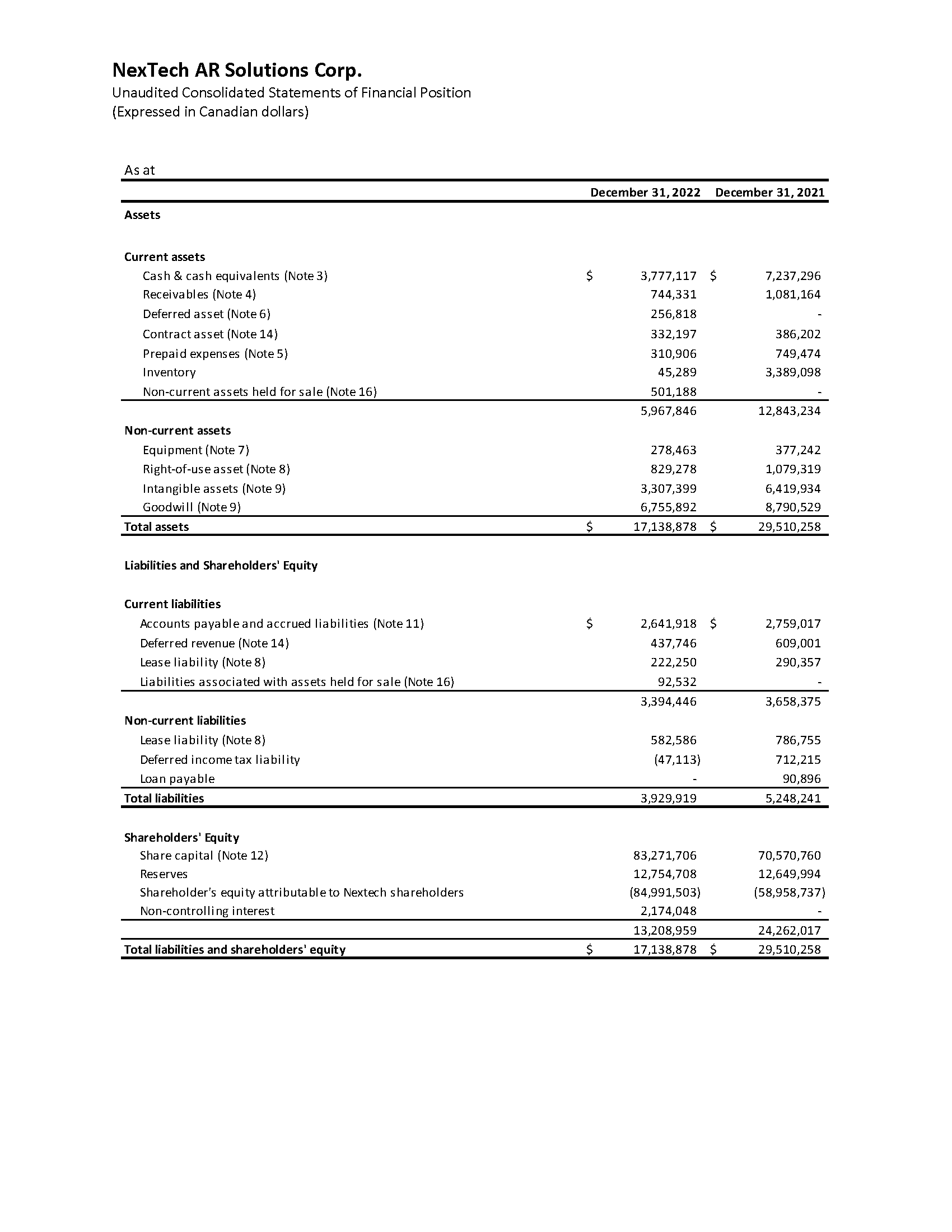 Unaudited Consolidated Statements of Comprehensive Loss

Title: Nextech3D.ai Fiscal Year 2022 and Q4 2022 Financial Results
Call Date: Thursday, April 20, 2023
Time: 5:00 PM (GMT-04:00) Eastern Time (US and Canada)
Participant Toll-Free Dial-In Number: +1 (888) 330-2024
Participant Toll Dial-In Number: +1 (646) 960-0187
Earnings Call ID: 7778367
Webcast Attendee URL: https://events.q4inc.com/attendee/612528713

For those unable to join the live event, a recording of the presentation will be posted on the Company's investor relations website.

About Nextech3D.ai
Nextech3D.ai (formally "Nextech AR Solutions Corp" or the "Company") (OTCQX: NEXCF) (CSE: NTAR) (FSE: EP2) is a Company that provides AI-powered 3D modeling solutions focusing on the e-commerce industry. Its breakthrough generative AI technology enables the creation of high-quality 3D models quickly and efficiently. Nextech3D.ai's suite of products, including patented AI-based technology for 3D model creation and 2D to 3D conversion, has positioned it as a leader in the industry. The company is already a preferred 3D model supplier for Amazon, representing a massive growth opportunity. With the increasing popularity of e-commerce globally, Nextech3D.ai's services are becoming more valuable, providing an excellent runway for ongoing growth. For investors looking to participate in the commercialization of AI technology, Nextech3D.ai presents a unique investment opportunity.
The Company also develops or acquires what it believes are disruptive technologies and once commercialized, spins them out as stand-alone public Companies issuing a stock dividend to shareholders while retaining a significant ownership stake in the public spin-out.
On October 26, 2022 Nextech3D.ai spun out its spatial computing platform, "ARway" as a stand alone public Company. Nextech3D.ai retained a control ownership in ARway.ai with 13 million shares, or a 50% stake, and distributed 4 million shares to Nextech3D.ai Shareholders. ARway.ai is currently listed on the Canadian Securities Exchange (CSE:ARWY), in USA on the (OTC: ARWYF) and Internationally on the Frankfurt Stock Exchange (FSE: E65). ARway.ai is disrupting the augmented reality wayfinding market with a no-code, no beacon spatial computing platform enabled by visual marker tracking.
On December 14, 2022 Nextech announced its second spinout of Toggle3D, an AI-powered 3D design studio to compete with Adobe. Toggle3D is expected to be public in the first half of 2023.
To learn more, please follow us on Twitter, YouTube, Instagram, LinkedIn, and Facebook, or visit our website: https://www.Nextechar.com.


For further information, please contact:

Investor Relations Contact
Lindsay Betts
investor.relations@Nextechar.com
866-ARITIZE (274-8493) Ext 7201
Nextech3D.ai
Evan Gappelberg
CEO and Director
866-ARITIZE (274-8493)

Forward-looking Statements
The CSE has not reviewed and does not accept responsibility for the adequacy or accuracy of this release.
Certain information contained herein may constitute "forward-looking information" under Canadian securities legislation. Generally, forward-looking information can be identified by the use of forward-looking terminology such as, "will be" or variations of such words and phrases or statements that certain actions, events or results "will" occur. Forward-looking statements regarding the completion of the transaction are subject to known and unknown risks, uncertainties and other factors. There can be no assurance that such statements will prove to be accurate, as future events could differ materially from those anticipated in such statements. Accordingly, readers should not place undue reliance on forward-looking statements and forward-looking information. Nextech will not update any forward-looking statements or forward-looking information that are incorporated by reference herein, except as required by applicable securities laws.