Show off who's speaking or presenting at your show!
Speaker records allow your speakers (or you!) to create bios, list contact info, and attach related exhibitors and sponsors.

Once your Speaker records have been created, you can also go into event records for your Schedule and attach them to an event as "Related Speakers" to any event you've created!
You can add Speakers to your events by either
Adding Speakers Individually
Path: Speakers & Schedule > Speakers List & Tools > Speakers 
Click on 'Add New Record'
In the 'Enter Information' tab, you can fill in Speaker's details like their name, Organization, email address, bio and upload their profile image in either ,jpg, .gif or .png format.

Related Exhibitors (Mobile-only): In this tab, you can add a related exhibitor from your exhibitor list to a speaker profile, which means that if a speaker is also an exhibitor and has a profile, you can add the related exhibitor here.

In order to see the related exhibitors, you will need to save the entire speaker page first.

Link Exhibitors to your Speaker

Choose an exhibitor from your exhibitors list and specify what relation the Speaker has there.
Create as many as you'd like.
Currently displays only on Mobile.
Lists under Speaker main mobile profile.

Under 'Contact & Social Media' you can add links to their social media profiles.
Performing a bulk import
You can choose to import a .CSV file of your Speakers and upload it in bulk.
Path: Speakers & Schedule > Speakers List & Tools > Speakers Importer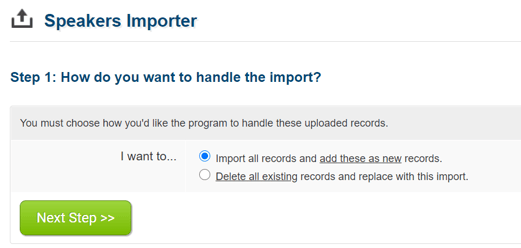 You can either import all records as new records or replace your existing records with a new import.
Note: Delete all existing records will permanently delete all your existing speaker records.
It is recommended to download the template of the .csv file, save it to your desktop and then populate your speaker records in the order of the template. Once you've added the records, you can come back to this screen and upload your .csv file.
Notes
If an import is abandoned after uploading the .csv file, the records from that upload will remain in the list. It is recommended that you Delete these Records from the listing to ensure that they are not accidentally imported later.