In September, Nextech AR Solution was pleased to welcome Melea Guilbault as CEO of Map D, a wholly-owned subsidiary focused on the events and tradeshow industry. After those first few exciting weeks of learning and activity, we sat down with Guilbault to hear about her plans for the company.
Over the course of her career, Guilbault has had opportunities to work with technology companies as well as with membership organizations, which naturally included a good deal of work with events and conferences. That experience helped shape her understanding of how technology could be used to make events more effective - critical knowledge for her current leadership position.
Early technologies in this space, she explained, helped people manage events in the most basic manner. They could help with managing a show floor, for example, but they were purpose-built and had a limited set of capabilities. Were they helpful? Absolutely, but they were just one part of the event puzzle. "Simply getting people out of paper and off their spreadsheets for managing the event was a step in the right direction," said Guilbault, "but it was only the first."
As the tradeshow and event markets have changed, there are simply fewer event planners available. "Event industry professionals have sought help with an ever-growing list of needs," said Guilbault, "and as the information and capabilities to meet these needs became more and more centralized, event management platforms became the natural nexus of activity." These platforms paired event management with production capabilities and quickly became one-stop-shops for event planners who needed help.
But still, it didn't go far enough.
"This is where things get really exciting," Guilbault said, "we are now evolving to incorporate event planner needs, like management and production, to fully integrating exhibitor and attendee experience itself - and this is what makes Map D such an amazing company." She recognized the potential for marrying the proven Map D platform with other technologies from parent company Nextech AR Solutions.
"Technologies like AR wayfinding, 3D modeling, spatial computing, and virtual reality engage the senses and imaginations of sponsors, exhibitors, and attendees," saud Guilbault. "These capabilities are literally going to rewrite the event and tradeshow playbook and Map D is holding the pen." The integration of Map D with other Nextech AR Solutions' technologies will allow her to realize her vision for a unified platform capable of managing, producing, and enhancing the entire event experience.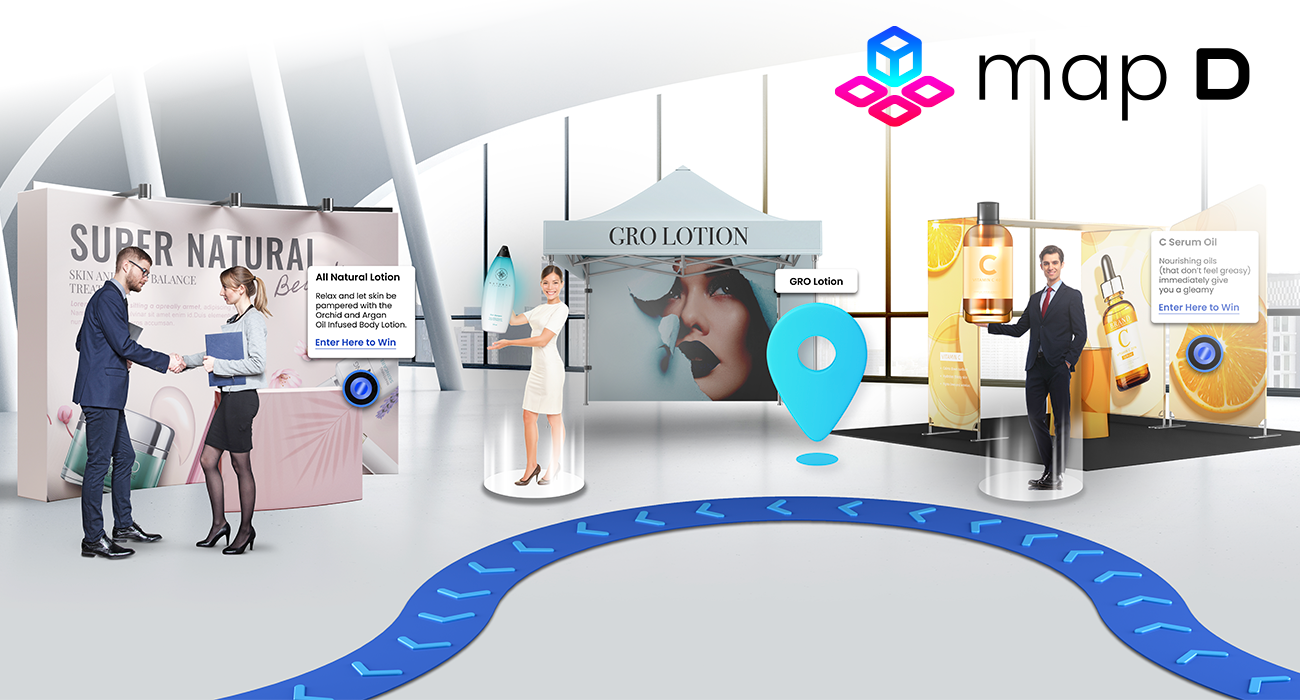 "Map D is already a powerful platform," Guilbault explained. "Adding augmented reality will keep us at the vanguard when it comes to delivering exceptional experiences, whether that take place in-person or in the metaverse. This is an unbelievable time, an incredible team, and a tremendous opportunity to help drive change."
Map D is a self-serve event tech platform and management software solution. It provides clients with an extensive set of features and tools for managing almost any kind of event. Map D makes event management easier by automating or crowdsourcing complicated logistics while simplifying the sales processes and adding new revenue opportunities. Map D also can provide a companion native mobile app which in the future will double as a AR wayfinding app, for in-person events or serve as a self-contained virtual venue for attendees, exhibitors, sponsors, speakers, or anyone else participating in an event.
If you would like to learn more about the capabilities of Map D and how it can help tradeshows and events of any size, get in touch now!