The pandemic has proven that Shopify merchants need to be innovative and rethink how they can improve their customers' online journey in order to boost sales. You must create scroll-stopping, powerful visual content to capture customer attention and lead them to checkout.
Nothing gets more visually appealing than 3D and Augmented Reality (AR) models, and with our recently launched Shopify app, any Shopify merchant can create an immersive visual customer experience. Here's some benefits you can expect:
Bridging the gap between online and in-store experiences: Brick-and-mortar used to reign supreme for convenience. Customers can easily browse, hold, touch, and inspect any product. With 3D and AR, customers enjoy an online sensory-focused shopping experience that is just as impactful as in-person.

Increased confidence:

Customers have a hard time feeling 100% secure in the purchase they're considering.

Gartner research

notes that B2B buyers in particular don't feel empowered to make good online purchasing decisions due to a large amount of "conflicting information." 3D and AR provide clear visuals and get buyers on track to find the right product and make a confident purchase.

Decreased returns:

Standard 2D images simply don't do the trick. That light brown chair on your computer screen may likely appear much darker once it reaches your doorstep – it's impossible to feel 100% sure. 3D and AR eliminate any uncertainty and allow them to feel secure in that what they're seeing on their screen is exactly what they'll receive, resulting in a

40%

decrease in returns from 3D visualization and

25%

decrease with AR.
Let's dive deep into how our Shopify app and add-ons filled with 3D and AR content can supercharge the performance of your Shopify site.
3D and B2C
Online shopping is at an all-time high and won't be going down anytime soon, as nearly 50% of consumers expect to shop online even more frequently after the outbreak is over. Who can blame them? It makes their lives easier — 54% find it to be a more convenient way of shopping while 50% like that it's available around the clock.
But there's hesitance with such soaring online sales as it leads to a simultaneous increase in returns. In fact, NRF data found that retail returns increased to $761 billion in 2021. And yet, retailers need to embrace this change and adopt digital experiences fast if they want to stay relevant to consumers.
What appears as a losing battle is actually an easy win with 3D and AR. Snap's Consumer AR 2021 Global Report discovered that brands are 41% more likely to be considered if they have a branded AR experience. Returns aren't fun for customers either – they want to get the right product for their needs on the first try. 3D is perfect for showing off product shapes and textures while AR allows for see-it-in-your-space experiences that detail the size, scale, and features of products directly into consumer homes.
Because of 3D and AR capabilities and its realistic visuals that mimic in-store experiences, it's in high demand: nearly 75% of consumers are willing to pay more for a product that promises the total transparency that AR can provide. Only 1% of retailers are leveraging AR despite its proven ability to reduce returns by 25%.
3D and AR are undoubtedly unique tools, so it makes sense to show off your unique product features in this way as 2D won't do it justice. Take smart furniture, for example. This smart desk boasts the ability to rotate monitors and adjust the angle as needed, but it's not extremely clear in 2D. 3D visualizations contribute to the uniqueness of your product and give it the spotlight it deserves, which is key, as a third of consumers seek out unique products when shopping at smaller, non-corporate stores.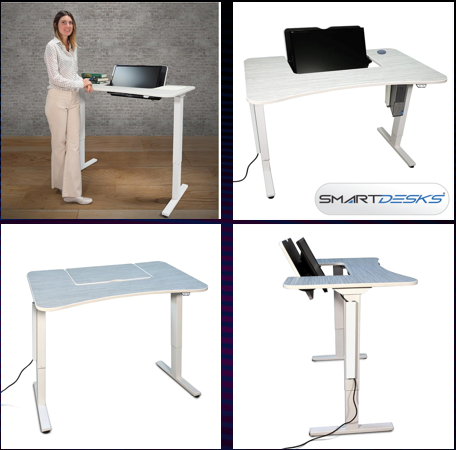 We can see that in order to provide that important visual online browsing experience for your customers, a 3D product representation is a must. We're seeing that become the norm, as 95% of market research respondents prefer an interactive 3D representation to video playback.
Customers are drawn into the experience as they zoom in and out, twist, and pinch a 3D model. Details are clearly laid out in front of them to explore, leading to a great understanding of the product and up to 250% more conversions as proven by Shopify internal data.
Check out this blender made through our ARitize 3D Shopify App here:
Our app is completely self-serving and requires zero previous experience. You don't need to know 3D model file types or any fancy terms. Powered by AI technology, models are ready within a few days. It's truly that simple to start taking advantage of 3D and AR on your site.
See how simple our AI-Powered solution makes the creation process:
Now that you have a 3D model, what type of content should you be creating? That's all going to come down to understanding how to sell your product, your customers, and how 3D content works to help them move towards a purchase.
Check out our blog discussing how 3D models are the key to customer experience transformation and breaking down which type of 3D content is best for your business.
We understand interactive 3D visuals can be a big step for some smaller businesses. That's why we have solutions where it doesn't necessarily have to replace existing visuals.
Check out this 3D carousel below. Customers considering this have typical 2D images to study as well as a 3D model working in tandem to keep them engaged.
3D and B2B
There are plenty of ways B2C businesses can enjoy the benefits of 3D and AR. But there's great options for B2B, too.
Gartner research found that B2B buyers struggle immensely with following through on "large-scale purchase decisions." They lack confidence due to the fact there's simply too much information. Rather than helping them decide, they're pulled into different directions and it's often conflicting, resulting in "deeper uncertainty."
3D models are the key to providing a clear path to purchase. They're an effective means of communication that allows buyers to decide for themselves and push past the overwhelming number of recommendations.
Our animations, exploded view and 360 view features are perfect for these conflicted B2B buyers, as they're all about simplifying the complex.
Our exploded view feature breaks a product down into its individual components in 3D and AR to showcase internal structures as well as the smallest details. Full 360 views or videos give customers a greater understanding and improved confidence when purchasing a product, as every detail is viewable and results in customers knowing products inside and out.
Walk customers through the usability of your product with unique and creative animations. Adding eye-catching and engaging movement to 3D and AR objects not only brings them to life, but effectively demonstrates their function where a written description fails to.
Get Started Adding 3D/AR to Your Shopify Site
Identify the Products You Want to Add Extra Visuals To
Our plans start as low as $25 per month with the ability to easily scale up to 25 SKUs if you're looking to only test a single product for now or to show off your entire product portfolio in 3D and AR.
Have the Necessary Materials to Create 3D Models
Our Shopify app only requires 2D images to transform into stunning 3D and AR visuals, which just about every Shopify merchant already has!
Identify What Key Benefits You Want to Provide
Do your products have a lot of intricate parts? Then our exploded view and 360 views are the best solution. Or do your customers need see-it-in-your-space experiences to place products virtually? We have a 3D solution for any situation.
Schedule a Call
Schedule time with one of our 3D and AR experts if you have any questions on how to get started with our ARitize 3D Shopify app.