Creating easily-navigable virtual spaces has never been more important. Merging the real and the virtual - magically mapping layers of virtual information onto the physical spaces people use every day - has become a rich and exciting field for technologists, property owners, and marketers.


Real World Impact of Indoor Wayfinding
Moving through large unfamiliar spaces can be time-consuming. One recent study found that 70 percent of workers on large corporate campuses waste up to 15 minutes trying to find a meeting location.
Confusion can be costly. RetailNext, for example, found that 65 percent of shoppers cited difficulty in physically locating a product as a key source of frustration, and 67 percent reported leaving a store empty handed when they were unable to find the product they were seeking. Augmented reality wayfinding can help lead the way.
An AR-fueled experience can lead to improved sales and engagement. According to a Harvard Business Review study, customers who used AR viewed 1.3 more products and were 20 percent more likely to make a purchase as compared with non-AR-using customers. Studies also show that 84 percent of people feel more engaged - and enjoy a more memorable experience - when it has AR elements.


Improving Position, Location, and Navigation (PLAN)
AR Way addresses these important issues with high-accuracy AI navigation, an immersive user experience, and rich connections between people, places, and objects. AR Way delivers these capabilities in an easy-to-use collaborative work environment, with comprehensive version management and control, and access deep analytics on location and user behavior in space.
AR Way does for indoor spaces what Google Maps has done for outdoor navigation. Right out of the box, AR Way provides a cloud-based solution for navigation and wayfinding with AR support for the growing Position, Localization, and Navigation (PLAN) industry. Critical tools for an important and dynamic sector.


AR Power - Code Free
The power to lead people through physical spaces is easier than ever with AR Way's "no code/low code" approach. It enables creators of all types to deliver immersive experiences that connect people, places and objects. For property owners, AR Way offers a unique way to increase the value of virtual assets in physical spaces and enrich the human experience. For people, an immersive new world - one of information, navigation, and well-targeted, locationally relevant messages - can suddenly be discovered all around them.
But AR Way isn't just for navigation nerds. The AR Way Creator Portal offers a wide range of code-free capabilities for building powerful location-based AI experiences. Metaverse creators can communicate and collaborate in a way that is simple and familiar to anyone who has used a service like Discord.
Despite its power and potential, AR Way can be accessed with just a few clicks and taps. This is due to AR Way's advanced artificial intelligence. AI-generated "blueprints" of physical spaces enable the placement of persistent metaverse experiences to be created. Any camera-enabled phone or device can easily access AI to recognize surroundings for hyper-accurate location-driven applications.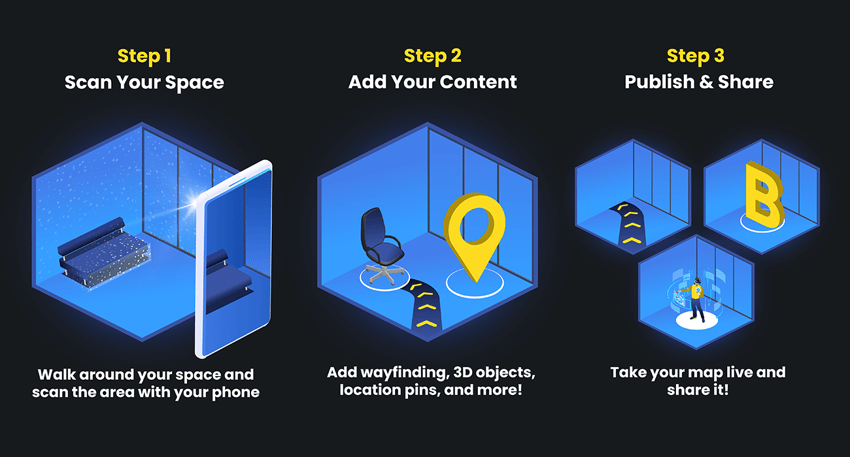 Location-based Marketing and Advertising
Its rich feature set, accessible tools, and active Creator Community allows AR Way users to do some amazing things. The Guildhall School of Music & Drama, for example, used AR Way to produce music and visuals for Harmony at London Wall Place, a series of location-anchored augmented reality artworks that bring London to life.
Hospitals, sports stadiums, retail centers, realtors and real estate developers, and art/cultural institutions are all starting to recognize what the metaverse can mean to them. AR Way can make their spaces, interactions, and offerings richer and more rewarding. Here are just a few of the ways AR Way can support these types of organizations:
Hospitals and medical centers - professional staff spending too much time providing directions. AR Way helps hospital administrators remove this burden and improve staff efficiency through personalized digital wayfinding.

Museums and Galleries - these organizations are constantly seeking new ways to engage visitors - and convert visitors to members. AR Way museum directors and curators expand exhibits beyond the physical bounds of a space to create more exciting and memorable experiences.
Retail - customers are avoiding physical stores. Finding products, navigating sprawling spaces, and frustration are all to blame. AR Way gives merchandising managers - and others - the tools they need to make shopping deeply engrossing (and unlock amazing new revenue opportunities).

Sports Venues - sprawling spaces that are way-finding deficient. Information and technology leaders can use AR Way to improve navigation, highlight specific vendors, and make stadiums and arenas feel as familiar as the back of your hand.

Tradeshows and Events - same old same old sponsorship packages just aren't cutting it any more. AR Way lets event managers offer new, engaging, and unexpected sponsorship opportunities in their existing space - by moving them into the unrestricted AR-enabled metaverse.
The AR Way Platform consists of the AR Way App, AR Way Creator Portal, and the ARwayKit SDK. Together they provide a powerful - yet accessible - suite of capabilities that needs to be seen to be believed. You can do that by signing up for a demo. You can also register for an early access to the SDK that will allow you to experience the full capabilities of AR Way. Join the AR Way Creator Community and become a metaverse master. Gain instant access to tips, best practices, and educational resources to hone your navigational skills. Create a new world and an engaging way for people to discover and navigate it!
Join the ARway Creator Community and become a metaverse master.